Submitted by

Anonymous (not verified)

on Wed, 08/23/2017 - 16:35
Follow RIT Information Security on social media and maybe win some $$$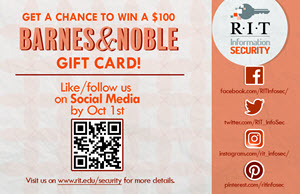 NEW CONTEST COMING, OCTOBER 2018
As classes resume and you get back into the swing of things, it can be difficult to stay up to date about important Information Security issues, such as threats to you and the RIT network, staying safe online, new bugs and viruses, and the availability of updates and patches for your system. 
To make it easy—and maybe even fun—for you to stay up to date, we've increased our social media presence. Visit us on Instagram, Pinterest, Facebook, and Twitter to ask your questions and discuss and learn about important information security issues that affect you. 
As an added bonus, if you're a full-time RIT student and like or follow us on our social media sites between August 18th and October 1, 2017, you'll be entered in a drawing to win a $100 Barnes & Noble gift card! 
Come join over 9700 of your "closest" friends who follow RIT Information Security on social media. 
Can you help get us to 10K?
Ryan Daudelin, previous winner of the $100 Barnes & Noble gift card!
https://www.instagram.com/rit_infosec/ 
 https://www.facebook.com/RITInfosec
 https://twitter.com/RIT_InfoSec
 http://pinterest.com/ritinfosec