Eric Williams — Golisano Institute for Sustainability
Understanding technology and the environment.
ERIC WILLIAMS IS AN ASSOCIATE PROFESSOR IN THE GOLISANO INSTITUTE OF SUSTAINABILITY. HE CONDUCTS RESEARCH TO UNDERSTAND AND MANAGE THE SUSTAINABILITY IMPLICATIONS OF TECHNOLOGY.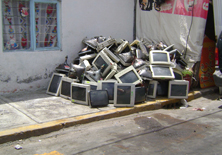 Technology is the primary tool used to address environmental problems, but at the same time technology shapes and drives sustainability challenges. As society works to grapple with achieving multiple environmental, economic and social objectives, the interaction between technology and society becomes more complex, often leading to trade-offs. To address these issues, Dr. Williams works on systems approaches such as life cycle assessment and models of technological progress and diffusion.
Dr. Williams published four peer-reviewed articles in 2011, including one article in the prestigious journal Nature. The Nature article overviewed the systems environmental implications of information and communications technology, synthesizing a decade of his work on the topic with that of other researchers. A notable result from his research is that the manufacturing of personal computers requires more energy than their operation, implying new strategies for their environmental management. He is a leading researcher on electronic waste. Used and scrap electronics from the U.S. and other rich countries is often exported to the developing world and recycled with low technology that causes significant environmental harm. At the same time, refurbishment of electronics provides jobs and improves standards of living. He aims to mitigate environmental damages while improving social benefits.
Dr. Williams has been principal investigator of three grants from the National Science Foundation. A recently completed grant supported work on electronic waste. One current grant develops improved modeling of technological progress in renewable energy and the second aims to better understand and reduce carbon emissions for urban systems.
He is also active in engaging outside of academia to disseminate research results. In 2008 he testified before a U.S. congressional committee developing legislation on electronic waste. His work has been covered in media in outlets such as USA Today, Science, and the BBC. He has served on three committees of the National Research Council, one of the main organizations providing scientific input to national policy-making processes.
View All submissions by Eric Williams ►