Student Projects - 2015
The Honors Program's Class of 2019
The Honors Program's Class of 2019 is made up of 141 students. Representing a variety of cultures, economic backgrounds, and geographic regions, the class of 2019 comes from a pool of over 750 student applicants. Members of the class come from almost half of the states across the country, Guatemala, & the UAE. The class of 2019 is remarkably accomplished and full of potential. These students were selected based on their overall GPA; rank in class; entrance exam scores and the rigor and strength of their high school academic programs. In addition to their superior academic records, they have demonstrated leadership, community service, entrepreneurship, and extra-curricular involvement.

Class of 2019, Orientation, Camp Arrowhead

Class of 2019, Camp Arrowhead

Class of 2019, Global Village Plaza
Research & Creative Works
Selene Chew's (COS) paper accepting accepted at the International Conference on Computer Vision
Honors student Selene Chew, with faculty member Nate Cahill, recently had a paper accepted at the International Conference on Computer Vision. They will be attending the semi-annual conference taking place in Santiago, Chile this December to present their findings. Only about twenty percent of submissions are accepted at this top-tier conference in the computer vision field, most of which are submitted by PhD candidates nearing the end of their studies. This work stemmed from a project in the summer of 2014, which was funded by the Honors Program Summer Research Fellowship for late entry students.
Honors Students at the 2015 Summer Undergraduate Research Symposium

Provost Jeremy Haefner with Late Entry student Daniel Hawk in his poster presentation ofCreating an Accessible Coding Framework for Interactive and Visual Projects

Incoming Late Entry students Humza Syed, Kevin Millar, and Yohance Basdeo present their poster Creating a Platform for Digital Microfluids

Incoming Late Entry students Mendy Yu and Elijah Eaton present their poster Effects of Orthogonal Cutting on Chip Microstructures
Awards & Recognition
Vivian Nguyen speaks at the Opening of RIT's new Clinical Health Sciences Building
Honors student Vivian Nguyen spoke alongside Dr. Eric Bieber, Congresswoman Louise Slaughter, President Destler, and Dr. Daniel Ornt at the grand opening of RIT's new Clinical Health Sciences Building and participated in the ribbon cutting ceremony.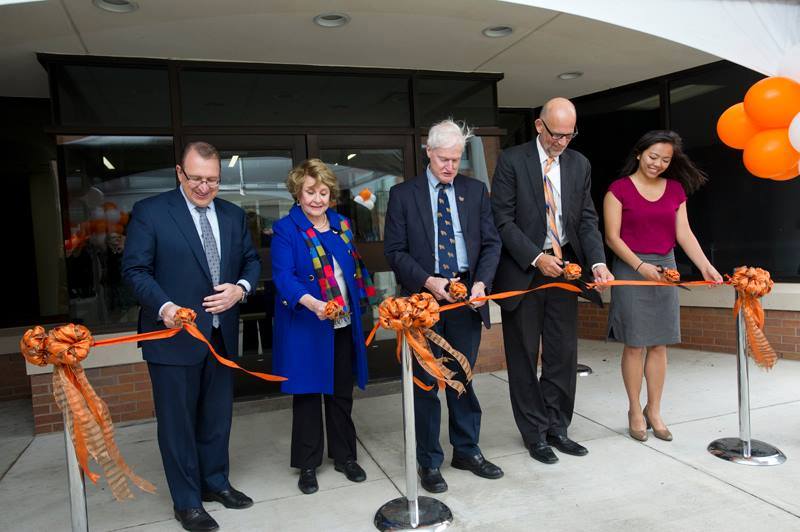 Honors Students receive the Nathaniel Rochester Society Scholarship
Of the 25 students that received the Nathaniel Rochester Society Scholarship, 10 of those recognized were Honors Program Students:
Sara Artese, New Media Interactive Development
Caitlin Connelly, Marketing
Megan Cornelius, Accounting
Caitlin Donovan, Chemical Engineer
Anna Jensen, Mechanical Engineering
Alex McManus, Applied Mathematics
William Marmor, Biomedical Sciences
Matthew Miles, Computer Science
Katherine Perchik, ASL-English Interpreting
Alison Schermerhorn, New Media Marketing and MIS
Alumni Activity
Where are they now?
A brief look at where some of our Honors Alumni are continuing their education:
Jennifer Milillo, Medical School at SUNY Buffalo; Resident at Mt. Sinai Hospital, NYC
Kyle Grimaldi, Medical School at SUNY Buffalo
Joy Snyder, PharmD program at St. John Fisher College
Bethany Novick, Chemistry MS at RIT
John Bettinger, Biochemistry PhD program at University of Toronto
Valerie Sgheiza, MA in Anthropology at California State University, Chico
Juliana Shaw, Biochemistry PhD program at Yale University
Emily Newman, Medical School at Cincinnati School of Medicine
An Honors Program Wedding
On Saturday, October 2, two of our Honors alumni tied the knot in a beautiful ceremony with a wedding party of additional Honors alums. To recognize the involvement of the Honors Program in their introduction, friendship, and time together at RIT, they chose to feature an RIT Honors Program banner in some of their wedding photos. Congratulations to Mr. Josh Kramer and Mrs. Kristen (Erickson) Kramer!
International Experience
Andrew Heintz Studies Abroad in Rwanda
Andrew celebrated his nineteenth birthday while studying abroad in southern Rwanda in the Spring of 2015. He visited the Kigeme refugee camp in Nyamagabe, Rwanda. He was part of a team that instructed refugee camp managers on the uses of maps, mapping, and GIS to improve their abilities to manage the camp.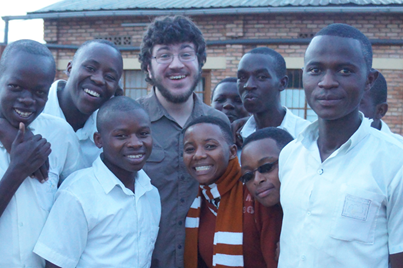 Professional Development
Professional Development Trip leads to Employment Opportunities
Megan Cornelius, an Accounting and Management Information Systems double major was offered and completed a summer co-op with Ernst & Young in New York City following the Saunders College of Business Honors Professional Development Trip Last Spring.
Emily Moore, Professional Designer at Honeywell
This summer, Emily moved to Minneapolis, MN for an internship with Honeywell as an Interaction Designer. After working 40 hours per week, she made sure to adventure as much as possible during the weekends in Minnesota. One of her highlights was going skydiving from 14,000 feet in Wisconsin.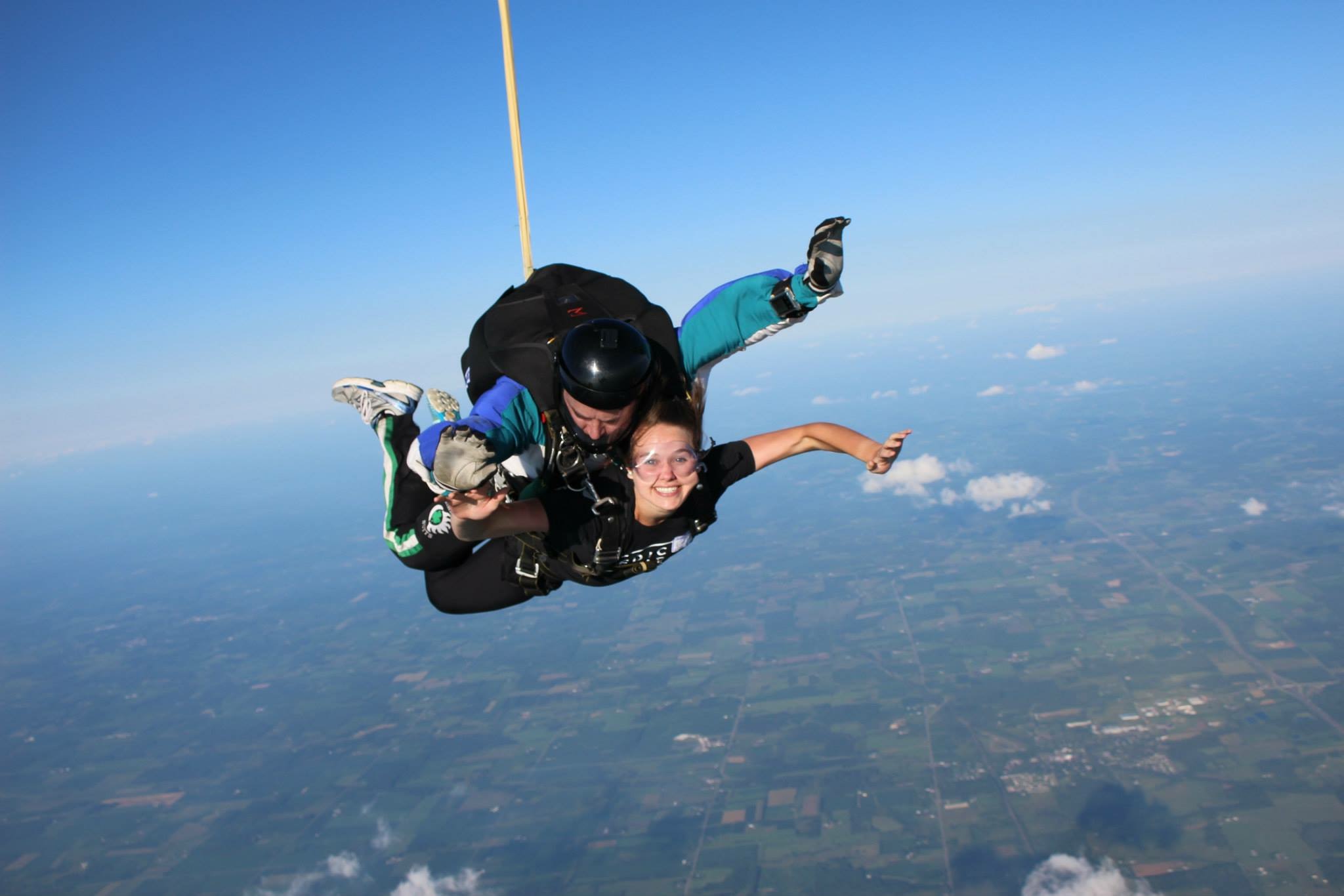 Amy Zeller, Stryker Co-op
Amy Zeller, a fifth year Biomedical Engineering student, completed a double co-op block with Stryker Corporation during spring and summer of 2015. She worked on the Knee Product Development team and had the opportunity to observe multiple live knee and hip surgeries, in addition to working in cadaver labs for Stryker's new robotic surgery platform.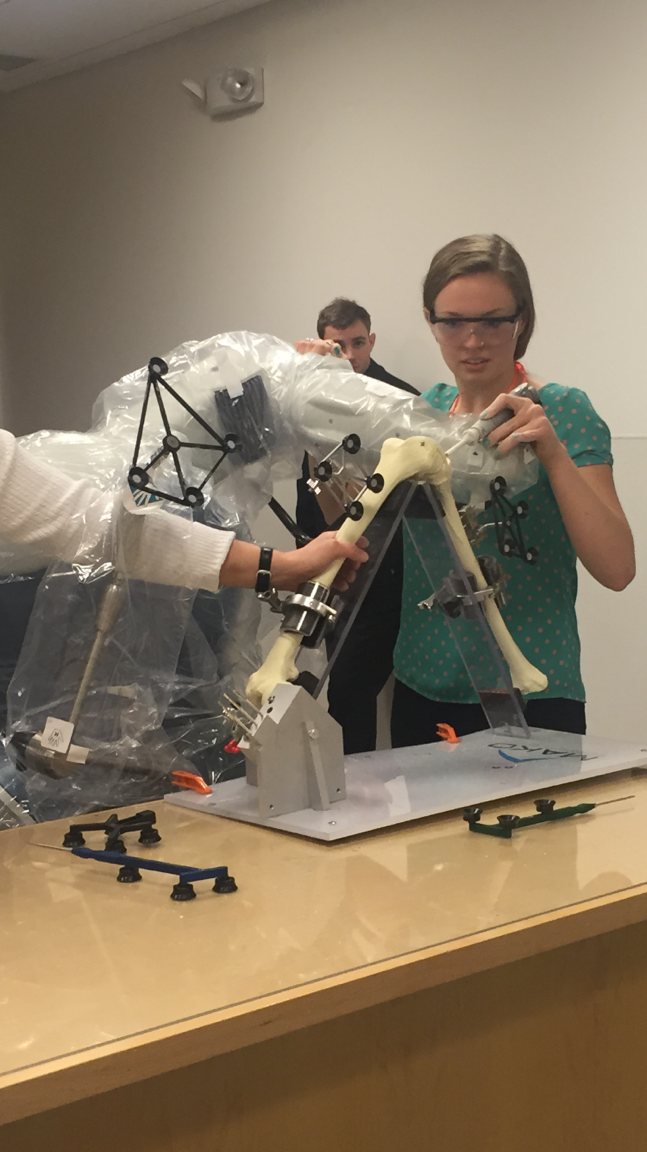 Events
CIAS Honors Students Visit Watkins Glen & Seneca Lake

CIAS Honors Students visiting Watkins Glen

CIAS Honors Students visiting Seneca Lake
First Year Seminars in Place and Space
In the second year of offering Honors First Year Seminars, Dr. Brian Tomaszewski teaches his students about the use of technologies such as Global Positioning Systems (GPS), Geographic Information Systems (GIS), remote sensing, mobile device mapping applications, and map-based games. Here, the students practice using drones in the classroom. Several others Honors Freshmen Seminars explored different aspects of place and space conceptually and within Rochester. They also presented their work at the Brick City Homecoming Honors meet and greet.
Dr. Danielle Smith's seminar, focuing on Human Rights & Scolarship, held a panel discussion on Global Hunger
Karen Van Meenen's seminar, focuing on 'Place: On & Off the Map' presenting their research
Dr. Brain Tomaszewski's seminar, focuing on Digital Mapping & GIS showing off some of their drones that they've learned to pilot.
Complementary Learning
During the 2014-2015 academic year, a total of 601 Honors students submitted service and leadership experiences that totaled approximately 25,915 hours. With a requirement of 20 service hours on an annual basis, our students clearly exceeded the requirement by 579 days, or nearly fourteen thousand hours of service. Below are a few featured submissions of Honors students' achievements.
English Language Teaching Assistant in China
"With the recent set up of English corner and some English teaching resources, China Care Fund Ltd. aims to further develop students' interest and ability in English. The school has qualified English teachers giving them regular English lessons to prepare them for the university entrance public examination. Yet, in the face of China's booming economy and its increasing need of fluent English speakers, China Care Fund Ltd. believes that English oral courses will open them up to better job opportunities. As an English language teaching assistant, I interacted with students from Teng Xian High School on an academic and social level using English and Chinese and assisted multiple teachers in teaching different subject matters including etiquette, phonetics and social awareness.
"As a TA, my job was not only to teach the high school-aged students concepts and words, but also to provide them with a comfortable and non-judgemental environment in which they could practice spoken English. I had to adapt to their culture and play to their individual strengths, and instill in them the will to be confident. I have done this for three years, and through the years have gotten to know the best ways to teach basic English and encourage speaking. They, in turn, had to learn to open up and discipline themselves to practice, and to talk to us whenever possible in order to take advantage of all English-speaking opportunities."
Volunteer Rescue Horse Caretaker
"Volunteering at Gentle Giants Draft Horse Rescue. This included doing barn chores such as feeding and turning out horses, mucking stalls, cleaning water buckets and general barn cleaning. This also included interacting with the horses and giving them positive human interaction. Many of the horses there come from situations of abuse or neglect, so they can be aggressive or wary of humans. Volunteers help to groom them and try to provide enjoyable human interaction with them to make them more adoptable.

"My volunteering has impacted the Gentle Giants Draft Horse Rescue and it's residents very positively. This rescue is has a very small staff, so they rely largely on volunteers to help take care of the horses and get chores done. Thus, my volunteering was very beneficial to them. I helped them to finish the many chores involved in running a horse farm, including feeding, mucking stalls, cleaning water buckets, and many more. However, the biggest impact of my volunteer hours is on the horses themselves. Many of them come from situations of neglect or abuse, and so they are fearful of or aggressive towards humans. Every positive human interaction they have helps them to not only become happier at the rescue, but ultimately more adoptable so they can find their permanent home."
Volunteer Men's Varsity Soccer Assistant Coach
"I was the volunteer varsity assistance coach for the men's varsity soccer team. I coached at practices and games to help the team improve and get better. I scouted other teams in video sessions and review our games in video sessions with the fellow coaches. I met with players to talk about how they were performing as soccer players and to see how their personal lives and school was going

"Coaching allowed me to share my knowledge and experiences with the players. It helped me to become a mentor and guide to younger students. I have been looking for opportunities to be a mentor and this gave me great experience. I am excited to look for more mentoring and counseling positions in the future. I really enjoyed listening to their problems and giving my advice with school and with life in general. It helped me understand the great difficulties that come along with coaching a team. I believe I helped the players out and certainly grew a lot myself from the experience."
Restoration & Maintenance of the USS Slater
"Volunteering on the USS Slater: This activity involved general volunteer work on the USS Slater. The USS Slater is a WW2 era destroyer escort located in the port of Albany, NY. The ship was sold to Greece after the war and then bought back, having lost most of its functionality. The Slater is maintained solely by a volunteer organization (comprised mostly of former veterans) who work to restore the ship to its immediate post-war conditions. Since I worked in disjointed intervals due to being in Poughkeepsie on co-op and not Albany for the majority of the summer, the work that I did on the ship was general restoration. I stripped old paint off of devices such that they could be repainted, I replaced wires that were frayed, and cleaned out air vents or ducts what had become clogged or dirty. I also worked in part to clean out one of the engine rooms below deck that had fallen into use as a general storage room so that, eventually, work could be done on restoring the engines. This was actually where I spent the majority of my time, as it required a fair amount of labor moving things up hatches on the ship and rearranging the room so that their was functional floor space took far more time than I had originally imagined.
"Working to repair and maintain the USS Slater ensures that the museum of which the Slater is a part of will continue to exist and will improve in teaching effectiveness. The Slater is a relic of WW2, and on it is a memorial and museum that teaches people young and old about what life on the ship was like during the war. The ship contains many original components and the museum on it is filled with pictures and WW2 artifacts. Regularly, boy scout troops from the area camp out on it and engineering students study it. It also plays a role in events occurring on patriotic holidays. Maintaining the ship, therefore, allows more people to learn of the history and science behind it. Furthermore, repairing the ship and increasing its functionality toward that of what it could do before it was sold allows these people to better learn from it."