Student Projects
The Honors Program's Class of 2021
The Honors Program welcomed 164 new students this fall from 20 states and 5 countries, and 54% of them are from New York State. Students participated in orientation activities which provided them with opportunities to meet their peers. They were assigned to groups led by honors mentors, who are current honors students. Mentors shared their experiences of RIT and the Honors Program with the incoming students. Incoming students also spent time getting to know faculty and staff within their colleges and attending social and team-building activities both at RIT and off campus.

The Egg Drop, Honors Orientation at Camp Arrowhead, August 2017

Golisano College of Computing and Information Sciences Honors Tour, early September, 2017
Dean Anne Haake (kneeling lower right) of the Golisano College of Computing and Information Sciences (GCCIS), with GCCIS faculty, staff, and honors students boarded the Harbor Town Belle at the pier in Charlotte for an evening of GCCIS Honors collegiality, Rochester history, sight-seeing, and fun. Each year, the GCCIS Honors Program provides an "Intro-Tour of Rochester - 101" to its new freshmen class as a means for them to learn about the city and many of the wonderful opportunities outside the classroom. The tour generally begins on campus and winds its way through the city, focusing on historical locations and eventually ending up in Charlotte.

Honors students (Golisano College of Computing and Information Sciences), on board the Harbor Town Belle

Marina Solis (CAST), far right, with conference participants.
Marina attended the 28th IAPRI Packaging Research Symposium which was held in May, 2017 in Lausanne, Switzerland at the Olympic Museum on Lake Geneva. The event theme was "unlocking the full potential of packaging across the value-chain" and consisted of working groups, oral and poster presentations, and several keynote speakers.
Marina presented her research in a poster format. She prepared a poster with Dr. Carlos Diaz entitled "Heat Seal Strength of Polylactic Acid/Polyhydroxylalkanoate Blends". This work investigated improving the sealing properties of the polylactic acid (PLA) by adding another polymer, polyhydroxyalkanoate (PHA), in small amounts. Both PLA and PHA are bio-derived and biodegradable polymers and improving the properties of PLA/PHA films could lead to more sustainable flexible packaging solutions and less solid waste.
Marina states that, "Overall, attending this symposium was an amazing experience and made me incredibly proud to represent RIT and the Packaging Science Department. I plan to continue my research and hope I will be able to attend future IAPRI events. I'm so thankful to be a tiger!"

The 28th IAPRI Packaging Research Symposium, Lausanne, Switzerland at the Olympic Museum on Lake Geneva.
Research & Creative Works
Honors Students participate in summer research at RIT!
Over 40 Honors Program students participated in the 26th Annual Undergraduate Research Symposium with poster and oral presentations of their research. Students presented on a wide range of topics. Presentations included "Comparative Biofilm Analysis of Streptococcus mutans serotypes k & c" by Samixchha Raut (CHST) and "Cryogenic Star Tracking for Cosmic Infrared Background Imaging" by Benjamin Stewart (KGCOE).

Shakierah Smith (CLA), Body-Worn Cameras: How Prosecutors, District Attorneys, and Judges Perceive the Implementation and Utilization of BWCs in Monroe County

Abby Frawley (COS), A Comparison of Physiological Condition in Migrating and Breeding Songbirds

Kesavan Kushalnagar (GCCIS), Predicting ASL Signs Using Hand Positions

The Great Wall - Jinshanling - Chengde, China
In summer 2017, Theresa studied abroad in Beijing, China. She studied the Chinese language at one of China's most distinguished universities, 北京大学 (Peking University). In addition to studying, Theresa explored the city. From these experiences, she has improved her Chinese language skills and has gained a greater insight into Chinese culture and people. According to Theresa, she completed her study abroad as a much stronger and independent person.

Jingxin Studio - Beihai Park - Beijing, China
Honors Service Trip to Puerto Rico
Five students from the College of Liberal Arts and one each from the College of Applied Science and Technology and the College of Imaging Arts and Sciences along with two chaperones and two volunteers went on an Honors Program service trip to Puerto Rico in January. The island was hit by two hurricanes last fall that devastated their power grid and access to fresh water. The group stayed at the Las Cabezas de San Juan nature reserve along with a group of students and chaperones from Cornell College in Iowa.
In addition to work on the reserve, the group visited a local community still without power or water to deliver food, solar lamps, wet wipes and bottled water. The work was hard, but a great deal was learned from the residents about their resilience, hospitality and graciousness. Each of the students was asked to prepare for the trip by researching about Puerto Rico through the lens of their major. They then wrote a 2 page paper to be shared with all during the trip. A presentation of this material and what they learned from speaking with residents will be held in the next month.
Reserve staff and students speaking with a resident still without power or water and delivering donated items.
he 28th IAPRI Packaging Research Symposium, Lausanne, Switzerland at the Olympic Museum on Lake Geneva.
Alumni Activity
Brick City Weekend
More than 200 parents, families, students and alumni were on campus for Brick City weekend. The Honors Program activities included research presentations by first year students and an alumni-networking lunch.
The Honors Program Alumni Advisory Board held its first networking event with students, An Honors Pizza Saturday, during Brick City Homecoming weekend. The program hosted 13 alumni and 19 students and the conversations were energetic!
First year students celebrated their first Brick City homecoming weekend as members of the RIT community presenting their work from the first year seminars.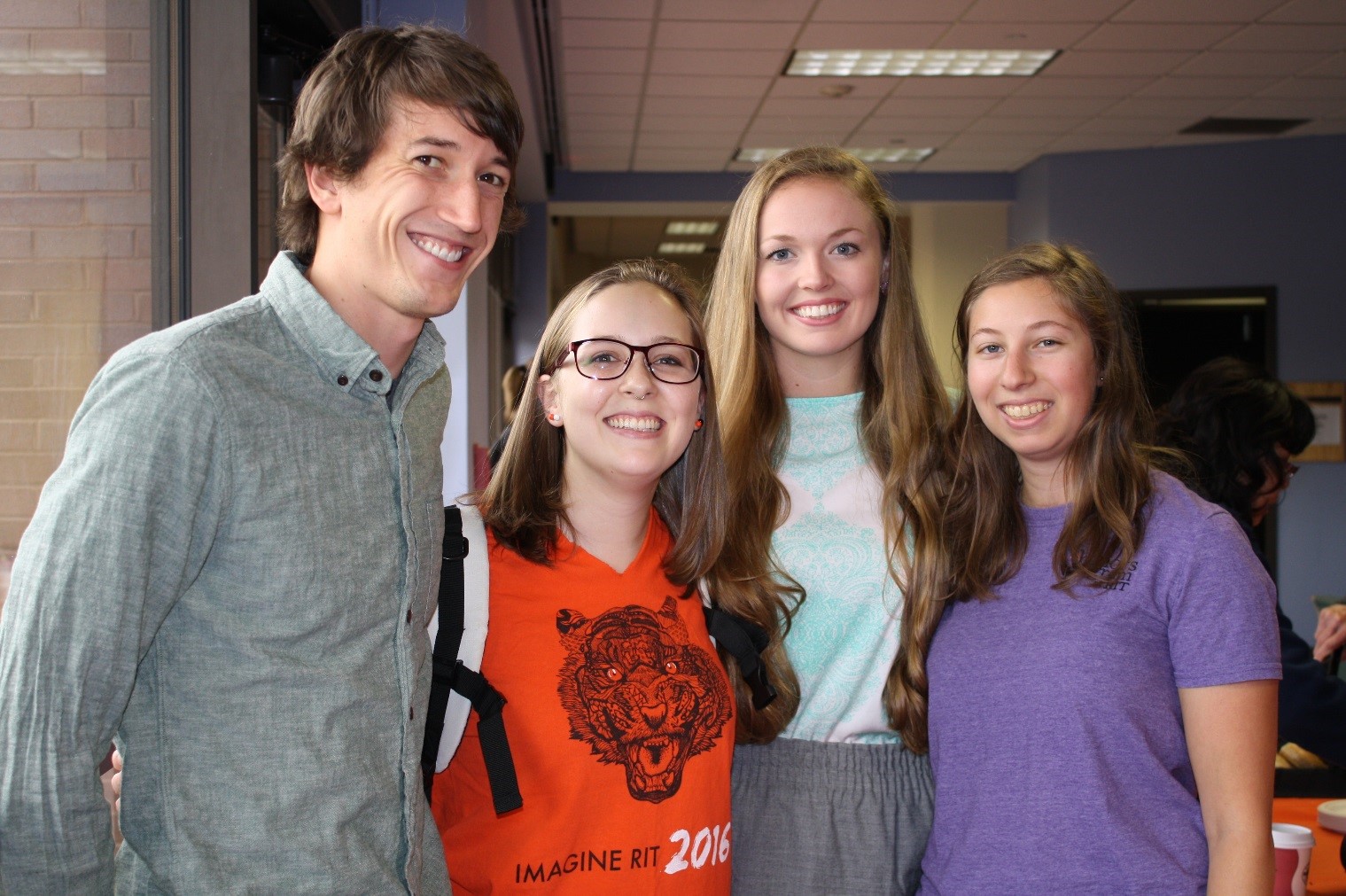 Josh Long, Erin Downs, Amy Zeller and Kelsey Weinman at the 2017 Honors Brick City Weekend events