Student Projects - 2013
The Honors Program's Class of 2017
The Class of 2017 is made up of 143 students. Representing a variety of cultures, economic backgrounds, and geographic regions, the class of 2017 comes from a pool of over 750 student applicants. Members of the class come from half the states across the country.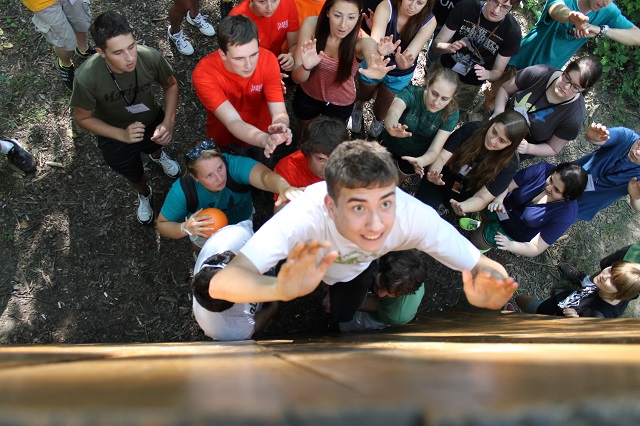 Class of 2018, The Honors Experience, Camp Arrowhead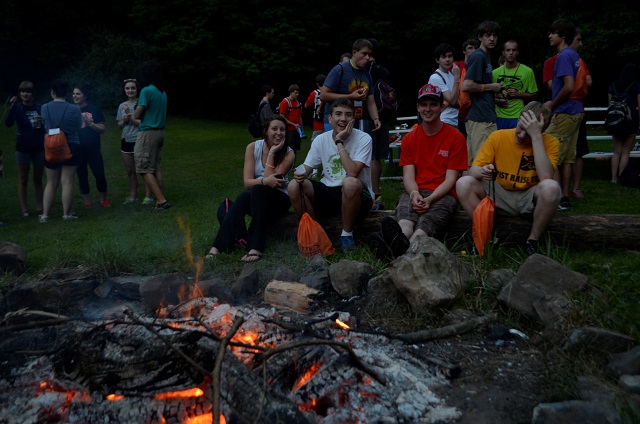 Class of 2017, The Honors Experience, Camp Arrowhead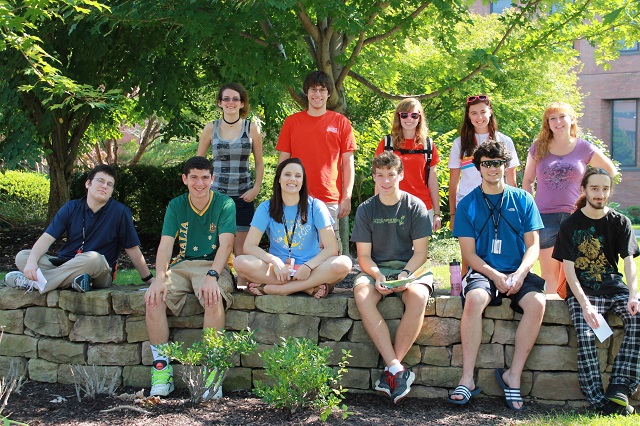 Class of 2017: The Honors Experience
Research & Creative Works
Benjamin Merrit, COS (2013 American Chemical Society Northeast Regional Meeting)
Benjamin is traveling to New Haven, Connecticut with Dr. Michael Coleman to present information on the cyclopropenation of internal alkynes through the use of a copper catalyst. They are looking for methods to produce various cyclopropenes from diazoacetates and internal alkynes. Their copper catalyst allows for the reaction of internal alkynes with diazoacetates, which was previously accomplished through more expensive dirhodium and gold/silver catalysts. Copper is easily renewable and highly available. Dr. Coleman has envisioned several different combinations of starting molecules to use to create novel cyclopropenes; their different reagents have a similar skeletal structure but different functional groups added on to them. They have reacted the different reagents to determine the possibility and then efficiency of the different reactions.
Megan Iafrati, Susan Kratzer, Elizabeth Bondi and Victoria Scholl, (COS) to present at STEMTech
These COS honors students will present "Putting the Capstone First: Turning the STEM Curriculum Upside-Down" at the STEMTech Conference in Atlanta, GA at the end of October. These second and third year Honors students will talk about their freshman year experiences in the Chester F. Carlson Center for Imaging Science (CIS). In 2010, CIS restructured its traditional lecture-based pedagogy for incoming freshmen, and implemented a project-based curriculum for all first year students. Similar to many existing senior-level capstone experiences, this new approach challenges first year students to work together as a single integrated multidisciplinary team for a full academic year to design, develop, build, and test a unique, fully functional imaging system. Students will present examples of the dramatic cutting-edge imagery produced by the systems designed and built in the past two freshman classes. These students and their instructor will then use photos and videos from the class to describe the pedagogical approach used in this course, and will discuss an early assessment of its effectiveness.
Jessica Lieberman's Imagining Rochester class explores the Rochester Subway
The Imagining Rochester class, taught by Jessica Lieberman, assistant professor of visual culture at RIT, visited the Rochester subway recently. From left, Olivia Samone, Emily Fava, and Eric Bichan explored the tunnels.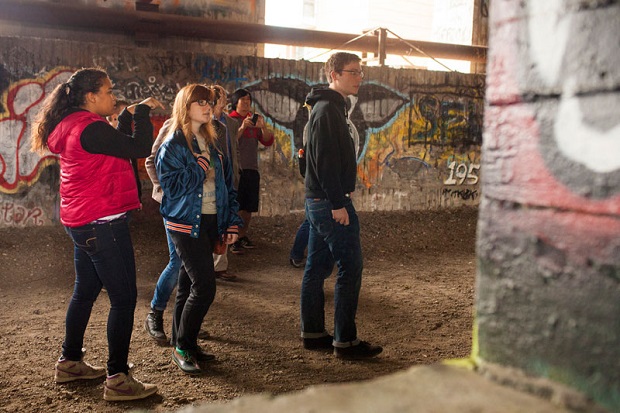 Awards & Recognition
Tom Bardenett, Ed Foose, & Matt Lees win Audience Choice Award at Sleepless in Lake Placed film festival
CIAS Honors Students Tom Bardenett, Ed Foose, and Matt Lees were part of an RIT group that competed in the Sleepless in Lake Placid film festival over the summer. Their film, "Stuck in the Stay," won the Audience Choice Award at the ceremony - the second year in a row for RIT.
Tessa DiDonato wins an American Society for Microbiology fellowship
College of Science Honors student Tessa DiDonato was awarded an American Society for Microbiology Undergraduate Research Fellowship. DiDonato, from Douglas, Mass., is a fourth-year student majoring in biochemistry. The competitive undergraduate fellowship is awarded to students like DiDonato, who are interested in pursuing graduate careers in microbiology. Award recipients receive a stipend of up to $4,000, a two-year student membership to the society and reimbursement for travel expenses to the 114th American Society for Microbiology General Meeting and the society's Capstone Institute in Boston. DiDonato studied Diadenosine polyphosphatases/ mRNA decapping enzymes of the Nudix Hydrolase Superfamily, which could be novel antibiotic targets. She has conducted research since her freshman year under the guidance of her mentor Suzanne O'Handley, associate professor in School of Chemistry and Materials Sciences in RIT's College of Science. "I am extremely fascinated by infectious diseases and in understanding the molecular processes involved in the pathogens that cause these diseases," DiDonato says. "I plan on pursuing my Ph.D. and ultimately do research and teach at the university level."
RIT Honors Students place seventh in Association for Computing Machinery programming regional final
RIT's computer science team, consting of GCCIS Honors Students Andrew Hollenbach, Dan Johnson, and Lane Lawley, all majoring in Computer Science, placed seventh in the regional-level of the Association for Computing Machinery International Collegiate Programming Contest held November 16 at RIT. "In the contest, each team of three students huddles around a single computer in a race against the clock to solve a set of eight complex, real-world problems," says Paul Tymann, a professor in RIT's computer science department and contest director for the Northeast North America region. "The teams had to rank the difficulty of the problems, deduce the requirements, design test beds and build software systems that solve the problems."
Alumni Activity
T. Spencer Bailey published in the Journal of the American Chemical Society
College of Science Honors alumnus T. Spencer Bailey (2010) was recently published in the Journal of the American Chemical Society. His article, entitled "Chemiluminescent Detection of Enzymatically Produced Hydrogen Sulfide: Substrate Hydrogen Bonding Influences Selectivity for H2S over Biological Thiols" can be found here.
Ryan Harriman installs a photography exhibit
CIAS Honors alumnus Ryan Harriman (2012) has installed a photography exhibit in the College of Imaging Arts & Sciences Student Services office, located in Gannett Hall. The exhibit is open to the public.
&nbsp
International Experience
GCCIS Students Lane Lawley & Sol Boucher study abroad in Croatia
Lane is holding a 50 Kuna bill because of Dr. Ivona Bezáková's cryptography class. A class assignment involved breaking a very difficult cipher. After hours of work, the house of Computer Science students eventually determined that, to receive full credit for the assignment, they would take a picture with Ivan Gundulić, a long-dead, Dubrovnik native poet. The common conclusion was that they should all take a picture with his statue in the Old Town. However, Lane decided to take a picture with Gundulić on the 50 Kuna bill instead! It was a fun twist that Dr. Bezáková did not expect!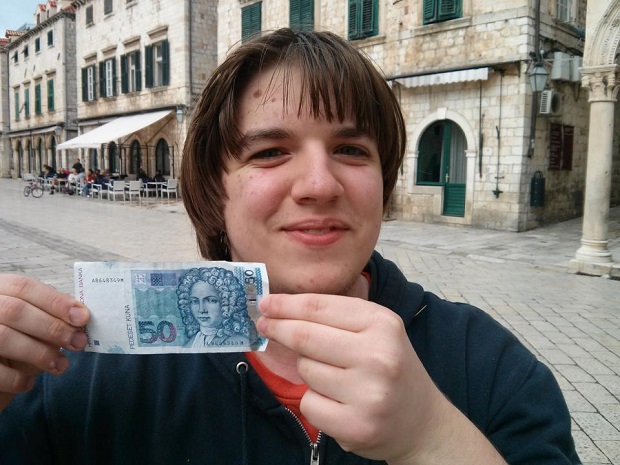 Lane Lawley with a 50 Kuna bill, Dubrovnik, Croatia
"This photo is from Mostar in Bosnia and Herzegovina. The map shows the Neretva River, which splits the city in half. The two sides of the city are connected by many bridges, the most famous of which is Stari Most. The city has a sad history that is evident even today from the numerous destroyed structures that are still scattered among its streets. In 1992 and 1993, it was a battleground split between the Croatian Defense Council and Army of the Republic of Bosnia and Herzegovina. Serbs and Bosniaks were deported from the Croat-held west side of the city, and those attempting to cross the bridges to see their families were shot. On November 8, 1993, the Croatian Defense Council shelled Stari Most, destroying the 427-year-old engineering wonder." -Sol Boucher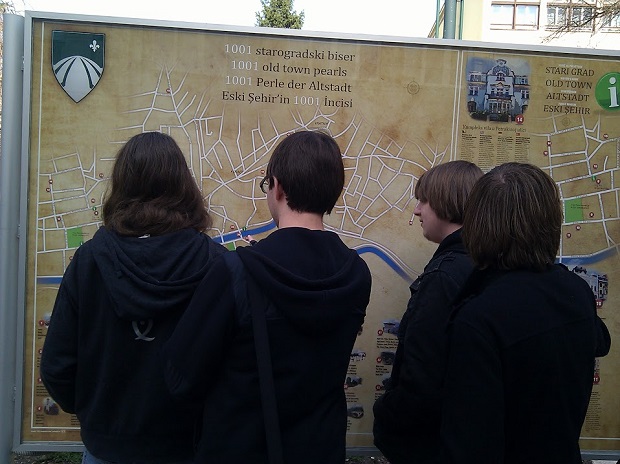 Sol Boucher, Dubrovnik, Croatia
CHST Student Kelsey Buecheler studies abroad in Croatia
"After taking the 'Nutrition In The Mediterranean Diet' course, my peers and I went on a 10 day adventure to Dubrovnik, Croatia. It was by far the most beautiful place in the world! We went on many excursions to museums, restaurants, and even wine and olive oil tastings to experience the history and culture of this beautiful country. All of the food served in Croatia was fresh and rich in flavor. We had amazing tour guides to teach us all about Dubrovnik's war history and how far they have come to rebuild their city. If you have the chance to experience this amazing place, you should definitely go!" - Kelsey Buecheler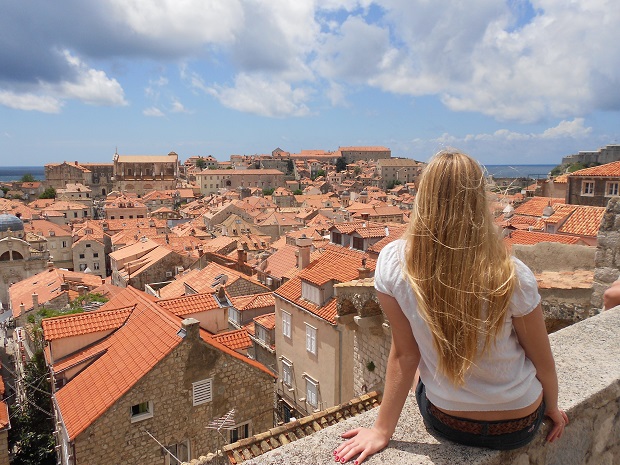 Kelsey Buecheler, Dubrovnik, Croatia
CAST Student Erin Downs studies abroad in Budapest
"Ten students from RIT's Environmental Sustainability, Health and Safety program spent three weeks in Budapest. Two weeks were spent taking a Corporate Social Responsibility course at Corvinus University of Budapest with many of the Corvinus faculty, with Dr. Sándor Kerekes as our wonderful host. We also met several students from Corvinus and became familiar with the city, monuments, museums, and baths. The last week was spent visiting companies and other locations across Hungary." - Erin Downs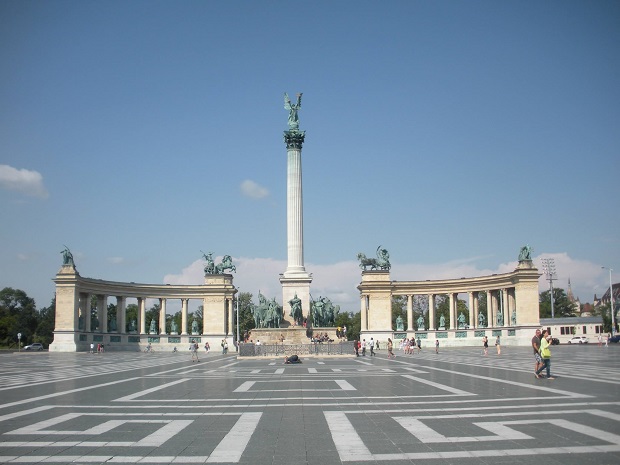 Erin Downs, Budapest, Hungary
CAST Student Nicole Lantoni studies abroad in Dubai
"Dubai has been everything I could have ever wanted and more. I love to travel and when the opportunity arose to study abroad in Dubai I seized it. I really wasn't sure what to expect from this adventure. But what I can say so far is that my experience has been more than wonderful. Luckily my roommate and I have met some of the most amazing people and have certainly made lifelong friends. They are our friends, tour guides, and most importantly our family. I wouldn't trade this experience for anything in the world. I believe that I have grown and matured so much since being in Dubai, and I can't wait for what my next few months will bring!" - Nicole Lantonio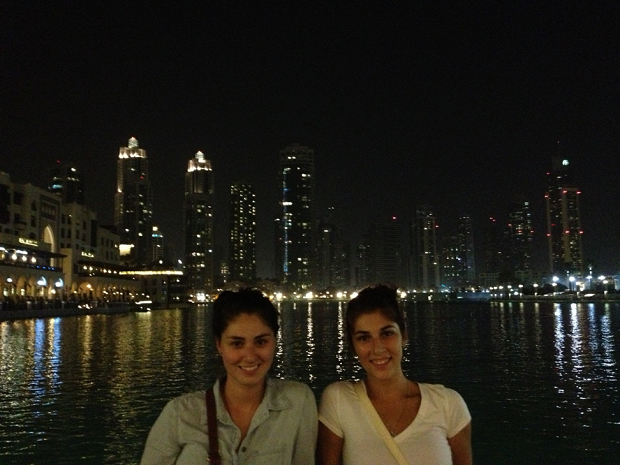 Nicole Lantonio, Dubai, UAE
Professional Development
Stephanie Dymek works with the NSF ADVANCE program
A fourth-year student in the Public Policy program with a career focus on increasing women's representation in STEM fields, Stephanie Dymek is currently completing her co-op requirement through support to the NSF ADVANCE Connect@RIT grant on campus. The goal of the NSF ADVANCE program is to increase the representation and advancement of women in academic science and engineering careers, ultimately leading to a more diverse STEM workforce. In her role, Stephanie assists the team with conducting benchmarking research to inform programming and policy development, managing the student program associates, creating dissemination materials, and managing the Connectivity sessions sponsored by Connect@RIT and run by the women of color (ConnectWoC@RIT) and deaf and hard-of-hearing teams (Connect@NTID). For additional information about the NSF ADVANCE program and its goals, visit the website at http://nsfadvance.rit.edu.
Amy Zeller co-ops at RIT
Amy, a third year Biomedical Engineering student writes: "I worked as a co-op in the Biomedical Signal and Image Analysis Lab at RIT over the past summer. My specific project was on the "Optimum Lead Placement for Sudden Cardiac Risk Stratification in Cardiomyopathy Patients." T Wave Alternans (TWA) is a biomarker for Sudden Cardiac Death, clinically measured using precordial leads. The objective of my project was to determine how scarring affects distribution of the maximum TWA on the thorax. This is because cardiac scarring is very common in cardiomyopathy patients. However, the influence of scarring on TWA distribution has not yet been defined. This work was also presented in Seattle, WA in late September at the annual Biomedical Engineering Society (BMES) Conference."
Events
CIAS students traveled to Ithaca
CIAS Honors students sponsored a trip to Ithaca on October 5th. Over 30 students enjoyed this excursion. Follow the blogs & images at http://honors.cias.rit.edu. CIAS Honors Students will be fundraising throughout November to support college events and activities.
CIAS Honors Portraits
Students from the CIAS Honors Program offered holiday portraits to raise money for their trip to Italy over the intercession. Allison Parssi, center, a second-year photography student, puts her studio experience to work while Jasmine Lockwood, right, a third-year new media design student, gets smiles from even the youngest of subjects.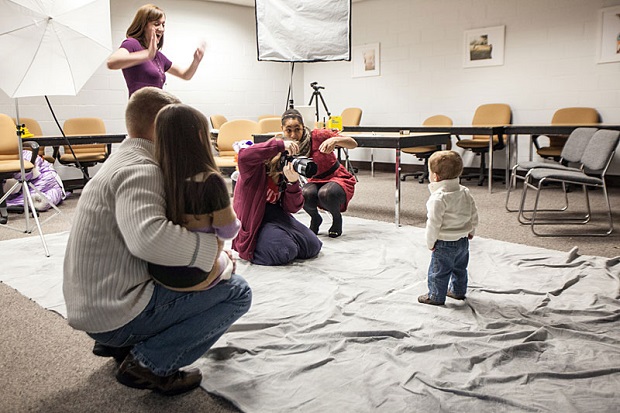 Complementary Learning
Katherine Perchik volunteers at Coney Island Lighthouse Mission
Katherine writes: "I have been involved with this food pantry for about three years now. Throughout the week, the pantry receives deliveries of non-perishable food items. It is part of my responsibility to work with a team of volunteers to divide this food into packages that we then distribute to the less fortunate in the Coney Island area. I consider my volunteer time with the Mission as a vital part in helping me grow into a responsible citizen. As a responsible citizen, I believe that it is absolutely essential to be aware of the members of your community who may be struggling. To take this point further, it is important to make an effort to do something about it. My work with the Mission helped me to develop this kind of responsibility and compassion."
Adrienne Sherman volunteers at St. Jerome School in Roseville, MN
Adrienne writes: "I designed and constructed storage units for the staff lounge in St. Jerome School, Roseville, MN. I helped with other small projects at the same school, such as painting labels on doors, volunteering for the annual summer yard sale fundraiser; and helped teach an art class. When I was younger, I attended a Catholic grade school, similar to St. Jerome School. I learned that these institutes rely on the helping hands of volunteers to keep running. I volunteer to support this community."