Student Projects - 2014
The Honors Program's Class of 2018
The class of 2018 is made up of 136 students. Representing a variety of cultures, economic backgrounds, and geographic regions, the class of 2018 comes from a pool of over 750 student applicants. Members of the class come from half the states across the country.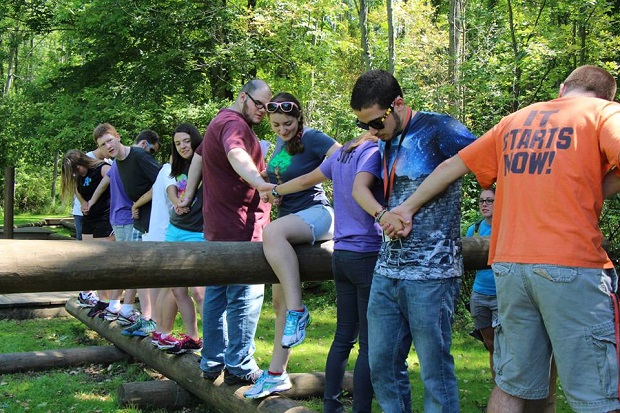 Class of 2018, The Honors Experience, Camp Arrowhead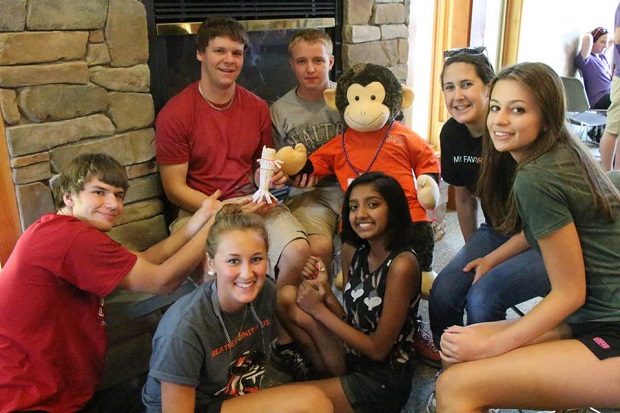 Class of 2018, The Honors Experience, Camp Arrowhead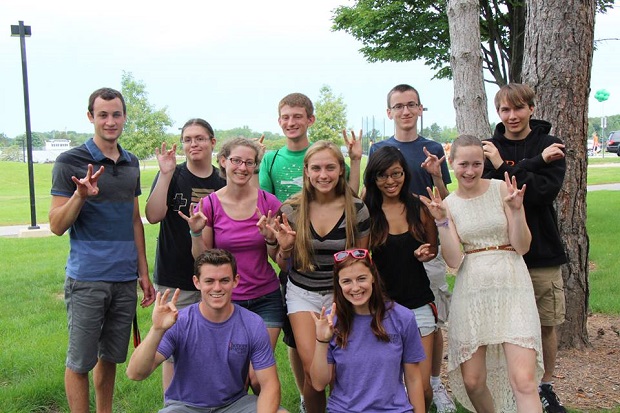 Class of 2018: The Honors Experience
Research & Creative Works
Mallory Rauch (KGCOE) wins Honorable Mention at American Electrophoresis Society (AES) 2014 Annual Meeting
2014 AES Poster Award Winner
The AES poster session is a great platform for students to showcase their work - this is a very well attended poster session where a panel of judges composed of highly recognized researchers in all areas of Electrophoresis and Electrokinetics evaluate the posters to select the first, second and third places, plus an honorable mention. Mallory Rauch won Honorable Mention at this year's meeting in Atlanta Georgia for her poster on Dielectrophoretic Behavior of Polystyrene Particles Under Direct Current and Low Frequency Electric Fields (Mallory Rauch, Alexandra La Londe and Blanca Lapizco-Encinas). More information can be found at http://www.aesociety.org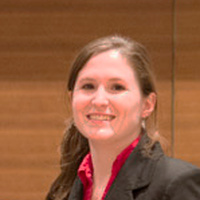 Mallory Rauch at the conference in Atlanta, Georgia
Alexander Triassi (COS) published in Frontiers in Microbiology
Alexander Triassi and Matthew Wheatley, fourth-year biotechnology majors and lead authors, published their research, entitled "L,L-diaminopimelate aminotransferase (DapL): a putative target for the development of narrow spectrum antibacterial compounds," in the Sept. 26, 2014 issue of Frontiers in Microbiology with Michael Savka and André Hudson, professors in RIT's Thomas H. Gosnell School of Life Sciences; alumnus Han Ming Gan, Monash University Malaysia; and Renwick Dobson, University of Canterbury, New Zealand.
2015 Barry Goldwater Scholars
Elizabeth Bondi (COS)
Major(s): Imagine Science
Career Goal: Ph.D. in Imaging Science. Conduct research in computer vision and teach at the university level.
Selene Chew (COS)
Major(s): Computational Mathematics
Career goal: Ph.D. in Applied Mathematics. Conduct research in the field of computer vision.
Tyler C Godat (COS)
Major(s): Physics, Applied Mathematics
Career goal: Ph.D. in Physics, most likely with a specialization in Optics. Conduct optomechanical research and obtain a professorship at an accredited university.
Emily K Holz (KGCOE)
Major(s): Biomedical Engineering
Career goal: Ph.D. in Bioengineering. Conduct research in targeted therapeutic delivery at a university or national laboratory.
2015 College of Liberal Arts Undergraduate Writing Awards
Recipients of The Kearse Award:
Roni Crumb (CHST)
Faculty mentor Sabrina Weiss (STS)
Paper titled "Breaking a City Stereotype"
Brady Hrabovsky (KGCOE)
Faculty mentor Corinna Schlombs (History)
Paper titled "Volunteers Calling: Refurbishing Teletypewriters for Deaf and Hard of Hearing Access to Telephone"
Joseph Lopata (KGCOE)
Faculty mentor Jeffrey Wagner (Economics)
Paper titled "Economic Aspects of Dow Chemical"
Awards & Recognition
John O'Gorman (KGCOE) and Joshua Enrico (KGCOE) take Liberty League Swimming & Diving honors
Sophomore John O'Gorman (Yarmouth, ME/Yarmouth), senior John Tellgren (Anoka, MN/Anoka), and freshman Joshua Enrico (West Chester, OH/Lakota East) of the RIT men's swimming and diving team swept the Liberty League Men's Swimming and Diving weekly honors on Monday, for the week ending Oct. 27, 2014. O'Gorman was named the conference's Swimmer of the Week, Tellgren the Diver of the Week, and Enrico, Rookie of the Week.
O'Gorman took home a pair of first place finishes Saturday for the Tigers in their win over Alfred. The sophomore won in the 1,000-yard freestyle in a time of 10:34.56, and won the 500-yard freestyle in a time of 5:03.81. It is his first Liberty League weekly honor.
Enrico won the 100-yard backstroke in a time of 56.66 for his first collegiate victory on Wednesday vs. Oswego. On Saturday, he won in a time of 55.74 against Alfred. It is his first Liberty League weekly honor.
Kayla Wheeler (KGCOE) named an Academical All-American
Kayla Wheeler was named 2014 CoSIDA/Capital One Academic All-Americans. Wheeler, who was previously named to the 2012-13 Co-SIDA/Capital One Academic All-District III Team as a member of the women's basketball team, has a 4.0 grade-point average as a biomedical engineering major. Wheeler enjoyed a strong season with the volleyball squad, leading the team with 97 blocks (0.84/set), while chipping in with 76 kills from her middle blocker position.
http://www.ritathletics.com/news/2014/12/9/WVBALL_1209145528.aspx
Study Abroad & Professional Development
Zachary White (SCB) travels to Australia, China, and Taiwain
Zachary has been studying abroad in Australia this semester and spent time in China and Taiwan last semester on a short internship with a Florida based company.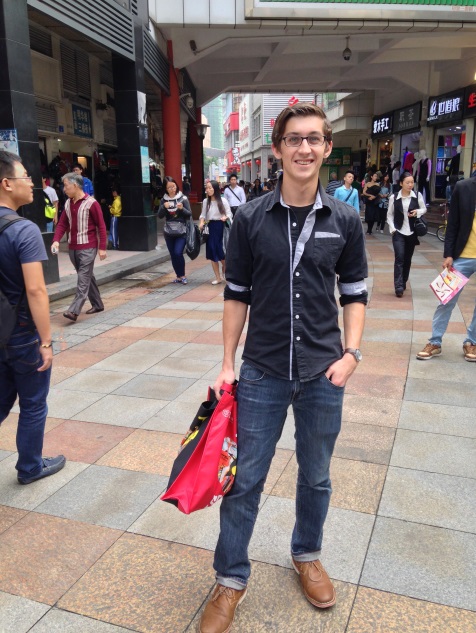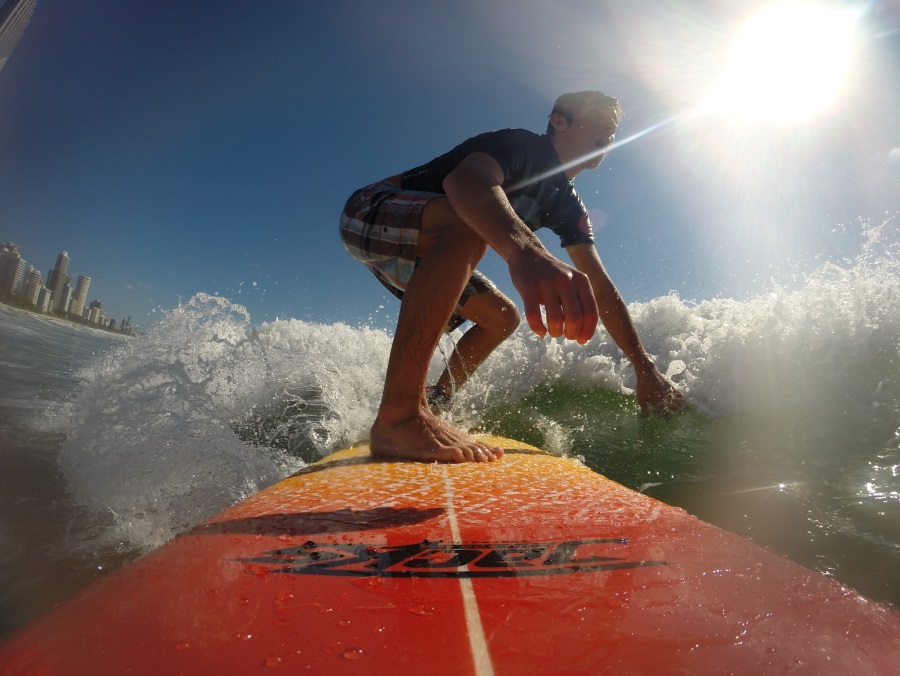 Students study abroad in Malmö, Sweden
Malmö Summer Program - SWEDISH CULTURE: ARTS, MEDIA & TECHNOLOGY
Professors Jessica Lieberman (CLA) and Amit Ray (CLA) plan to teach honors courses in Malmo, Sweden during Summer I. Their courses are part of a planned immersive cultural experience, in which courses will be taught by faculty from RIT and Malmö University. Students from both universities will enroll in the courses. The program focuses on experiential learning, with the city and region as the classroom.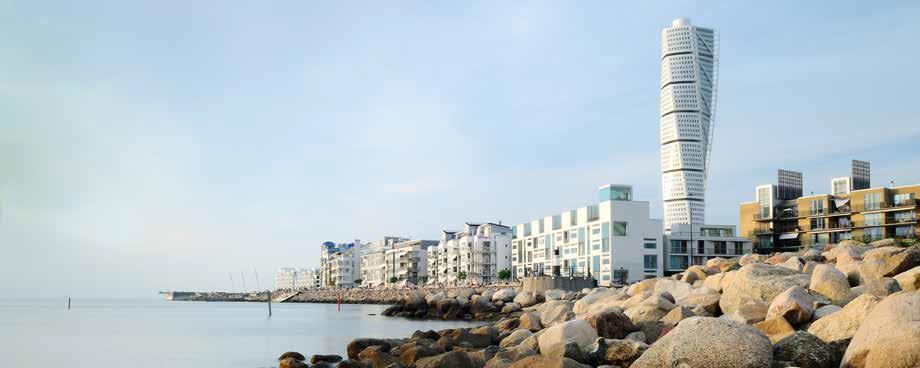 Jessica Engelbrecht (CLA) travels to Japan
Jessica went to Japan for co-op during the Fall 2014 semester. She worked as an assistant teacher at the Kanazawa Technical College, a specialized engineering high school. She taught students English in the classroom, and also worked with another RIT student to create a special program designed to use principles of psychology and game design to help students do better in their English classes. Outside of work, she was visited many important cultural sites in Japan.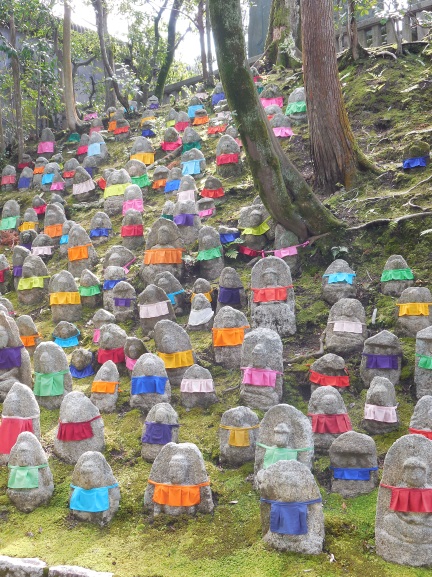 Picture of one of Jessica's favorite spots, a hill covered in toddler-sized statues of the bodhisattva Jizo, in Kyoto.
Elise Walsh (COS) works at Roswell Park Cancer Institute
Elise worked as a junior lab technician in the Cancer Prevention and Control Department at Roswell Park Cancer Institute in Buffalo, NY over the fall semester break. She completed sample prep and storage of blood and tissue samples along with some clerical work.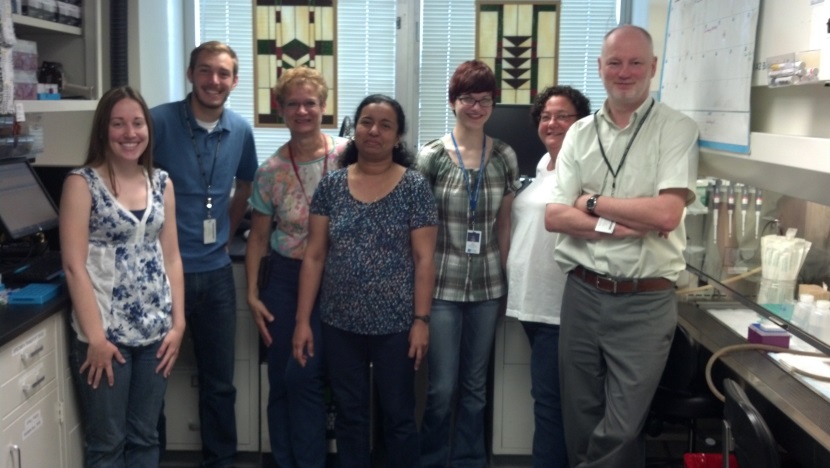 Elise (wearing the green plaid shirt) and coworkers.
Elizabeth Bondi (COS) works at NASA
This fall, Elizabeth completed a co-op at NASA's Jet Propulsion Laboratory in Pasadena, California, where she worked with a team to determine landing sites for the Mars 2020 rover and InSight lander.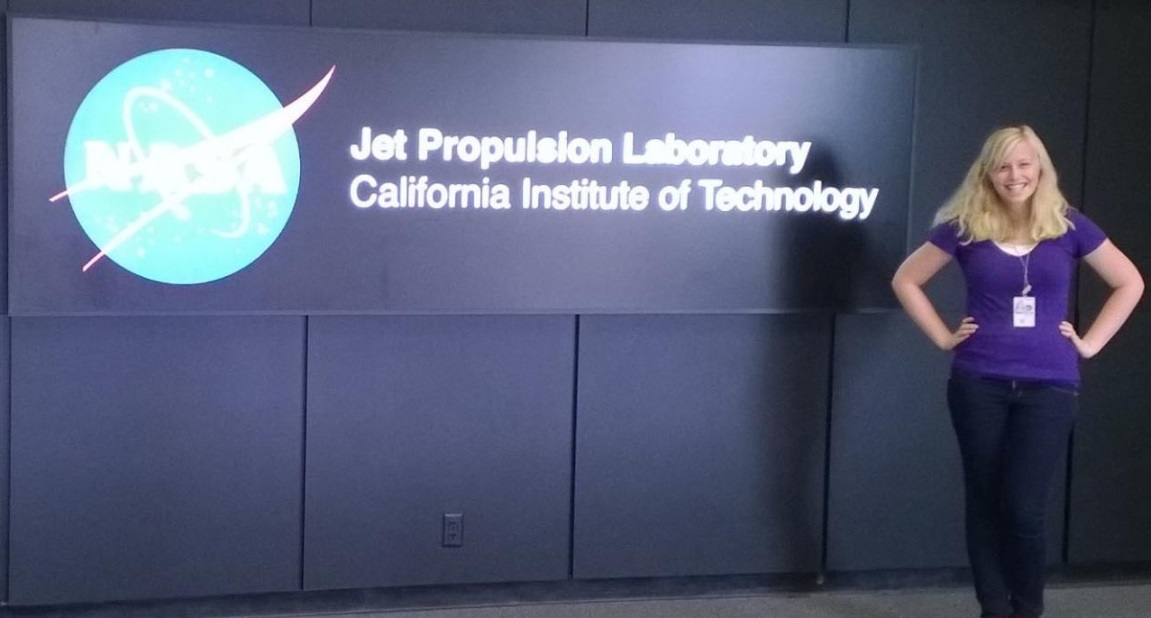 Elizabeth standing in front of one of the JPL signs.
NITD/ASLIE 2015 Street Leverage Conference
During the spring 2015 semester the NTID/ASLIE Honors students attended the Street Leverage LIVE conference for sign language interpreters in Boston, MA. During this conference students attended workshops and seminars, engaged in professional networking, and had the opportunity to enhance their learning through professional discussions and dialogue. Topics discussed during the conference that students noted as having the most impact include learning about interpreter ego and how to take the focus off of one's self and channel it towards providing clear communication, how having a good attitude is essential to effective interpreting, and realizing the importance of knowing the different levels of social consciousness and how this knowledge impacts our ability to understand the perspectives of those we work with. Students also mentioned that learning about interpreting practices and regulations that exist in other states was beneficial and that being aware of this can help with future implementation of such regulations and practices and can play a huge role in the development of the interpreting field in New York. Highlights of the trip that students expressed include the opportunity to socialize and network with professionals in the field, participating in professional development, being able to share experiences and knowledge, and being together as an Honors family.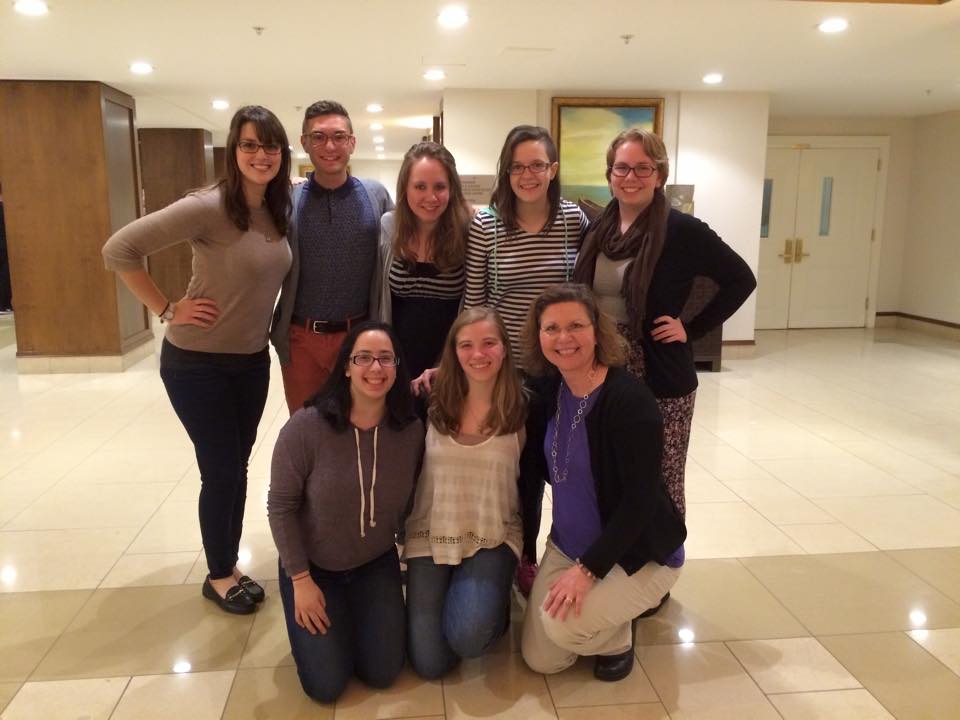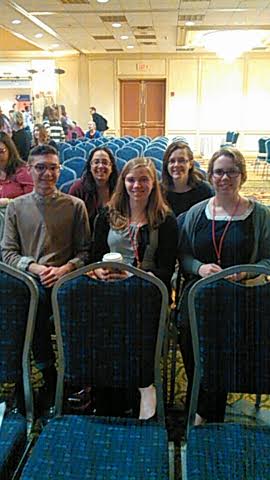 Saunders College of Business Trip to New York City
Nine honors students from the Saunders College of Business visited 11 companies and participated in two networking events with alumni during the spring semester break. Among the companies visited were Bloomberg, Christie's auction house, Ernst & Young, ESPN, Google, MEC Global, creative agency MRY, PricewaterhouseCoopers, and Yummie by Heather Thomson. The students met with more than 20 alumni from multiple RIT colleges and learned about many co-op and full-time job opportunities.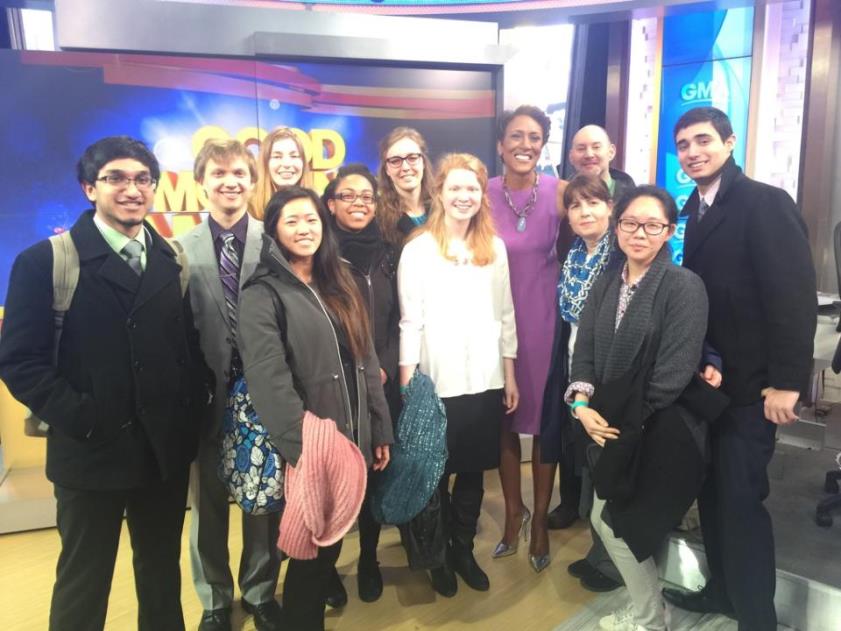 SCB honors students with anchor Robin Roberts on the set of Good Morning America.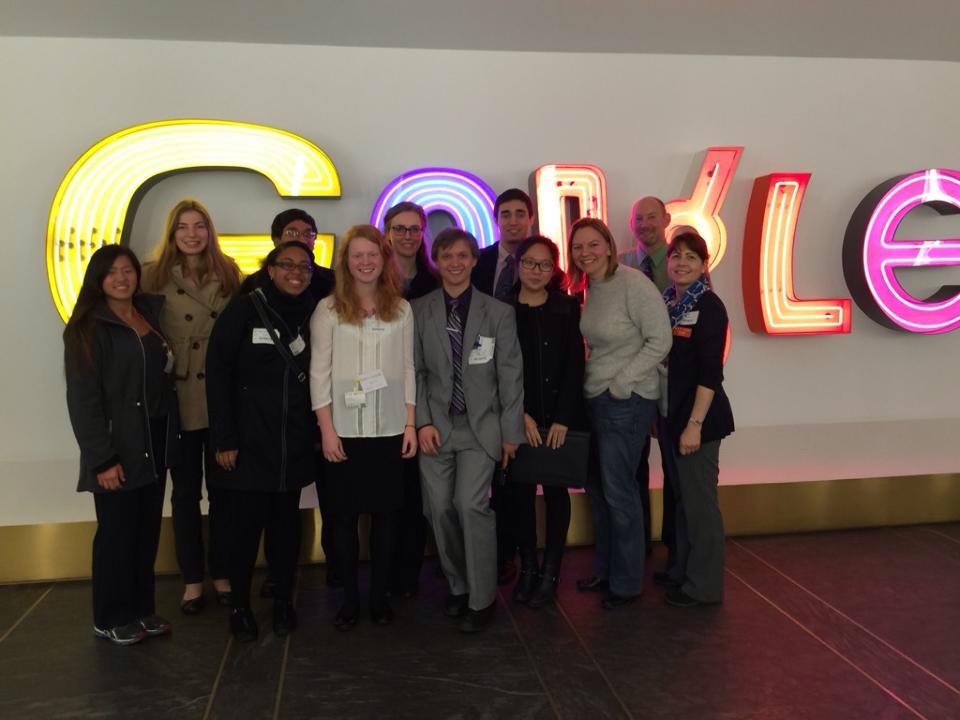 SCB honors students with RIT alumna Julie Sterling, Head of Publisher Sales, Automotive Partnerships at Google.
GCCIS Trips to Austin and San Francisco
Honors students in the Golisano College ofComputing and Information Sciences visited with tech companies in Austin and San Francisco. Seven students went to Austin, TX to visit with uShip.com, Indeed, Blackbaud, Panic Button, Electronic Arts, and IBM. Another five students went to San Francisco, CA to visit with Cisco Meraki, Palantir, SmugMug, Box, and Google.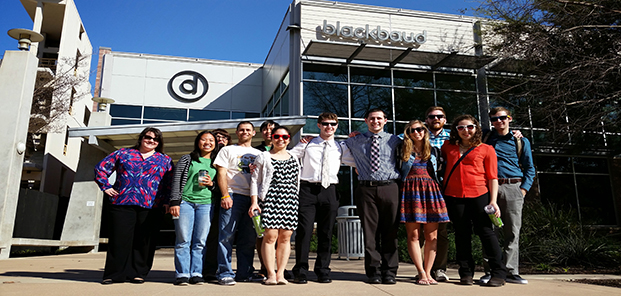 Melody Kelly, Adam Kaufman, Sam Kirschbaum, Kelsey Weinman, Will Paul, Jackie Wiley, and Peter Gyory (Austin, Texas)
CIAS Trip to Utah
Over spring break CIAS honors students caravanned by car between national parks – filming, photographing and sketching. They captured images in Arches National Park, Monument Valley, Lower Antelope Canyon, Lake Powell, Horseshoe Bend, Glen Canyon Dam, Zion National Park, Bryce National Park, and Antelope Island State Park (Salt Lake City).
KGCOE Professional Development Trips
A group of KGCOE second year honors students spent their spring break visiting companies in Savannah, GA. The group visited six companies over four days. The visits started at Arizona Chemical, where students were told about their product design cycle as well as basic plant operations. The group then visited Gulfstream, to be taken throughout the production line of the Gulfstream aircraft (G450, G550, and G650 models), where they showed the whole process from initial rivets through detailed finishing. Next on the list of companies was Mitsubishi Hitachi Power Systems/Savannah Machinery Works. At this facility, Mitsubishi makes steam and gas turbines. They then visited Chatham Steel to see the distribution center for different steels. The group got the same tour as President Obama, who visited Chatham Steel last year. The last day was spent visiting the Georgia Port Authority (GPA) and the IKEA distribution center (picture). The group was given a fascinating presentation about port operations, and all the pieces that go into making it successful. At IKEA, the students saw a mechanized warehouse and saw logistics in action on a world scale. The amount of product that flows through the warehouse in a day is impressive.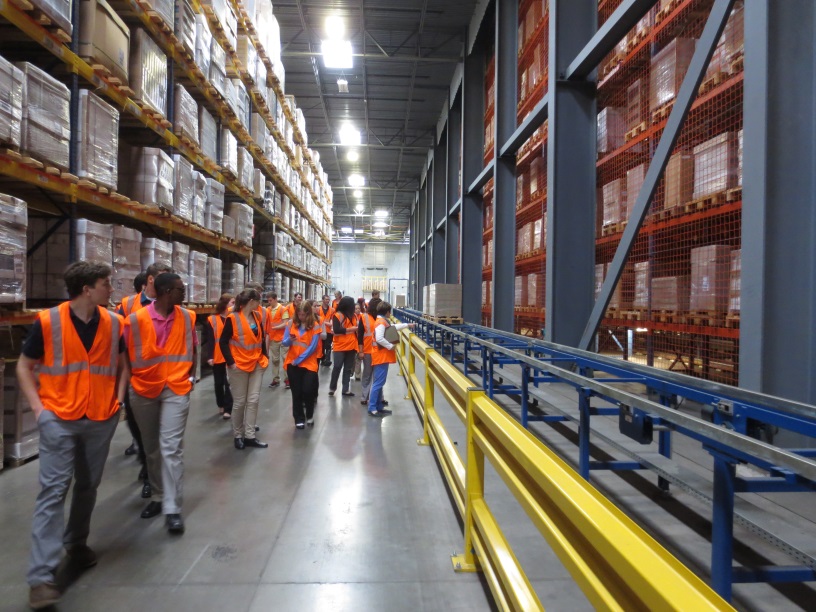 A second group of KGCOE second year honors students spent their spring break visiting companies in Seattle, WA. They visited six companies over four days. The visits started at Sage Fly Fishing, where students learned about a small company making high end fly rods-small composite tubes. The group then visited Stratos and learned how they work with a wide variety of customers to help design products for them. They visited Boeing in Everett, WA and saw them manufacture very large composite tubes-planes! They were allowed on a 787 in production as they were installing seats and testing the breaking system. They then visited Fluke who develops and manufacturers test and measurement tools and software. Fluke provided a tour of their manufacturing facility and spoke to the group about how they design new products and how they work with the end users of their products. They also visited the Starbucks manufacturing and distribution facility. They saw the green beans and viewed the different roasting methods. They also saw the tea room and learned how they acquired that line and others. Lastly, they visited Fatigue Technologies. They learned about the process of cold expansion and it applications.
Complementary Learning
Lisa Chiffolo (KGCOE)
Lisa Chiffolo traveled to Guatemala with fellow Biomedical engineering students as a part of the Engineering World Health's initiative to repair much-needed medical equipment in the three largest hospitals during the winter intersession break. Engineering World Health brings together engineers from around the world to help in medical institutions and to improve healthcare delivery in the developing world. It also provides an opportunity for student-volunteers to get a global perspective about how engineering can have a beneficial effect in resource-poor communities.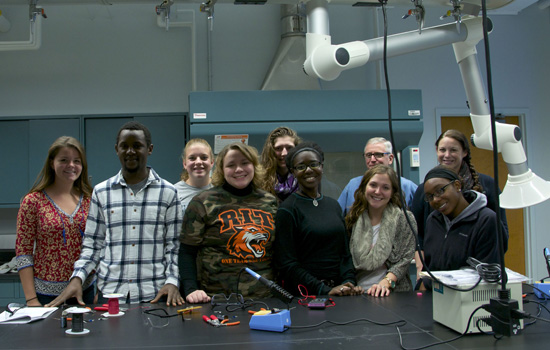 Lisa Chiffolo – Fifth from Left
Reginald Pierce (KGCOE)
Reggie took a trip to the St. Francis Inn soup kitchen in Philadelphia with nine other RIT students to volunteer for five days helping with the operation of the Inn. St. Francis Inn serves over 100,000 meals each year to alleviate poverty in the Kensington neighborhood of Philadelphia. The meals are served restaurant-style by waiters so that families can eat together and so that the Franciscan value of love and respect of the poor can be expressed. As volunteers, Reggie and the students assisted with picking up donations, sorting the donations, preparing, serving, and cleaning up the meals. Reggie used his engineering skills to improve a loading ramp in the basement. Through that experience, the students all gained a better understanding of and compassion for the poor of America.