News & Events
Honors Gala TICKET SALES
Hi everyone!
Gala ticket sales are going to start tomorrow at Pizza Friday! Beyond that, we will be selling tickets in the office in the next two weeks. Please check the image below to see when those ticket sales are happening (in the green cells).
Tickets are $8 for 1 or $15 for 2! The earlier you buy them, the better idea that we have of how many people are coming so we can make sure we have enough food (so buy your tickets asap).
As always, if you have any questions about Gala or ticket sales, let me know!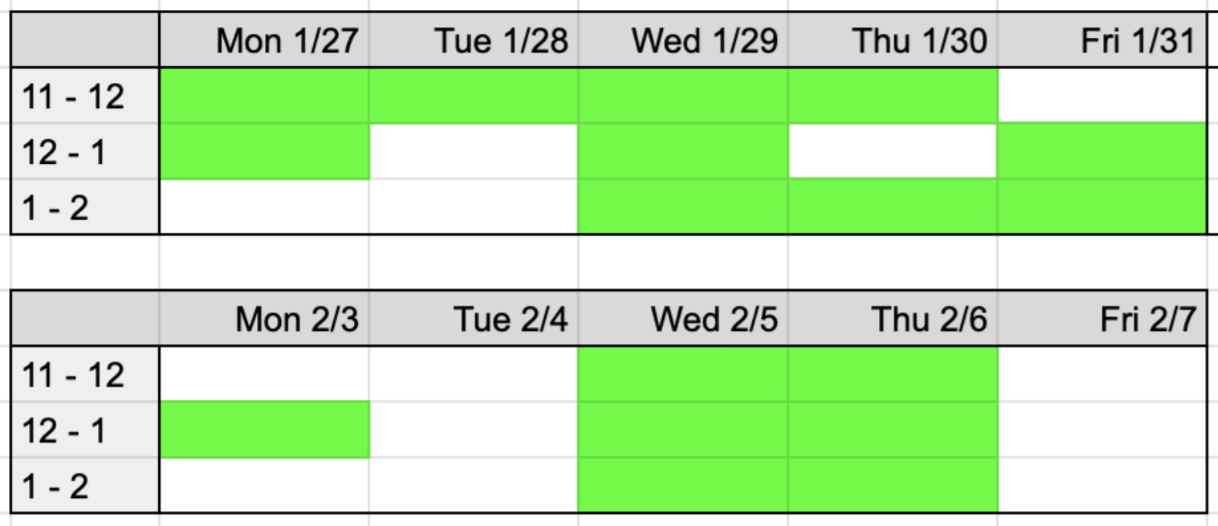 Honors Gala - February 7th
Location:
University Gallery
Hi Honors!
I hope everyone is having a strong start to the semester so far! We will be having our annual Honors Gala this semester on February 7th from 6 PM - 9 PM in the University Gallery in Booth. Like always, there will be games, music, and catered food (fruit, veggies, cheese/crackers, dessert).
Tickets are $8 a piece or 2 for $15 (cash only). We will be selling tickets at Pizza Friday's starting next week (1/24) and in the Honor's Office at other points during the upcoming weeks. I will send a follow up email letting you know when tickets are being sold from the Honor's Office. If you have any questions, you can always email me at kgcoerep@honors.rit.edu.
We hope to see you all there, and have a great rest of the week!
Ryan B. Brown
Blood Drive Volunteers Needed!
Hello all!
I hope you all had a wonderful break and first few days of classes. I wanted to reach out and let you all know that the Honors Program will be hosting a Blood Drive on Thursday February 13th from 10am-4pm. This is a great opportunity to get in some of those comp learning hours before they are due on March 6th!
The Drive will be run by the Red Cross and they require that we have at least five volunteers available at all times. Attached to this email will be a link to a spreadsheet for volunteer signups. The blocks to sign up are 15 minute increments (this is to give you ample time to get to class if need be); However, you are able to sign up for as many of those blocks as you wish.
If you are interested please fill out the spreadsheet and I will contact you to confirm your participation and provide a little more information about the position.
Lastly, I wish you all luck with this new semester. If you have any questions please do not hesitate to contact me.
Link to signup:
https://docs.google.com/spreadsheets/d/122AI-AHOhzP2sx3_JFvXkcNAfs2JccVxIpXMfgBGtdg/edit?usp=sharing
Best,
Joshua Crandall
Internal Admit Representative