5 Tips of Sustainable Dorm Life
March 5, 2020
by Lea Balcerzak
As we look around today, it's obvious that sustainability efforts are increasing and coming to the forefront of our minds. Less plastic cutlery, Wegmans banning plastic bags, even green initiatives on campus like Ozzi containers, it really is everywhere you look. We wanted to bring you some of our top tips for living more sustainably in your dorm, because even though none of us can be perfect in every area of our life, every small change can add up and have a positive impact on our environment.
1. Recycle
Okay, this one may sound like an obvious one, but it couldn't be simpler as your dorms already comes with a recycling bin. It doesn't take any extra effort to throw something in the correct container. RIT participates in mixed recycling which means that that plastic, glass, metal, paper and cardboard recyclables can be put in the same recycling container. Just make sure that all items that are put in the recycling bins are empty and clean.If you want to know more about RIT recycling, you can go to https://www.rit.edu/sustainablecampus/recycling-and-waste 
2. Take shorter showers. 
The average American shower uses 17.2 gallons (65.1 liters) and lasts for 8.2 minutes - now that's some crazy numbers. Taking quicker showers will not only reduce your water waste, we're guessing you'll score some major brownie points with your roommates too. So maybe turn the "how will I save the world?" shower thoughts into sitting-cozy-in-bed thoughts and cut down on your showering time. 
3. Have a set of reusable kitchenware.
Obviously your dorm isn't the place to bring a 20-piece dish set and your best silverware, but it doesn't have to be difficult to have one or two sets of reusable plates and silverware that you can use whenever the late night pizza craving hits. RIT also provides Ozzi containers which are a great option for food on the go and if you're feeling real adventurous, you could even buy a reusable set of utensils that you take on the go with you!
4. Natural air fresheners
We get it, dorms aren't always the best smelling place in the world. Especially if you're living next two someone who took our point #2 to the extreme and reduced their shower time to 0 minutes. Rather than spraying your room up with artificial room sprays (that make your roommate cough every time), you could consider having a plant that improves air quality or putting out some dried lavender to give your place a fresher smell.
5. Go thrifting  
One of students' favorite things about coming to college is often getting to decorate their spaces and make them feel personalized and cozy. And while that's totally understandable, we can all probably think back to that really cute lamp and desk organizer from Target that we bought for way too much only to realize that everyone on the floor had the same one or decide we didn't like it the following year. Why not instead try to give second life to some objects - whether you check out the annual Goodbye, Goodbuy sale or stop at Goodwill, you can surely find some hidden treasures!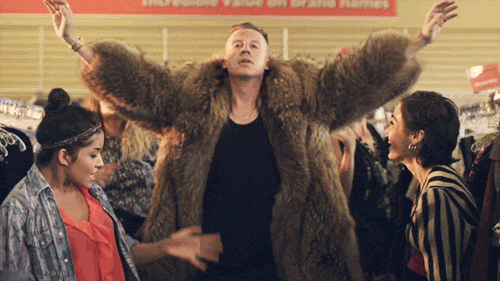 Tagged:
dorm life
,
dorms
Rochester Institute of Technology
,