Biomedical sciences graduate balanced studies with emergency medicine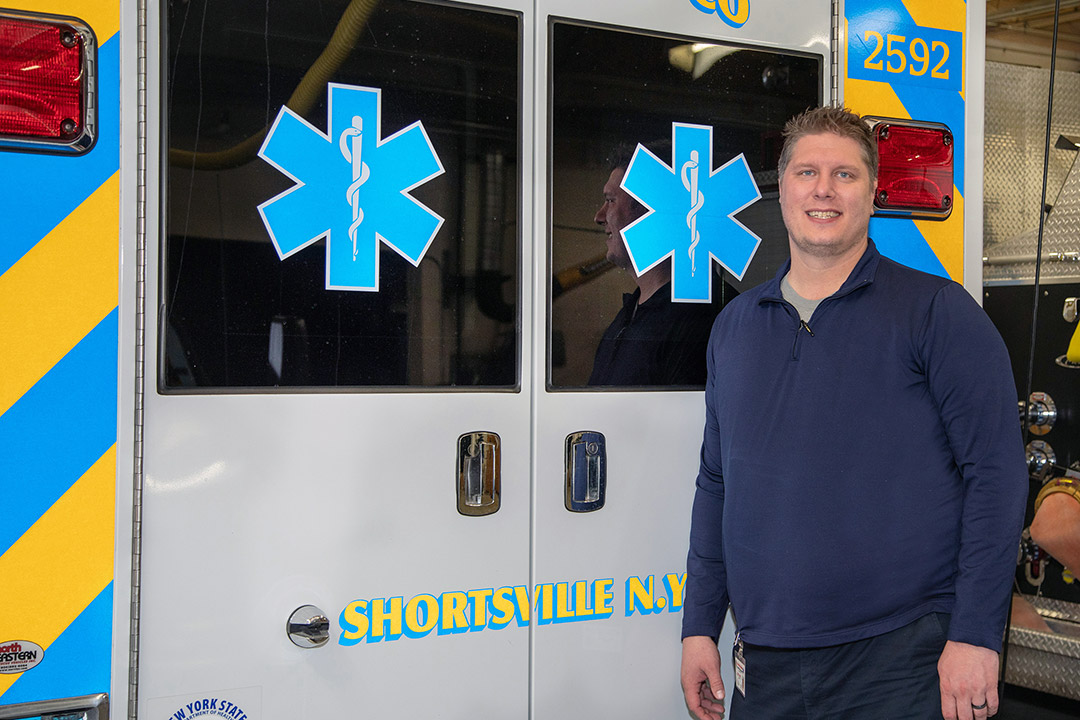 Graduating senior and first responder Bryon Campbell spent his final semester at RIT on the frontline of the coronavirus pandemic.
Campbell is a biomedical sciences major and a New York State Emergency Medical Technician and Certified Flight Paramedic. While earning his bachelor's degree, Campbell volunteered more than 35 hours per week with the Citizens Hose Company, the Shortsville Fire and Ambulance, in Shortsville, N.Y. And when the coronavirus spread to upstate New York, Campbell was ready to help.
His personal experience as an EMT during the coronavirus pandemic stands in stark contrast to his final semester at RIT. On one hand, Campbell stayed home and remotely attended his placebo research, addiction pharmacology and biology of cancer courses; on the other, he left the safety of his home to answer ambulance calls of increasing acuity.
Likewise, while digging into the placebo research and the effects of the coronavirus pandemic for one class, Campbell worried about the lack of personal protective equipment and about carrying the virus home.
"I practice and teach my family to honor social distancing guidelines," Campbell said. "Keeping 6-feet away at least from other people and avoiding social contact. That's the groundwork. And in my professional life, it's taking every precaution I can for an unknown situation."
Campbell has practiced emergency medicine since 2001. He has held various roles as a paramedic and then as a certified flight paramedic, a special skill level requiring a knowledge of aeromedical physics to treat acute patients transported on helicopters. After graduation—and taking the medical school entrance exam in July—Campbell will spend the year working as a flight paramedic and applying to medical school for fall 2021. He hopes to attend Upstate Medical University, where his wife works as a nurse practitioner of pediatric neurosurgery.
Studying biomedical sciences at RIT will help Campbell launch the next phase of his career, which may surprise people who know him well.
"I think people would naturally assume that I would want to go into emergency medicine, but personally, I would love to go into anesthesiology," he said.
He likens anesthesiologists to orchestral conductors.
"They speed up and slow down the tempo of the surgery," Campbell said. "They control the patient's airways. They are in charge of what the patient feels and what they don't feel, and that's exactly what I would love to do."
Topics