Graduate plans to continue learning as cybersecurity researcher at MITRE corporation
2020 computing security graduate Jack McKenna learns from competitions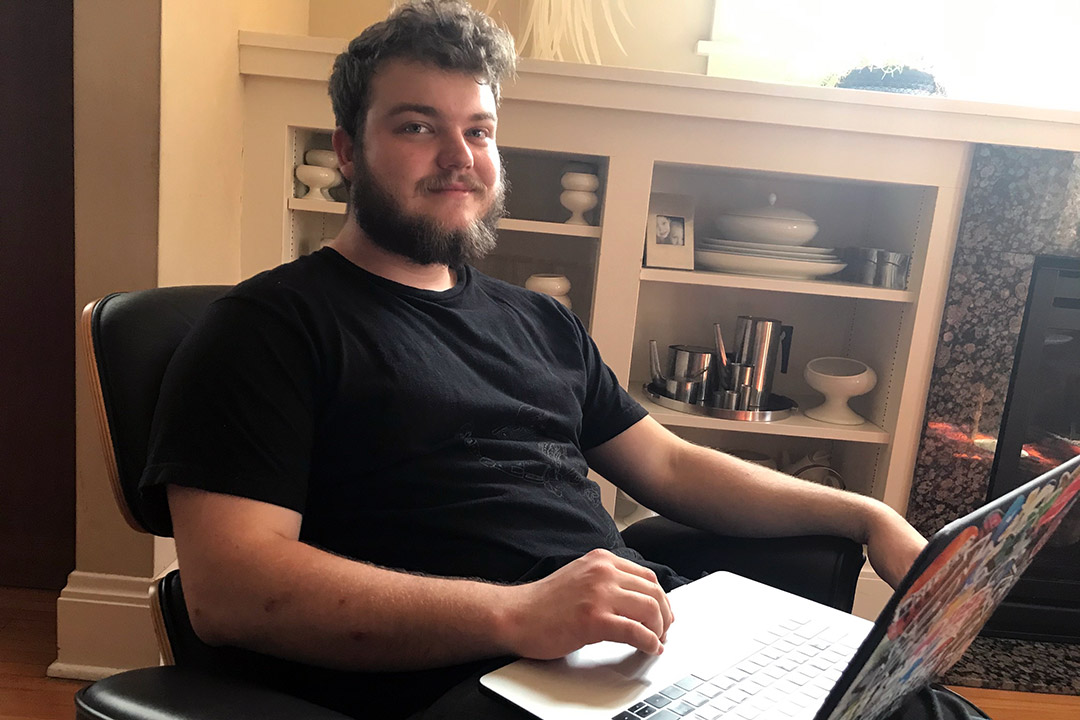 Just because Jack McKenna is graduating, that doesn't mean he's going to stop learning.
In his new job as a cybersecurity researcher at MITRE, McKenna will constantly be on the lookout for new ways to use computing security techniques in order to help strengthen the nation's cyber defenses. The 2020 graduate of RIT's nationally-ranked computing security program plans to approach the job with the same curiosity he brought to cybersecurity competitions at RIT.
"If you are interested in a cybersecurity career, you always need to be learning new skills that you can apply in different ways — and competitions are a great place to practice that," said McKenna, who is from Saint Paul, Minn. "You need to be the person coming up with ideas that defenders and attackers have never thought of."
McKenna first got interested in cybersecurity in high school because of capture-the-flag competitions and the CyberPatriot National Youth Cyber Education Program. He attended James Madison University but decided to transfer colleges his sophomore year. He knew that he learned best by doing competitions, so that became a major factor when he made his decision.
"I went through a list of all the schools that won the National Collegiate Cyber Defense Competition (CCDC) in the past 10 years," McKenna said. "RIT is one of the places that does it the best."
For the cyber defense competition, teams from across the country face-off to see who can best defend against attacks from a group of industry professionals—called the red team—who are assigned to break into the student's mock computer networks. RIT won the national event in 2013.
As captain this year, McKenna led RIT's CCDC team to the national finals, which will be held virtually May 22-24. In 2019, he was also part of a RIT team that placed third at the national event.
"One of my favorite parts of CCDC is researching and creating 'the bible' — which helps explain all sorts of alternative ways and strategies to do things, depending on what the red team attacks," said McKenna. "That's a process I really enjoy."
At MITRE's headquarters in McLean, Va., McKenna will continue this type of research by looking to improve cybersecurity policies in a variety of domains, consulting on new programs and by studying the best ways to manage attacks. He'll get to use the MITRE ATT&CK framework to better classify attacks from around the world and the CVE (Common Vulnerabilities and Exposures) list to track exploits.
"You probably don't know about these, unless you're a cybersecurity professional, but MITRE's work impacts people's everyday lives," said McKenna. "I'll get to help people, which is important to me."
As an industry professional, McKenna said he's also excited to return to RIT and help "red team" against current students. One of his favorite student-run events is the Information Security Talent Search competition (better known as ISTS), which he also helped organize this year.
"It's something that gave me practice working with large teams," said McKenna. "It's one the most the stressful things I've ever done, but also the most beneficial."
When he comes back, RITSEC, the student-run club that runs several competitions, will have its own space in RIT's Global Cybersecurity Institute (GCI). The new three-story facility will allow RIT to address the critical workforce needs in cybersecurity by conducting groundbreaking research, education and professional training and development.
"I remember having many late nights working in the labs to better understand a particular exploit," McKenna said. "It will be nice for future students to have dedicated space to do this."