Research propels biotechnology and molecular bioscience student KayLee Steiner to top Ph.D. program
Steiner will continue to explore her passion for research at Vanderbilt University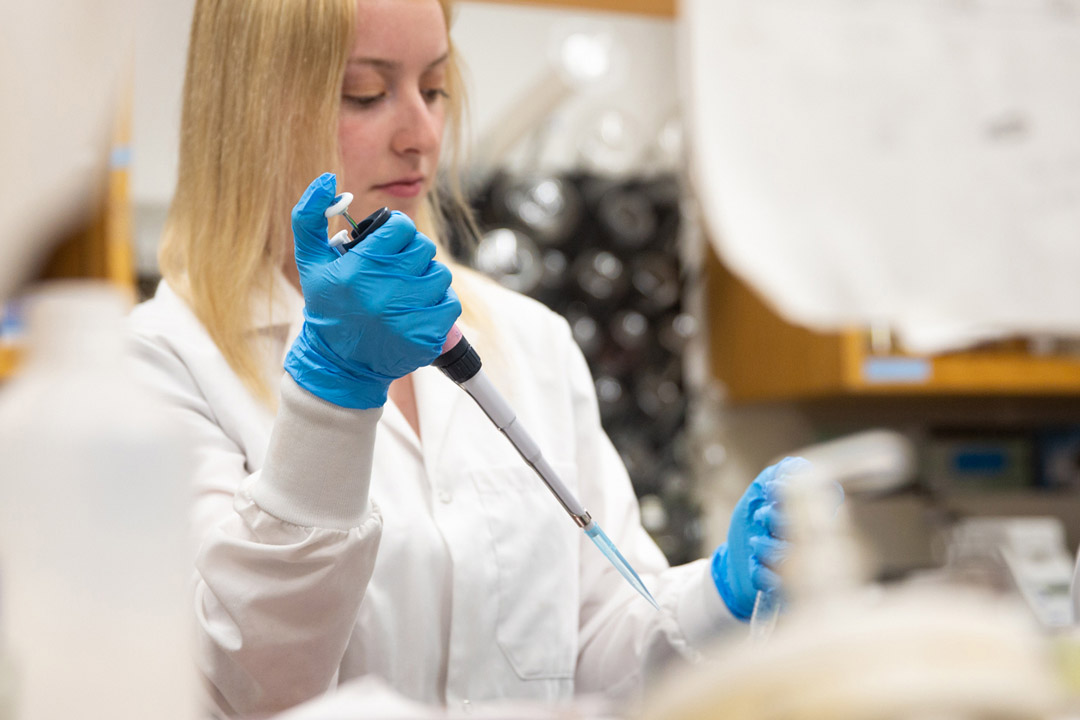 Jaime Huynh
KayLee Steiner knows her way around a research laboratory. The biotechnology and molecular bioscience student from Jamesville, N.Y., started conducting research in Professor André Hudson's lab during her second year at RIT. Since then she has been a co-author on three published papers on topics such as genomics and is the first author on another that is currently under review.
The extensive undergraduate research experience made her an appealing candidate when she began applying to Ph.D. programs. After receiving offers from top-notch graduate programs including Duke, University of North Carolina at Chapel Hill and others, she will pursue her Ph.D. at Vanderbilt University's School of Medicine.
"The fact that I had three years of research experience when I was applying really made me stand out," said Steiner. "Those publications are a big deal when it comes to applying to graduate school because it shows that you've done quality research already and you're more prepared to do that in grad school."
In the fall she will enter Vanderbilt's Interdisciplinary Graduate Program, allowing her to do research in four different labs to find what topic she is most passionate about. Her main interests right now are in microbiology and immunology, but she said she was excited at the prospect of branching out into other fields as well. Ultimately, Steiner hopes to work as a research and development scientist for a biotechnology company, pharmaceutical company or government lab.
As Steiner reflected on her time at RIT, she said the fondest memories are of the tight-knit relationships she developed with her faculty and peers. In addition to excelling in the classroom and research lab, she was heavily involved in outside activities. Steiner played violin in the RIT orchestra, was involved in the Biotech Club, acted as a teaching assistant and student ambassador for the College of Science, and was on the crew team for three years. She said competing on the crew team helped give her the discipline she needed to succeed academically.
"I think being on the rowing team helped me become a better student because I wake up really early and have to get my work done throughout the day to even go to bed at a good time to get enough sleep to practice the next day," said Steiner. She was sad when the NCAA had to suddenly cut her senior season short due to the coronavirus pandemic, but she plans to keep rowing in Nashville either on the Vanderbilt club team or a master's team.
Her strong work ethic and knack for research should serve her well at Vanderbilt and beyond.