Cybersecurity Bootcamp
Cybersecurity Bootcamp is an immersive, hands-on training course built to upskill learners to confidently take on an entry level cybersecurity professional role.
The remote course is built around a virtual simulation of a company, and includes live interactions with faculty and fellow students. You will learn via hands-on exercises using real-world tasks immersed in an on-the-job training environment. We removed the need to translate classroom style learning into actionable knowledge. With this bootcamp you will be able to hit the floor running faster. 
We are excited to offer full-time and part-time options to get you into your new role at the time that is right for you.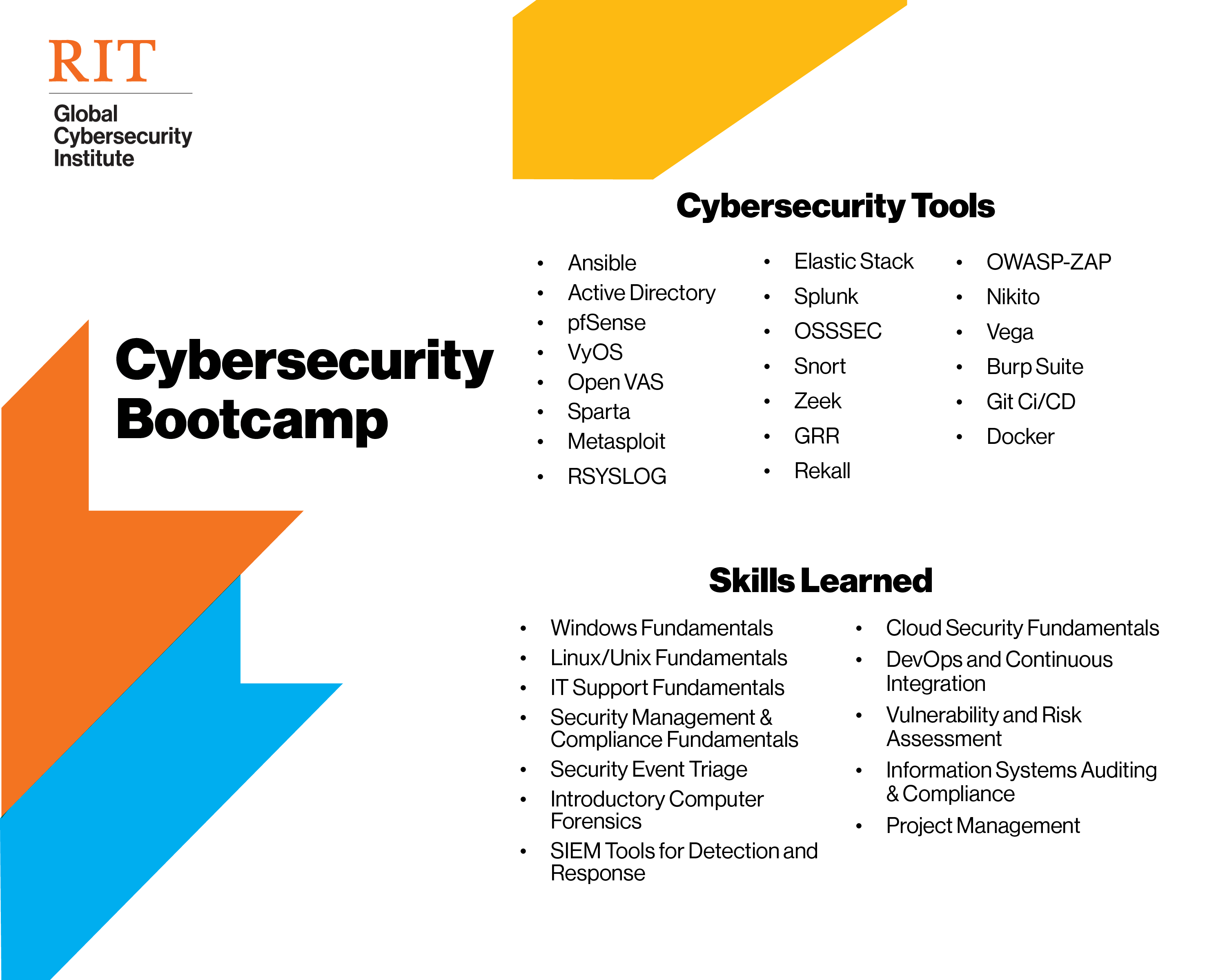 ​
Upcoming Dates
August 23, 2021
January 10, 2022
May 12, 2022

Apply Now>

*All start dates can be part-time or full-time, subject to availability.
**For corporate or bulk registration and pricing, please contact our office directly.
What Makes This Program Unique?
What Do Graduates Receive?
A Certificate of Completion from the RIT Global Cybersecurity Institute is issued to graduates who pass a skills-based assessment offered as a part of our intensive class.

A performance review portfolio and letter of recommendation from course instructors. 

A new set of skills that can be used to attain an entry level position in the cybersecurity sector. 
Our curriculum also prepares students for industry standard certifications including Security+ and Cybersecurity First Responder certificates. Your tuition will include a voucher to take one of the certification exams for these certifications. However, it is the student's responsibility to take and pass the exam.
More Information
RIT has one of the largest degree-granting cybersecurity programs in the country, with more than 450 enrolled in BS, MS, and Ph.D. computing security programs. Over 150 graduates in co-op and full-time positions are placed every year across the country ranging from large companies to startups.