RIT appoints Clifford Jacobs as new director of Native American Future Stewards Program
Jacobs assumed leadership of the Native student engagement program July 1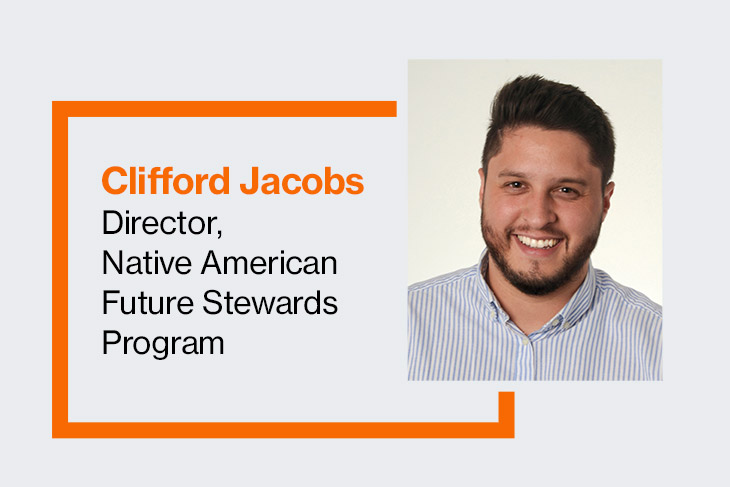 Rochester Institute of Technology has hired a new leader for its Native American student success initiatives. Clifford Jacobs joined RIT as director of the Native American Future Stewards Program (FSP) on July 1.
Jacobs originally hails from the Tuscarora Indian Reservation in Lewiston, N.Y. A graduate of Syracuse University and Columbia University School of Social Work, Jacobs worked in the Brooklyn Criminal and Supreme Courts and in the Rikers Island Prison Complex supporting clients involved in the criminal justice system. Jacobs is a trained Native American Peacemaker through the Red Hook Community Justice Center in Brooklyn and former residence hall director at Columbia University. His most recent role was in Columbia Residential Life as the assistant director of the Special Interest Communities, where he managed all identity and interest-based groups including the Manhattan House, the Indigenous community on Columbia's campus.
"I am very excited to join RIT, get to know the student population, and begin engaging with our surrounding tribal communities," said Jacobs. "I've wanted to give back to Native communities my entire life and when I found this position, I realized this is the perfect role for me. It will get me close to home to help my community and surrounding Native communities, but also give me a chance to give back to the youth and show them what Indigenous student success can look like."
RIT established the FSP to help increase the success rate and number of Native scholars (Native American, Alaska Native, Native Hawaiian and First Nations) in science, technology, engineering, and math along with other areas of need in Indian country. The program collaborates with students and tribal nations, organizations, and corporations to create opportunities for Native scholars to develop academically, professionally, and culturally.
"I am very pleased to welcome Cliff Jacobs to the RIT community," said Vice President and Associate Provost for Diversity and Inclusion Keith Jenkins. "We look forward to seeing how Cliff builds upon the groundwork laid by those who held the position before him and explores new opportunities to engage with Native communities in novel ways."
Jacobs succeeds Nicole Scott (Diné) as director of FSP. Scott joined RIT in 2013 originally as FSP program manager and now returns to her home state of Arizona to be closer to family.
"It has been an adventurous seven-year journey and I have enjoyed my time at RIT and in Rochester," said Scott. "I am excited to see what the future will hold for all of you, this program, and myself. I am so thankful. As I have returned home, I am thrilled that this transition provides Cliff with that same opportunity."
In 2020, RIT earned a spot as one of the "Top 200 Colleges for Native Americans" in the American Indian Science and Engineering Society's Winds of Change magazine for the ninth year in a row. The Top 200 List identifies colleges and universities where American Indian students attend in significant numbers, and where the campus community, Native American programs, and academic support services enable high levels of success for American Indian students.
To learn more about the Native American Future Stewards Program, go to the Division of Diversity and Inclusion website.
Topics