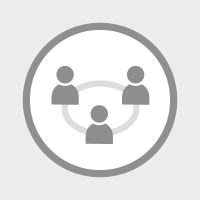 Sharpen the Saw 2018
Join us for the 15th annual Sharpen the Saw!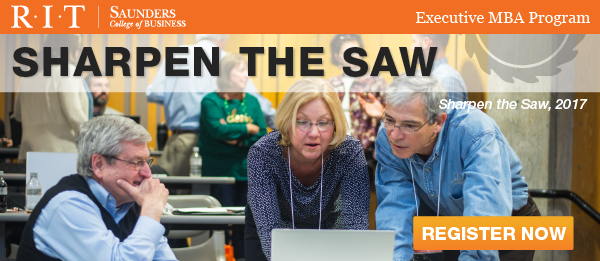 Reconnect with classmates, faculty, staff and other EMBA alumni at the annual professional development event! The event provides past and recent alums the opportunity to reflect and gain new perspectives in your personal and professional lives.
This year's speaker line-up brings current trends and issues to the forefront as we look towards the future:
7:30 am Continental Breakfast
8:00 am Welcome Introductions
9:00 am Bitcoin: What is it and what it its impact on businesses? Colin Paran, an engineer and data scientist, shares insights on into this elusive currency and its future.
9:30 am Leadership Excellence: Tom Watson, former Regional President for the Asia Pacific Region of KPG, and West Point graduate shares his game-changing leadership tactics for experienced managers.  
10:15 am New Leadership: RIT's new president, David Munson, joins us to share his vision for RIT, and discuss the challenges and issues he faces taking on this new leadership role. 
11:00 am The Third Act: We are revolutionizing what retirement means in America, but how can you plan for your future now. Following the sale of his business, Joe Lobozzo discusses "what comes next?"
12:00 pm Speed Networking Lunch and Campus Tours! Take the opportunity to meet alums from other classes with a structured speed networking lunch. Get to know more from your peers, because you never know when you might need to utilize your network.
1:30 pm Updates from the Executive Program: Marty Lawlor and Jeff Davis share insights from the most recent EMBA trip to South Africa, new developments in Executive Education, and new updates on the future of the EMBA program.
2:00 pm Business through the generations: Ray Issac, President of Issac Heating & Air Conditioning, brings insights on the changing small business climate and managing a family business through three generations.
3:00 pm Strategy and Growth: Don Baptiste, CEO of Trax Technologies, Inc. and former Head of Bloomberg Finance L.P., is responsible for driving growth. Mr. Baptiste brings his wealth of knowledge and more than 20 years of experience as an entrepreneurial leader with a deep background in data analytics, growth strategy, new product development, and organization improvement.
4:00 pm The Business of Baseball: Rochester Red Wings President and CEO, Naomi Silver, brings her story of "hits and misses" as the head of the local baseball league, especially following recent county disputes over Frontier Field.
5:00 pm Happy Hour!
We also hope to see you at the pre-event networking dinner on Thursday, March 15 at 6 p.m. at Max's of Eastman Place.  Chef Tony Gullace, the owner of Max's, is personally selecting the meal to pair with the wines.
Full schedule, including alumni speakers and agenda, will be announced shortly. Register today!
We hope to see you there!