Col. Andrew Dougherty honored for military service and launch of Air Force ROTC program at RIT
Former fighter pilot with distinguished service record remembered during campus ceremony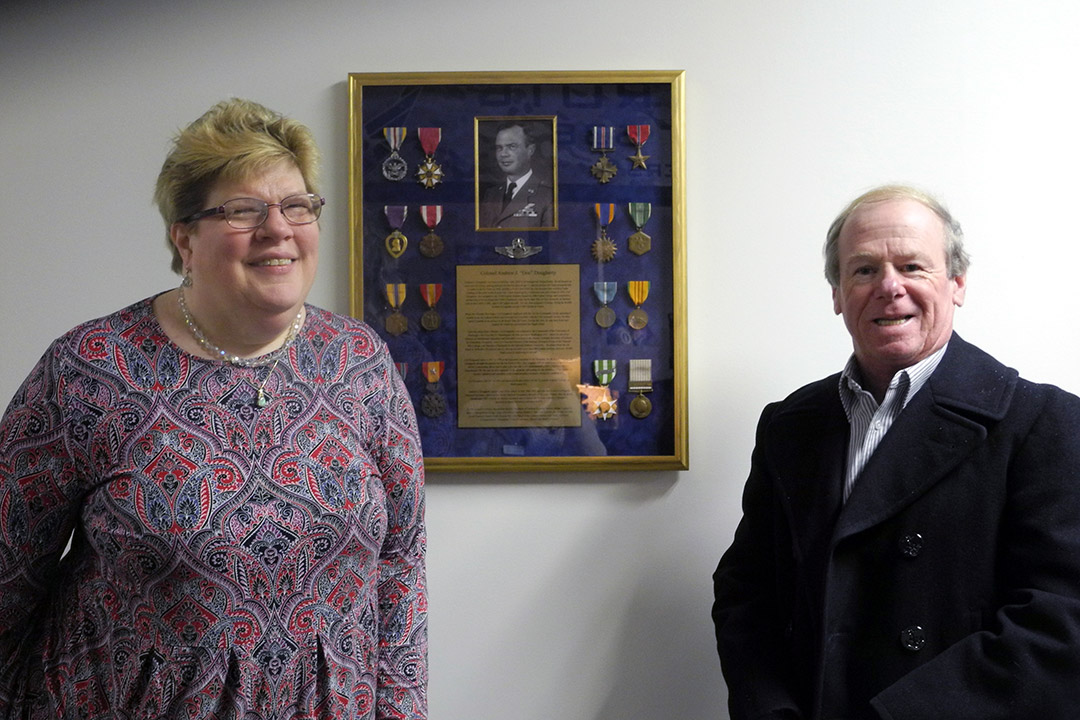 RIT's Air Force ROTC detachment honored Col. Andrew "Doc" Dougherty during a ceremony on Dec. 6 at the university for his distinguished service and his role in establishing the Air Force ROTC program at RIT in 1981.
"We are gathered to honor the service and contributions of a great pilot, a great leader, mentor and American airman," said Cadet Oliver Lindblom, a member of the professional officer course at RIT Air Force Detachment 538 and a third-year mechanical engineering major. "We are the future of the Air Force, but as we look forward to our careers, let us never forget to look back on the actions of the great men from our past who laid the foundations we stand upon today."
A plaque to commemorate the occasion was unveiled near the RIT's Air Force and Army ROTC offices and it holds 16 medals given to Dougherty over his 26-year career for service, valor and gallantry. Medals included the Purple Heart; the Secretary of Defense Superior Service Medal; Distinguished Flying Cross; Vietnamese Cross of Gallantry; and the Vietnamese Medal of Honor. All reflect a notable career that began in 1950.
"Legend has it, that at age 14, he purchased a used bi-plane from a local pharmacy owner. His maiden flight ended in a less than glorious manner when he crash landed in a tree, leaving him with a dilemma of having to get the plane out of the tree without his mother finding out," said Lindblom. "This early set back was not enough to keep him on the ground."
Commissioned in 1952, Dougherty was assigned to the 310th Fighter Bomber Squadron, 58th Fighter Group. He'd see combat in both Korea and Vietnam, as well as serve in an advisory capacity with allied forces in Europe and Asia. He held leadership responsibilities with the Deputy Assistant Secretary of Defense, at the Strategic Research Group at the National War College and at the National Defense University. He retired from the Air Force in 1978, with more than 400 combat missions and over 10,000 flight hours.
In 1979, Dougherty came to RIT as executive assistant to then-president Richard Rose and began the university's Air Force ROTC program and the Arnold Air Society squadron—a national professional service organization dedicated to further officer development. The Rochester chapter would eventually be named after Dougherty. When he left RIT in 1991, he became a Senior Fellow for the Economic Strategy Institute in Washington, D.C.
"Without the passion and dedication of Colonel Dougherty, we might not have Air Force ROTC at RIT and all of us might never have been able to share the experiences we have shared together in our time so far, or will share in the future," said Lindblom, who is from Rochester, N.Y. "To my fellow cadets, every time you walk this hallway and look at this memorial, take a moment to reflect on, and think of, Col. Dougherty, of his efforts in establishing the detachment that you now belong to."
Members of Dougherty's family attended the ceremony, including his daughter, Julie, a former RIT employee, and nephew Dennis, who remembered his uncle as both humble and family-oriented. "We would see him at family events and I remember my father always telling us to make sure my brothers and I spent time with him. With me being a military person, I wish I knew more about him. Julie has given me his few of his items, one of his flight suits that he wore. He was a military hero."
Dougherty died from cancer in 1997 and is interred at Arlington National Cemetery.
Note: Lt. Eric Murray '19 (electrical engineering), an RIT and Air Force ROTC alumnus, designed the display; faculty member and former RIT executive assistant to the president, Barry Culhane, provided funding for the building and installation of the memorial.