Bruce Bates receives RIT's inaugural Lifetime Achievement in Philanthropy Award
RIT Trustee has 50-year association with the university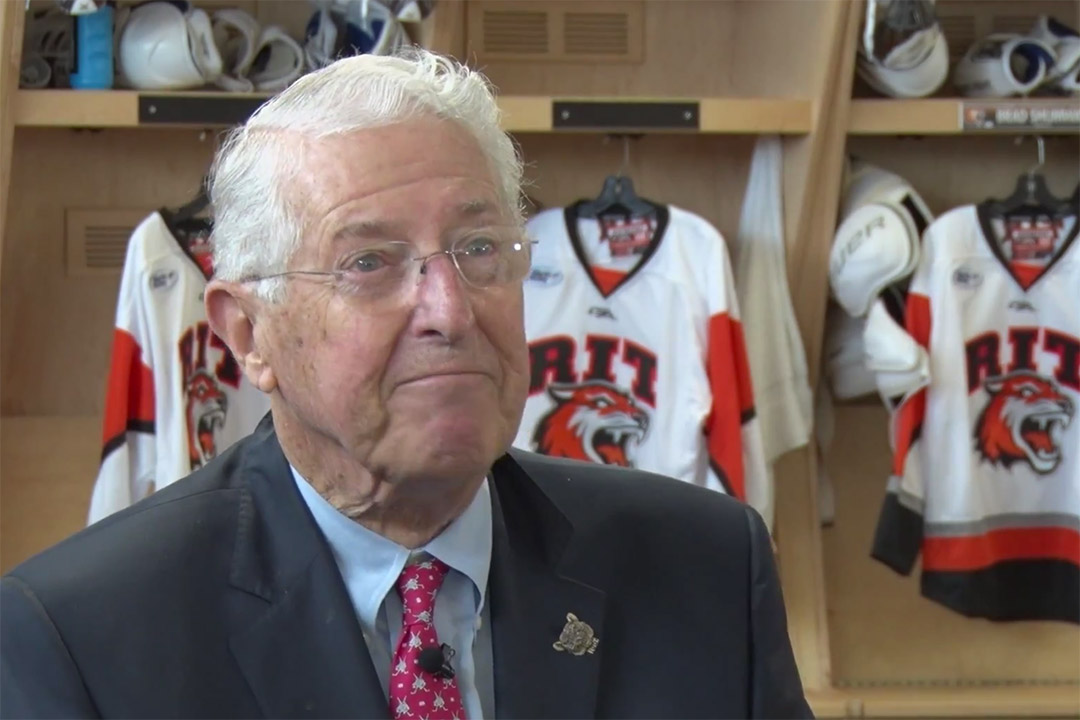 "I've gotten much more out of my association with RIT than I have ever given to it." – RIT Trustee Bruce Bates
Over the past 50 years, Bruce Bates has worked with seven RIT presidents behind the scenes. He witnessed RIT move a campus from downtown to Henrietta. And he's made strategic decisions that have helped propel RIT to the global university it is today.
For his dedication and passion to RIT, Bates will receive RIT's inaugural Lifetime Achievement in Philanthropy Award during a virtual celebration on Sept. 24. Thanks and well-wishes from many of those touched by his generosity through the years have been pouring in on a tribute page set up last month.
"This lifetime achievement award is intended to be offered to people who have demonstrated the pinnacle of achievement in terms of service to the institution, and I can't think of a better person to be the first recipient," said RIT President David Munson. "Bruce quietly went about making a difference in innumerable people's lives because he believed it was the right thing to do."
Bates' sweet disposition started at a young age. Both his parents worked for the Lifesavers candy company, including his mother, who served as treasurer during the 1920s and was one of the country's first female corporate executives. He was born in Port Nelson, Ontario, Canada, following his father's promotion to president of Lifesavers' Canadian operation, starting his education in a three-room school house before shipping off to Phillips Academy in Andover, Mass. Bates later earned a degree in industrial administration at Yale University before moving on to MIT for a graduate degree in industrial management.
Bates came to Rochester in 1956, making partner at prominent investment firm D.B. Bonbright Inc. and was a fixture in the financial community for nearly 60 years. He retired from his position as a senior vice president at Morgan Stanley in 2014.
Bates was originally invited by then Chairman of the Board of Directors Arthur Stern to join the Nathaniel Rochester Society shortly after it was established in 1968, before being appointed to the Board of Trustees in 1970. Through five decades of service, including his own stint as chairman from 1984 to 1987, Bates helped drive RIT's transformation.
"Bruce is remarkable because he has been a trustee for almost 50 years, and a consistent donor to the university for over 35 years in a row," said Munson. "To find somebody that really has that kind of longevity with a single institution is extremely rare."
Born out of a sense of duty to make a difference in his community, Bates' philanthropic efforts have come in many shapes and sizes.
"Just given the benevolence inside him and his altruistic nature, he just wanted to help other succeed," said Senior Vice President for Finance and Administration James Watters. "He rallied around younger folks to be able to impart some of that knowledge and wisdom."
Bates' commitments to RIT have made a significant impact on what is now three generations of Tigers. His Nancy and Bruce Bates Science Scholarship, paired with Bates Scholarship Endowment, have afforded over 275 students opportunities to succeed at RIT which otherwise would have been out of reach. He also most recently established the Bruce B. Bates Endowed Professorship, which provides annual funding for a faculty member and their research.
"When I first applied to college, I was extremely doubtful. I had no family members who could support me financially and I truly felt I was on my own," said Ebony Nicole Eli '20, who graduated last spring with a sociology degree. "Receiving the Bates Scholarship changed my life – I've done things I never imagined I'd be able to do and pushed myself farther than I ever believed I could. I am eternally grateful for that."
Perhaps due to his Canadian roots, Bates has always had a passion for hockey, spending as much time on the ice through the years as he did behind a desk. While it has been some time since he laced up his skates, his love of the game will always be exhibited through the endowment he established five years ago for the women's hockey team.
"Endowed coaching positions across the country are not common, and endowed women's coaches are even rarer," said current Bruce B. Bates Head Women's Hockey Coach Celeste Brown '15. "The endowment allows our players to have the ultimate student-athlete experience as well as an opportunity to become the greatest versions of themselves by the time they graduate."
"He wanted to see teams win, but more importantly, he wanted to see students gain from their experience," said Executive Director of Intercollegiate Athletics Lou Spiotti Jr. "He made it loud and clear with the women's hockey endowment that he wanted to grow the quality of the program and acknowledge the importance of that activity at RIT."
Bates has also made the greater Rochester community a better place in many other ways, giving his time and talents to numerous other organizations, including the George Eastman House, Rochester General Hospital, the Third Presbyterian Church of Rochester, The Red Cross of Rochester, and the United Way.
Explained Bates, "I think it is fun to invest in something when you are living, as opposed to leaving something in your will and not seeing what the results are."
At RIT, he has a lot to see.
Video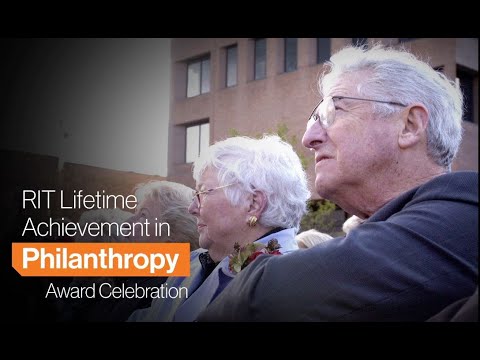 Topics