Renovated dining area completed at Gracie's
Tiered seating, plug-in stations, lighting, and even a fireplace welcome visitors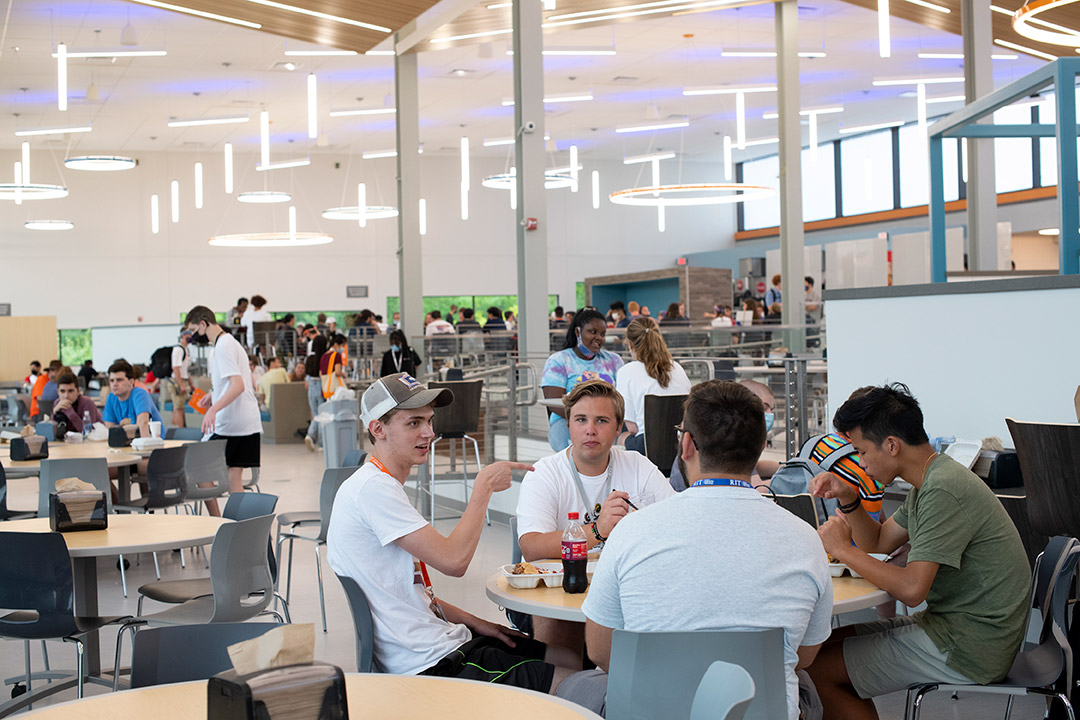 A. Sue Weisler
Gracie's, Rochester Institute of Technology's largest dining facility which has fed students for decades in Grace Watson Hall, reopened this month after a five-month renovation project in its seating area.
It was the second and final phase of renovation; the kitchen and serving areas were renovated in 2019.
"The whole space looks brand new," said Michael Dellafave, senior project manager with RIT's Facilities Management Services. "The dining room was completely gutted for full restoration, from ceiling to floor. We have new furniture, new lighting, new fixtures, and even a fireplace."
The layout of the dining area is now tiered and accommodates 515 people, more than the 475 people the previous layout accommodated.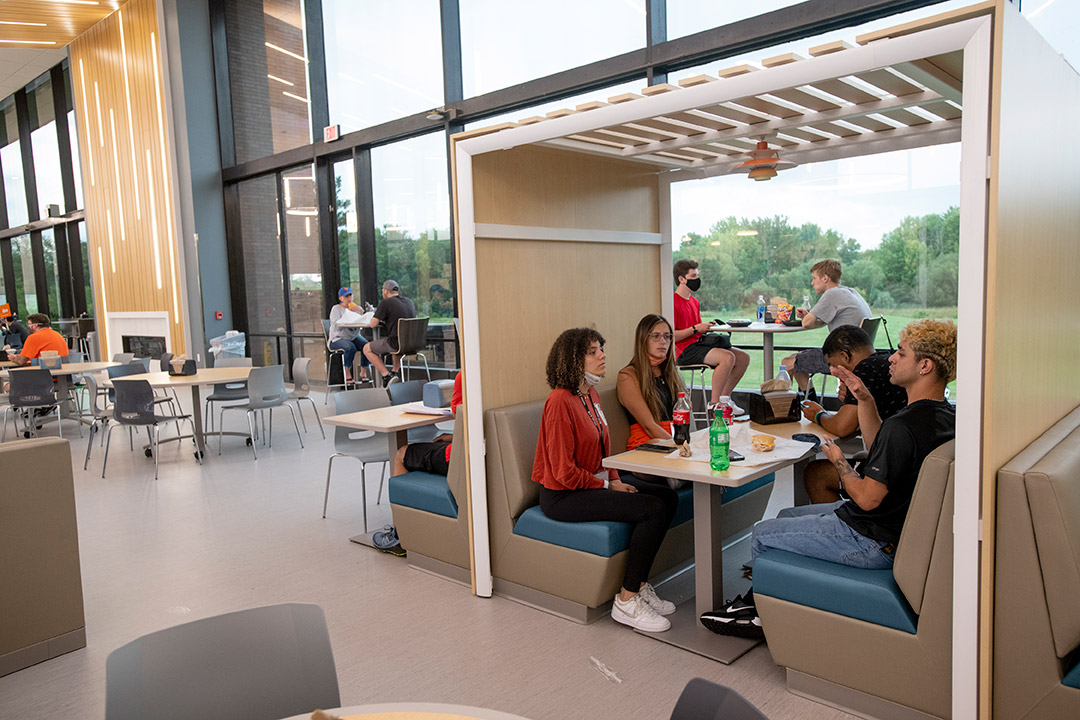 A. Sue Weisler
"There are airport-style, high-top counters, and individual charging stations where students can plug in laptops with USB ports," he said.
Table seating is also offered, with various sizes, for parties of two to eight people.
"The old design was pretty outdated," he said. "We wanted to freshen the space up. So now there's more room for solo diners, and also a new conference room with glass walls."
The conference room can be reserved for meetings and holds up to 10 people.
The format for Gracie's has also changed. It no longer offers an all-you-can-eat option for students, but rather a retail operation, featuring prepared specials, made-to-order meals at every station, sandwiches, salads, a Mongolian grill, brick oven pizza, and sushi.
There are vegetarian and gluten-free options daily, a breakfast bar, and even a sundae bar.
"We've enhanced the customer experience," said Denishea Ortiz, executive director of strategic marketing. "Before the renovation, you would have to pay to enter the space. Now our customers walk into a well-lit cozy environment with the option to purchase meals or grab-and-go items. Customers can have meetings, study groups, or hang out. The team has carefully curated the seating options and the structure of the seating area. We hope the customer experience will drastically improve, not only with the renovation but also with the new food format and offerings."
Gracie's is cashless, and orders may be placed online.
Topics