2023 GEW Poster Design Contest
Graduate Education Week Poster Design Contest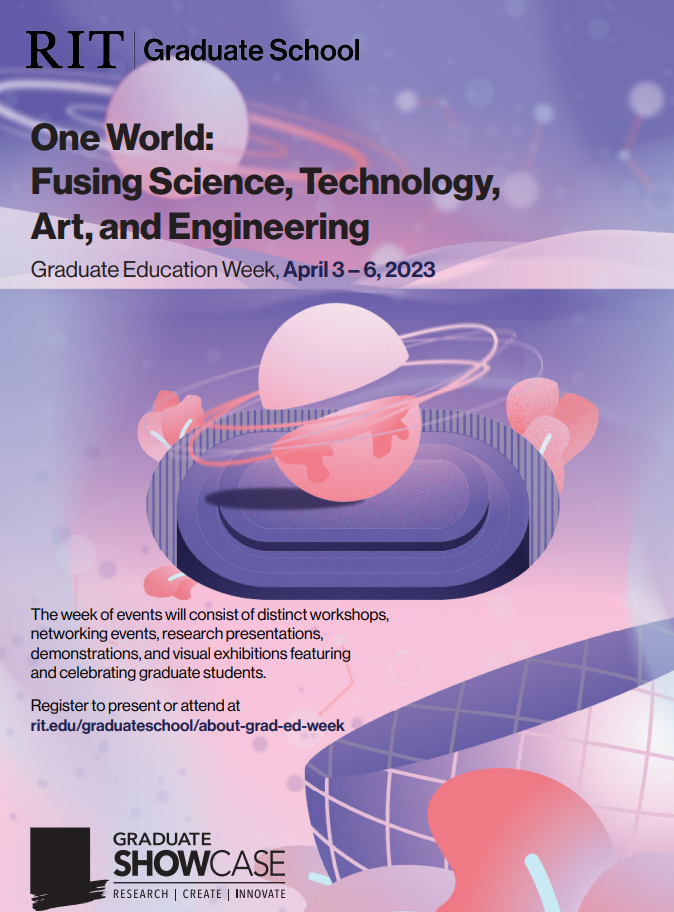 ​

Poster Contest Winner: Philip Phams, 1st year Master's student in Visual Communication Design, RIT/NTID
Inspiration: "I had to think of a way to combine the ideas of science, technology, art, and engineering in one poster while also adopting a color scheme that was really unique and exceptional. As you can see, the half-sphere represents everything as one entity and is beginning to enlarge from the inside to reveal what's fascinating outside. Everything in the poster's geometry was spherical and had rounded edges because of the title, "One World." In the galaxy, you can see the "DNA" floating like it was almost like a star. I added elements overall that included noise and a gradient. It is also coated in fading smoky specks that resemble dust."
Contest details:
Graduate students were invited to create a design for this academic year's Graduate Education Week that celebrates the creative, innovative, and entrepreneurial research of RIT graduate students. This year's theme is One World: Fusing Science, Technology, Art, and Engineering.
Eligibility: 
Current RIT graduate students

One entry created per graduate student or a team of 2 graduate students
Prize: $250 VISA Gift Card
Requirements:
Design must accommodate a 13" w x 18" h vertical portrait format.

All designs should be produced at a high resolution of 300dpi in CMYK at actual size (suitable for print). 

Acceptable file formats for online submission are PDF, EPS.

Design must include the following text:

Graduate Education Week, April 3 – 6, 2023

One World: Fusing Science, Technology, Art, and Engineering

The week of events will consist of distinct workshops, networking events, research presentations, demonstrations, and visual exhibitions featuring and celebrating graduate students.

Register to present or attend at rit.edu/graduateschool/about-grad-ed-week

Design must include the following logos:

Poster design, all photographs, artwork, graphics, or additional copy/text used on the poster design must be completely your own original work and created entirely by you without using existing imagery from print or online. Entries that include elements copied from sources not created by you will be disqualified.

Please review

RIT's Academic Integrity Policy

and understand that by participating in this contest you are agreeing to the terms outlined in this document. Upon submitting a design, you will be asked to certify that your design is original work.
Submission Deadline: 
Friday, October 28, 2022 at 11:59 PM EST 

Using the Tiger File Exchanger, upload your entry and send it to

gradstudies@rit.edu

. Include your name, academic program, hometown, and local mailing address and phone number.
Judging: 
The general public will select the final design. 
Selection: 
If none of the submissions are selected, RIT reserves the right to commission
an artist to design the official poster. RIT reserves the right to use the winning design in other publications (postcards, program covers, etc.).