Medical illustrator knows where to 'draw the line'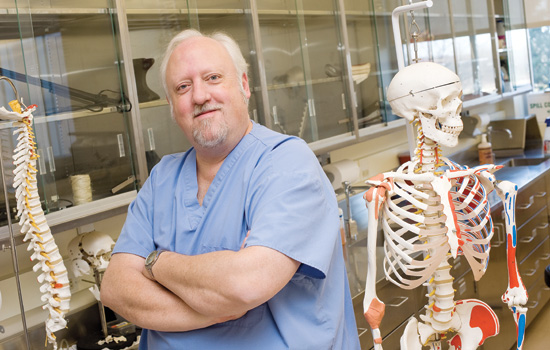 A. Sue Weisler
Snoopy has a secret. Charles Schultz knew it, and so does Jim Perkins. The secret is in the economy of line.
"Think about how much emotion Charles Schultz is able to get from his characters with just a few simple lines," says Perkins '92 (M.F.A. medical illustration), co-director of the medical illustration program, with joint appointments in the College of Imaging Arts and Sciences and the College of Health Sciences and Technology. "Think about the expression on Charlie Brown's face. That's challenging. I have a lot of respect for cartoonists and people who are able to evoke so much feeling from a few simple lines."
The elegance and communicative power conveyed by minimal line characterizes Perkins' style. His work was recognized internationally in an exhibit of 23 handpicked artists—only three from the United States—invited to participate in "Anatomy of an Image," at the World Congress of the Association Européenne des Illustrateurs Médicaux et Scientifiques last November in Strasbourg, France. The work of each artist exemplified 23 subgenres of medical illustration.
Perkins' line drawings represented the category of "user guide," or "a series of illustrations depicting the proper use of a medical device or apparatus," he says. The drawings he created for James Sanders, M.D., at the University of Rochester Medical Center depict a child undergoing the correction of infantile scoliosis, a spinal deformity, followed by the positioning of a fiberglass body cast. The illustrations were originally published in the Journal of Pediatric Orthopedics.
"The illustrations look simple at first glance, but there's a great deal of variation in line thickness and detail to create an illusion of depth and form," Perkins says.
The exhibit will become part of the permanent collection at the École Supérieure des Arts Décoratifs in Strasbourg and will be used to educate school groups about medical illustration.
Students pursuing this field must learn to think like an artist and a scientist.
"I approach my medical illustration work as a way of communicating a scientific concept," Perkins says. He reminds his own students that "a beautiful rendering alone isn't worth very much unless it really gets a point across and tells a story."
By the time they graduate, his students have learned to balance the artistic approach and the message with needs of the intended audience.
Perkins and co-director Glen Hintz teach these concepts to 40 undergraduates and seven graduate students. They are looking to increase exposure and boost enrollment in the graduate program through accreditation from the Association of Medical Illustrators.
Last fall, the graduate program moved to the new College of Health Sciences and Technology. The undergraduate program remained in the College of Imaging Arts and Sciences, giving Perkins and Hintz a foot in both colleges. Likewise, the move gives graduate students access to research opportunities created through the RIT-Rochester General Health System Alliance.
"One of the key things that distinguishes the grad program from the undergrad program is the fact that the graduate students are expected to do a lot more independent research and to produce a master's thesis," he explains. "That thesis involves creating artwork that communicates some cutting-edge concept in the health sciences. Being in the new college we hope will align our grad students more closely with the faculty and the researchers in those areas."