Re-Design of the Media Center, RIT Kosovo
What once used to be a boring, lifeless, dull room, is now an environment full of life, color, and
positivity. At the end of a long tiring day full of assignments, every student would like to have access
to a place where they can rest. Here at RIT Kosovo, we did have a place like this, however, visually it
wasn't that pleasing to look at. This room called the "Media Center", had mustard rooms, a few
couches here and there, tables laying around in an unorganized way, and overall a really tedious
appeal. As much as we, students had fun with each other while there, this place just didn't feel like a
fun environment for us.
After a long overnight session of two of the Arts Club leaders, an idea was born.
We decided to do something about the dullness of the Media Center. We were grateful to find out
that a lot of other freshmen were ready to help us too. We firstly founded the art's club and continued
with our first project, the renovation of the Media Center.
We started with getting rid of the boring colors; the walls got painted gray, orange, and black.
This combination was of course inspired by the RIT colors. Furthermore, we continued with a mural
of the dinosaur game which appears when there is no internet connection. Under this dinosaur we
decided to write some short fragments that remind us to "interact with reality", considering most of
our time is spent on our laptops. Then we gradually added some more colorful furniture as well as
small details that made the place much more enjoyable and entertaining visually, as well as in
practice.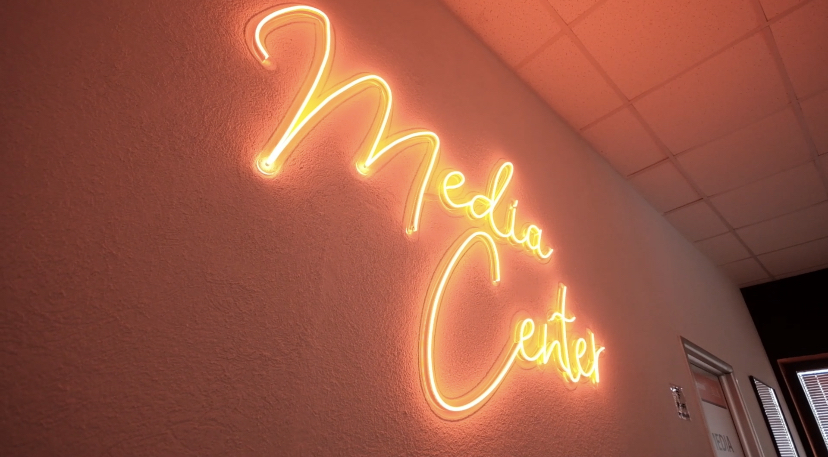 Topics
Exhibitor
Ylleza Jashari
---