RIT Croatia's Annual Charity Auction
The charity auction is RIT Croatia's annual event. The idea of the event is to collect as many funds as possible for a humanitarian organization of student choice, by selling items, which we get as donations from local companies, to our staff, faculty, and students. The foundations of the event are based on the live interaction between students, faculty, and staff during the actual auction and on the number of items we get from our partner companies.
The importance of this event is not only in that it helps our community, but it also helps our students work on their skills. The freshmen have the duty of contacting companies for their donations which is an amazing direct way of improving their (both verbal and non-verbal) business communication. Sophomore students are in charge of finding and organizing the venue, the event schedule, and other parts of the event in which improves their organizational skills, and the juniors or seniors are in charge of freshman and sophomores which gives them an excellent insight into what are the obligations and how does the management of people look like.
Since Corona hit hard last year, we had more than few issues and had to cancel all events, but we decided to draw the line on the Charity auction. Under no circumstances the Charity Auction would be canceled. We knew we could not hold it live, so we needed to find a solution. This attitude forced us to turn to more creative sides of us and find innovative solutions which would make Charity auction possible to happen under these circumstances. Since many companies had to cut down their budget and many donations were not possible this year, we decided to turn to local artists and small business owners, and to our faculty, staff, and students to donate and help however they can. We got many amazing personalized gifts from small business owners, but more importantly, a lot of RIT members came forward and donated many different items (from German lessons to the Game nights). Besides this, a big hit was the platform that we used for organizing an online auction. At first, we were afraid of how will people react to it. Once we tested it, we realized it was accepted so well that we decided to stick to this format and continue with it further. The online format allowed every RIT Croatia member to be a part of this amazing event, no matter where they lived. This year we even had a few auctioneers from Australia directly bidding and being actively involved in the event.
With all the positive feedback we received from the people, we decided to use this to help our community even more. As you all probably know, Croatia was hit with a lot of earthquakes last year with few really strong ones. Many people were significantly struck by it and a lot of them were forced to leave their homes or are living in damaged houses and buildings. Many of our students wanted to do something about this so we decided to reach out to the Council of Students of Polytechnics and Colleges in Croatia, and try to organize a big charity auction to collects funds for the people whose property was damaged by the earthquakes. The idea was accepted and it is currently being worked on.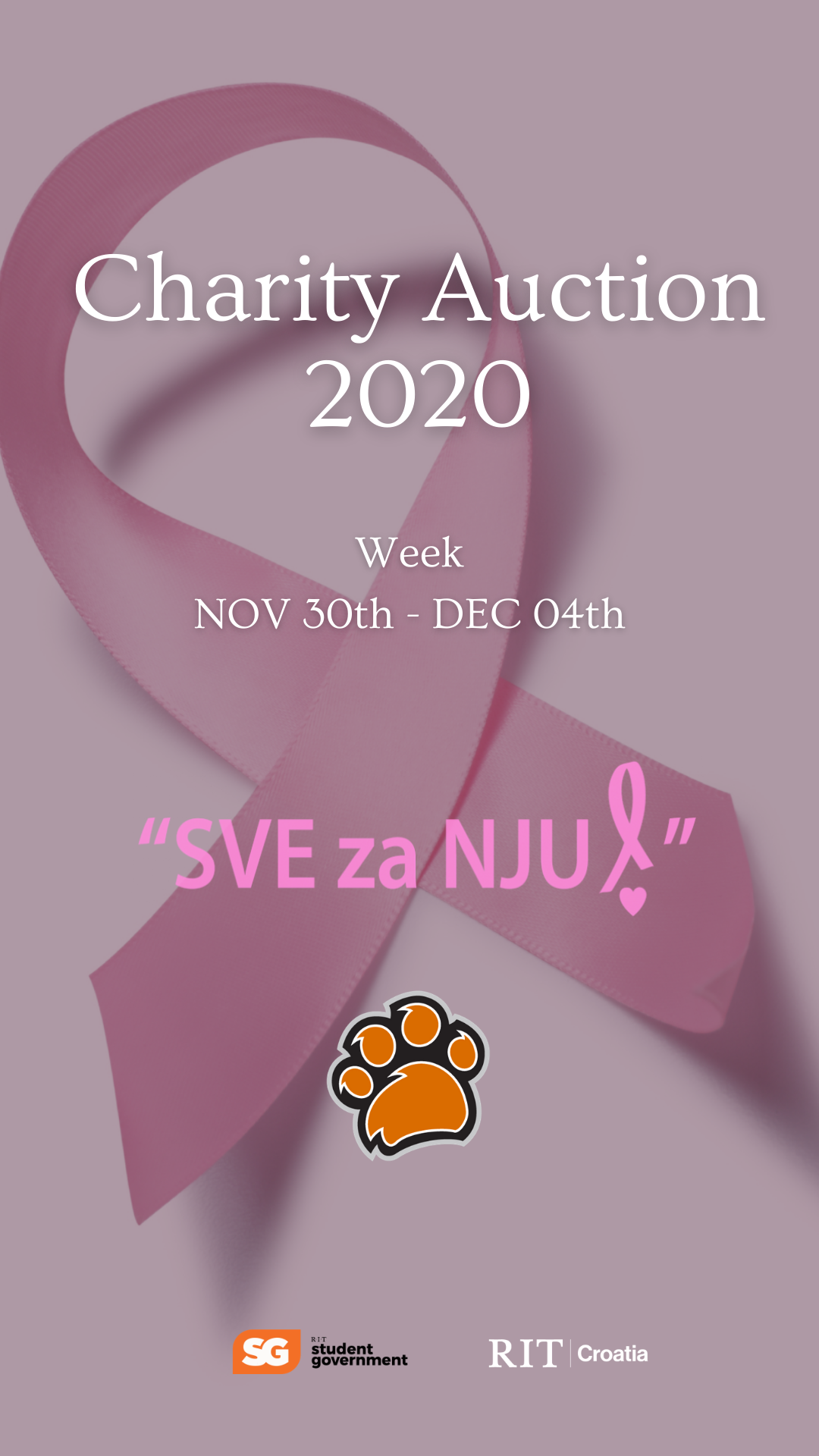 Topics
Exhibitors
Josip Cukrov,
Martina Peric,
Erika Lugaric,
Petar Rabi,
Dominik Bosnjak,
Dzejla Suman,
Teodora Grozdanic,
Jon Kojakovic,
Denim Behn
Advisor(s)
Alice Almer
Organization
Student Government of RIT Croatia
---