Degrees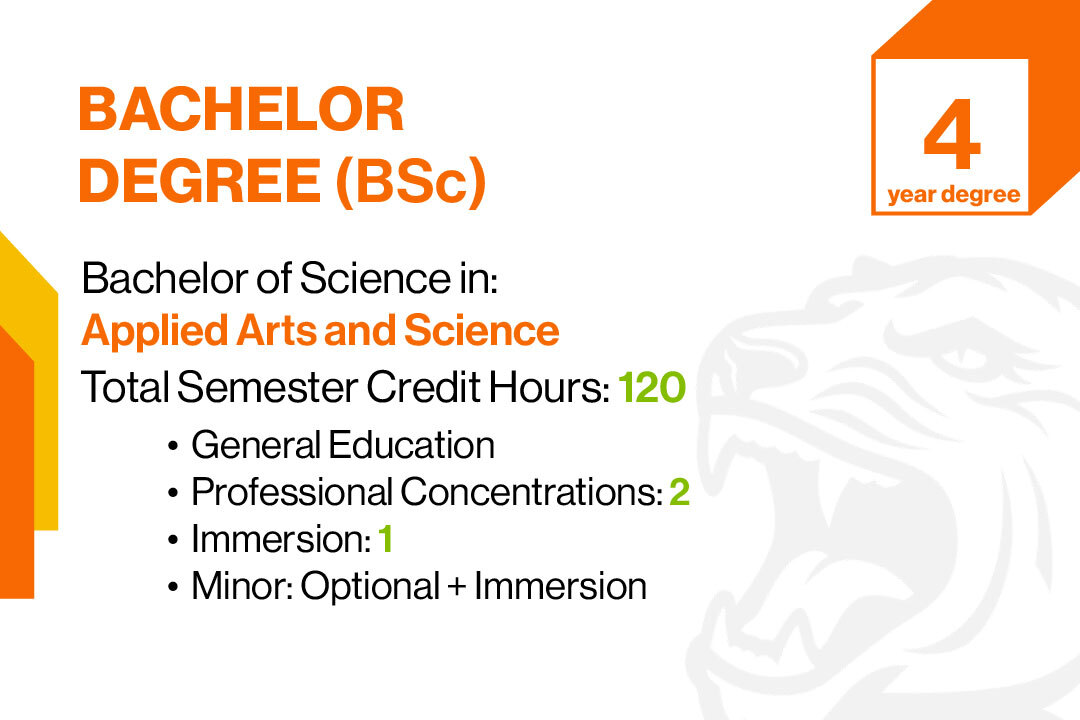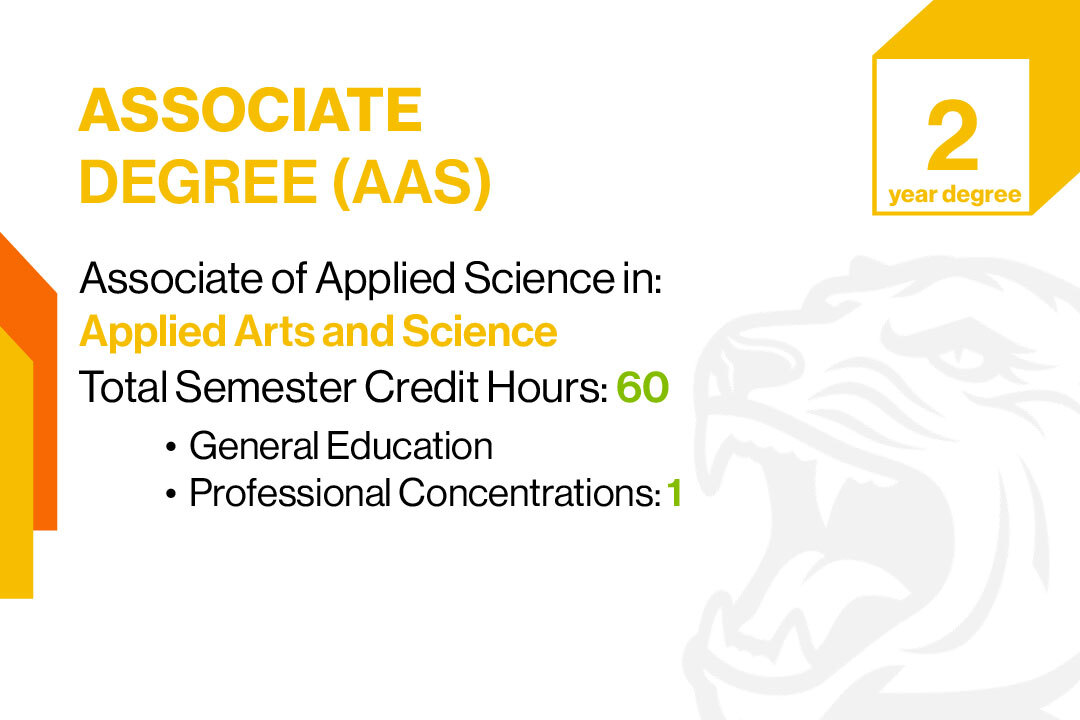 Applied Arts and Sciences, BS degree, typical course sequence
Year 1
Course
Sem. Cr. Hrs.

UWRT-150

General Education - First Year Writing (WI)

3

SOIS-111

General Education - Mathematical Perspective A

3
 

General Education - Artistic Perspective

3
 

General Education - Writing Intensive (WI)

3

SOIS-112

General Education - Mathematical Perspective B

3
 

General Education - Natural Science Inquiry Perspective

3
 

General Education - Electives

9
 

Professional Concentration I Courses

3

YOPS-10

RIT 365: RIT Connections

0

SOIS-499

CO-OP Applied Arts and Science

0
Back to Top
 
Total 30
---
Year 2
Course
Sem. Cr. Hrs.

SOIS-325

Business Communication

3

SOIS-200

General Education - Mathematical Perspective C            

3
 

General Education - Scientific Perspective

3
 

General Education - Social Perspective

3
 

General Education - Ethical Perspective

3
 

General Education - Global Perspective

3
 

General Education - Electives

9
 

Professional Concentration II Courses

3
Back to Top
 
Total 30
---
Year 3       
Course
Sem. Cr. Hrs.
 
General Education -

Immersion 1, 2                                  

6
 

Professional Concentration I Courses

             
12
 

Professional Concentration II Courses

9
 

Open Elective

3

SOIS-499

CO-OP Applied Arts and Science

0
Back to Top
 
Total 30
---
Year 4       
Course
Sem. Cr. Hrs.
 

General Education - Immersion 3

                                     

3
 

Professional Concentration I Courses

         
9
 

Professional Concentration II Courses

9
 

Open Electives

6

SOIS-500

Senior Capstone
3
Back to Top
 
Total 30
Plan of Study   
Include:
Economics and Statistics
Energy Policy Studies
Graphic Design and Multimedia
Management and Entrepreneurship
Peace and Conflict Studies
Public Policy and Governance
Security Studies
Web and Mobile Computing (IT)
*Individualized Studies*
Other (via exchange or Study Abroad)
See: Plan of Study > 
And Immersions 
include:
English Immersion 
Economics Immersion 
International Relations Immersion 
Public Policy Immersion 
See: Immersions
Interested in our Degrees?
Check our availability and tuition fees via Admissions or Apply.
 
 

RIT Kosovo (A.U.K) offers an American degree with innovation, adaptability and creative pathways that prepare students with professional and life skills for a global world. The Rochester Institute of Technology, RIT Kosovo (A.U.K)'s degree granting partner, offers students the opportunity to create undergraduate programs from two or more professional areas of study with a strong foundation in the social sciences, through RIT's innovative School of Individualized Study.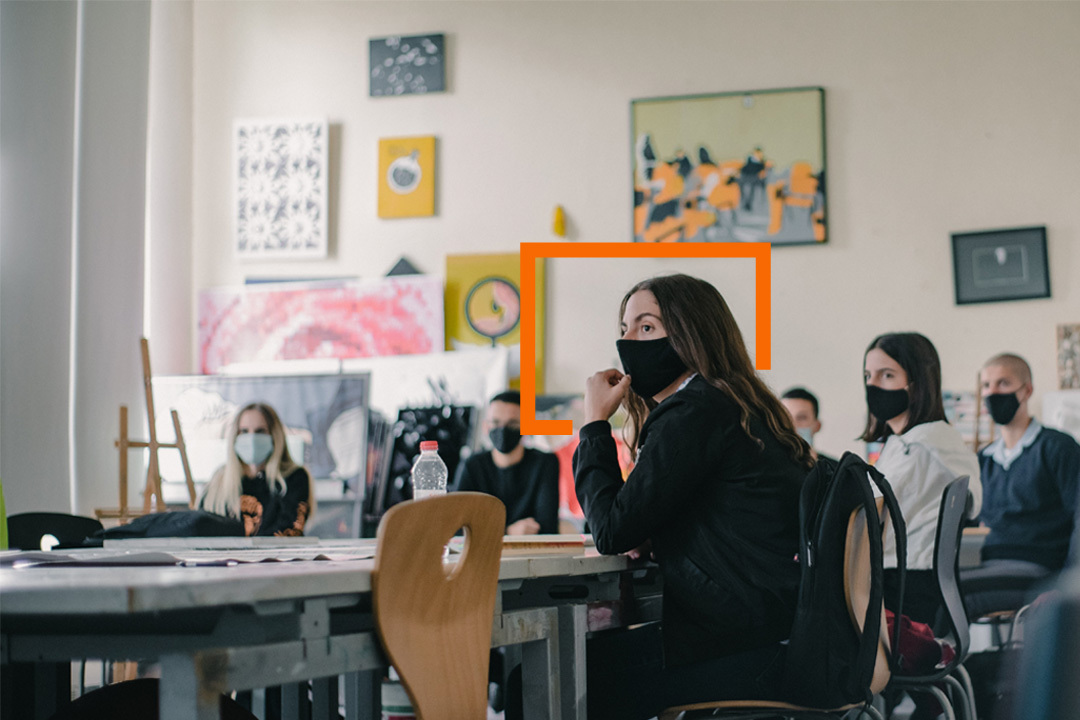 Students can earn a two-year Associates Degree or a four-year Bachelor Degree in Applied Arts and Sciences from the School of Individualized Study at our location in Kosovo. In our degree programs, students work closely with faculty and professional advisers to design unique, multidisciplinary plans of study that combine several areas of academic knowledge and interests. The applied arts and sciences program is particularly appropriate for individuals who want to prepare themselves for a career that requires skills and expertise from several disciplines.

This blended learning environment provides a strong base for student in Kosovo, the region and around the world to learn and practice critical thinking, leadership and communications skills across disciplines while gaining the technical knowledge in the areas of professional study that best suit the individual. In addition to those professional plan of study offered in Kosovo students may elect to do a semester or year abroad at the Rochester campus or other global campuses to complete coursework not offered at this location.