Communication Guidelines and Expectations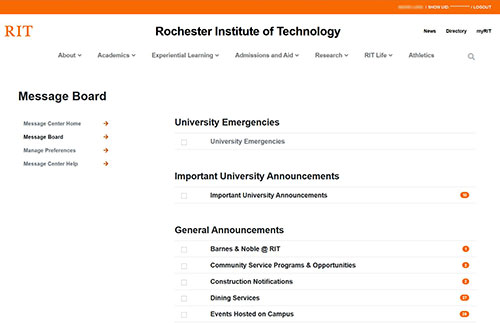 The
RIT Message Board
is an option of receiving official RIT communications instead of email.
The RIT Message Center system is the primary communication channel for the dissemination of important university information and updates. Now more than ever, we must continue to keep the volume of communications down in order to ensure that our community receives relevant information in a timely manner.
Message Center guidelines and expectations:
All Message Center requests must be reviewed by your Marketing Delegate or their designee. Your Marketing Delegate will help you develop the best plan for your messaging needs, considering strategic alignment with the university communications flow.
Events count for more than 50 percent of Message Center traffic. In order to significantly reduce the number of email communications, we are suspending the use of Message Center for the purpose of event promotion. The RIT Events Calendar will serve as the central repository for all RIT event information. Please be sure to update your event on the RIT Events Calendar as information changes.
Emails sent on behalf of student clubs and organizations are prohibited. Student organization events can be added to the RIT Events Calendar using the student club and organization event approval process.
Emails should only be sent to the intended audience. Use the student, faculty, and staff segmenting options to identify the appropriate target audience for your message.
Content standards:
The body text of the message must include contact information
Keep the message clear and concise
Messages must be accessible
Send only one message
Consider the use of alternate communications channels, such as:
RIT Events Calendar
Social media
Electronic bulletin boards/digital displays
Location based signage
Physical media
Discuss additional options for targeted communications with your Marketing Delegate
Message Center key features:
The ability to receive messages via email or view messages on a message board, or select both.
Message categories—Categories have been created to include mandatory ("Institute Emergencies" and "Important Institute Announcements") and 17 optional messages so you can get a sense of what each communication is about before reading it. This feature allows you to select the amount of communication you want to receive.
Opt-out capabilities—While you will not be able to opt out of mandatory communications (e.g., institute emergencies, institute closings, etc.), you will have the opportunity to opt out of the 17 "general announcement" categories.
For questions, please contact your Marketing Delegate or University Communications at cplmkt@rit.edu.