Feeling overwhelmed by email?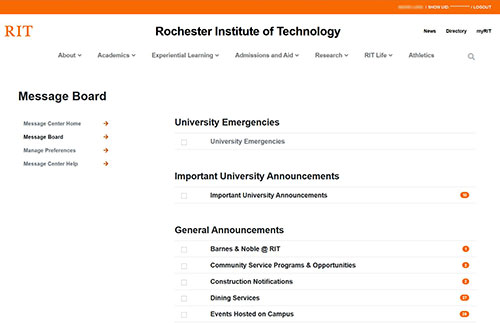 The
RIT Message Board
is an option of receiving official RIT communications instead of email.
There is a better way to organize your official RIT email and other campus notifications via Message Center. The goal of Message Center is to create a trusted source of university communication that allows you to identify what communications you want to receive and how you want to receive that information. Key features include:
The ability to receive messages via email or view messages on a message board, or select both.
Message categories—Categories have been created to include mandatory ("Institute Emergencies" and "Important Institute Announcements") and 17 optional messages so you can get a sense of what each communication is about before reading it. This feature allows you to select the amount of communication you want to receive.
Opt-out capabilities—While you will not be able to opt out of mandatory communications (e.g., institute emergencies, institute closings, etc.), you will have the opportunity to opt out of the 17 "general announcement" categories.
In today's world of spam and "scam" emails it is important for RIT students, faculty, and staff to be able to easily determine that the RIT communications they receive are valid. All Message Center emails you receive will originate from a single Message Center email address and standard text will appear at the end of every message identifying Message Center as the source of the message.
RIT faculty or staff wishing to become a Message Center administrator, giving the ability to send messages, should submit their request to the ITS Service Desk.