Recently completed projects
Here are a few examples of what the division has been working on. See something you like? Let us know if there's something similar we can do for you!
Campaign Kickoff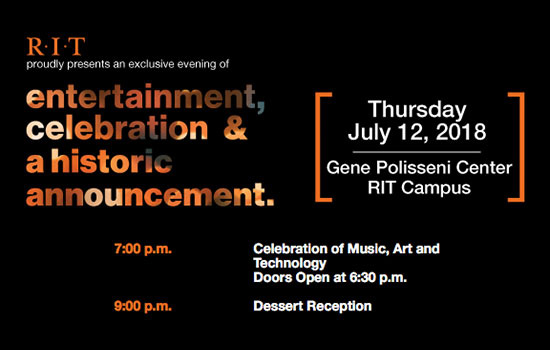 The Marketing and Communications team was one of several university partners who coordinated the promotion, production, and execution of RIT's announcement to publicly launch a $1 billion blended campaign. We partnered with our brand agency, Ologie, to develop the messaging strategy as well as determine overall look and feel. In addition to creating print collateral such as the case statement and save-the-dates, we worked with Ologie to develop a video and website, both of which can be viewed at rit.edu/transformingRIT.
More than 25 video and event staff, students, and freelancers came together to produce the event, from the video invitation and the pre-recording of Dr. Munson as the "Wizard of Bricks" to the various video playback elements, a live orchestra, and even "flying monkeys." Nearly 2,000 invited guests attended the event at RIT's Gene Polisseni Center and another 2,000 viewed the performance online.
Did you miss the big announcement? We captured the details of the day in a news release, event video and campaign detail video. The news was covered by all local media outlets and was picked up by more than 200 trade and business wires. Social media also helped amplify the story, particularly in the first 24 hours, with thousands of people reached through Facebook, Instagram, Twitter, and Snapchat.
Imagine That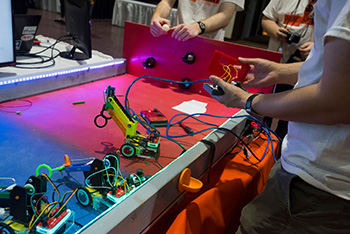 Neither rain nor cold temperatures—nor hosting in April for the first time—could stop nearly 30,000 visitors from attending the Imagine RIT: Innovation and Creativity Festival. Divisions and departments from across the university came together to make the festival a success. The core M&C team members include: Ellen Rosen, Greg Livadas, Dave Tyler, and Bob Finnerty from University Communications; Ellen Shady from University Creative Services; Sue Weisler, Elizabeth Lamark, and Jared Lyon from University Web Services; Joe Bellavia and Jacob Kaucher from University Production Services; and Amy Button from M&C Finance and Administration. Read full coverage of Imagine RIT and see a selection of photography.
Celebrating 50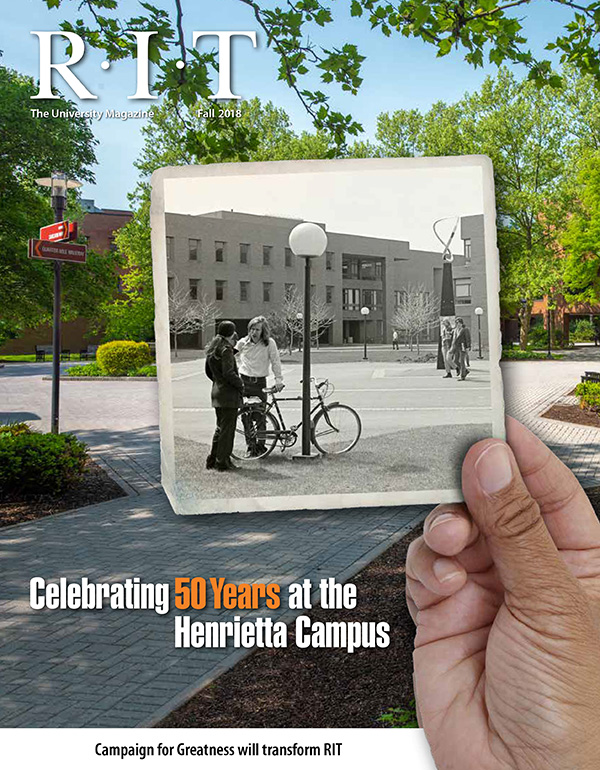 Build-up to the celebration of 50 years at the Henrietta campus continues, as events officially kick off during Brick City Homecoming & Family Weekend, Oct. 19-21. Scott Bureau from University Communications chronicles the move from downtown Rochester to 1,300 acres of farmland in the town of Henrietta in the upcoming RIT: The University Magazine, which will be published in August. And our commemorative website, led by Mike Redmond in University Web Services, features a video with historical images and film footage as well as a visual timeline of key moments.
Commencement 2018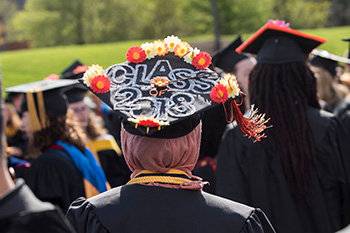 Sometimes the best stories are right under your nose. That's why it is so important to look for great stories during Commencement season. Kudos to Associate Director Vienna Carvalho, University Communications, for leading coverage on Commencement. This also included a story and pitch from Scott Bureau on two octogenarians who graduated. The story was picked up by the Democrat and Chronicle and was also published nationally as part of the USA Today network. Props to the photo team, Sue Weisler and Elizabeth Lamark, University Web Services, who captured the excitement of the day.
Perfection … Oh, So Close
Kudos to the Athletics Communications team of Joe Venniro and Steve Jaynes, who successfully chronicled another year of RIT athletics and its 24 varsity sports. Steve and Joe produce tons of content each season to support the teams, as well as secure earned media coverage. One of the highlights of the year was tracking the No. 1-ranked men's lacrosse team. Although the team fell short by one goal in the national semi-final game, the Tigers ended the season with a program-record 21 wins. Here's to another great year covering our student-athletes!
Bright Lights, Big City
What are President Munson's thoughts of Greater Rochester after living here for one year? And how is he attracting alumni to invest in the community? Find out in this essay placed in the Democrat and Chronicle by University Communications.
And More
Viewbooks: University Creative Services has been hard at work producing Viewbooks, which are publications for prospective students targeted to the specific program or area that interests them, such as business, health sciences, engineering technology, or computing.
Websites: The web team of University Web Services built a new website for the Advance RIT initiative.
Photography: The photo team of University Web Services captured some of the creative work of RIT students displayed at NYC Design Week.