Updates on ongoing projects and team successes
Brand Progress
At the April Board meeting, we presented the latest and greatest on the brand evolution. The excitement, passion, and eagerness for launching the brand was evident among all. Good discussion ensued and one action item for our division was to add some more "pop" and test the creative with prospective students to ensure we are hitting the mark. We played with some iterations and landed in a spot that, during testing, showed that it evoked attributes such as creativity, progress, world-impacting discoveries, forward-thinking mindset, etc. And 94 percent of the respondents also indicated interest in seeking more information on RIT, as they felt the messaging was relevant, appealing, and inspiring. We are pleased and gratified that our prior research was confirmed. We are working on incorporating these designs and messaging into overall guidelines and will make them available through an Online Brand Center this fall.
Speaking of fall, please save the date! On Sept. 27, we will roll out the brand on campus with a kick-off event. More details to come, but we hope to see one and all. Also, keep an eye out for banners and bus wraps and more as we "bring the brand to life" on the Rochester campus. We hope you will be as enthusiastic about the launch as we are; the RIT brand is nothing if not for its biggest brand ambassadors—you!
You can champion the brand by incorporating the brand architecture system in your marketing and communication tactics. After much deliberation, testing, and input from key constituents, we have decided to make a slight but important shift to the RIT official logo and lockups within the RIT brand. There is a methodical hierarchy of how each unit ladders up to the Masterbrand. We will make these guidelines available through roadshows and training (and online, of course). For now, it's business as usual with a goal to transition into the new look and feel in early 2019.
Feel free to direct any questions to Kin Sejpal, AVP of marketing and branding, at kin.sejpal@rit.edu.
Award-Winning Work
University Communications and University Web Services earned three awards at the 2018 PRism Awards ceremony, including top honors in the not-for-profit photography category and an Award of Excellence in two not-for-profit categories. Congratulations to Sue Weisler, manager of photography, University Web Services; Bob Finnerty, RIT chief communications officer; Ellen Rosen, director of University Communications; and Scott Bureau, senior communication specialist, University Communications.
'The Conversation' Continues
University Communications' partnership is off to an amazing start with The Conversation. Since launching in February, we've been averaging three to four pieces per month, with our articles being reprinted in such places as Smithsonian magazine, The Associated Press, Scientific American, Newsweek, PBS, CNBC, Slate, Quartz, and others. In all, 13 articles by RIT faculty have been viewed nearly 309,000 times.
Taking this partnership to the next step, we've invited Jeff Inglis, an editor with The Conversation, to join us Sept. 13 and 14 for a series of short workshops on how to write and pitch articles to The Conversation and other publications. Participants will walk away with a prepared pitch. Please encourage your faculty to attend. More details will be coming soon. To learn more about The Conversation, contact Ellen Rosen, director, University Communications, at Ellen.Rosen@rit.edu
Making Buzz on Social Media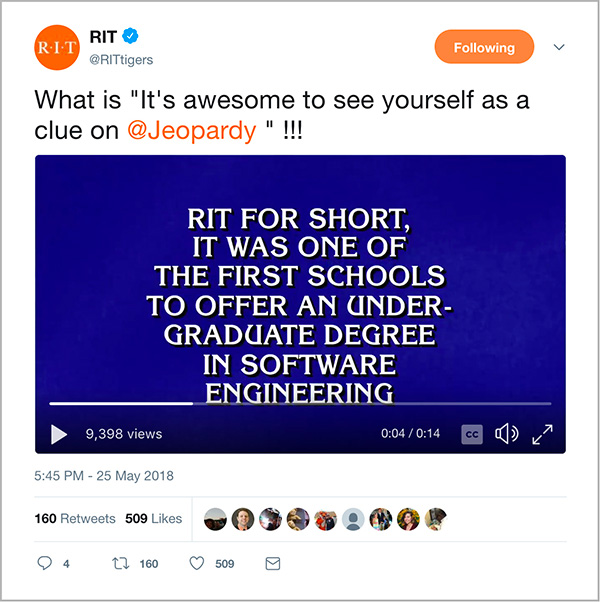 Sometimes you can execute a plan that leads to big social media success, and sometimes big social media success falls right into your lap. In the month of May we experienced a little bit of both.
Commencement was the event we planned for. We worked together with the Commencement team to use a service called Tagboard to display Commencement-related social posts both on the web and in the arenas before ceremonies. We live tweeted Convocation. And we streamed Convocation on Facebook for the first time. The results were impressive:
The #RITGrad hashtag was used more than 1,250 times and trended in Rochester on Twitter.
Our tweets on @RITTigers generated more than 134,000 impressions on Friday, Saturday and Sunday, a 1,405 percent increase from last year.
Our Instagram posts and stories generated more than 151,000 impressions over the weekend. We received more than 7,800 likes over the weekend, about 350 percent more than 2017.
The Facebook post of the live video went global with viewers telling us they were watching from as far away as Japan, India, and Sweden.
In late May, we received a gift in the form of a question: Producers from Jeopardy! told us RIT would be the answer in a category on May 25. The show shared pictures and video with us, which we were able to turn into social media posts. Our audiences ate it up. 
Our Facebook video of the clue reached more than 87,000 people and was viewed more than 42,000 times.
Our Instagram post received more than 1,500 likes, our second-most liked Instagram post ever.
The Twitter post generated more than 28,000 impressions and 9,000 video views.
Have a great social media idea fall into your lap? Need social media advice? Contact social media director Dave Tyler at dave.tyler@rit.edu or @dtyler321 on Twitter.
Web Presence Redesign
The university's web presence redesign project is moving along nicely with wireframe development completed. Our web user experience agency Behavior Design has been developing the "look and feel" of our new website, and we are very excited to see the direction in which that is headed. The University Web Services team is working closely with ITS and HR to develop infrastructure and databases that will be key for the success of our new web presence. Meanwhile, our marketing and communications partners in the colleges and others have been feverishly working on developing content, and it's pouring in at a good pace.