Recently completed projects
Here are a few examples of what the division has been working on. See something you like? Let us know if there's something similar we can do for you!
Launching RIT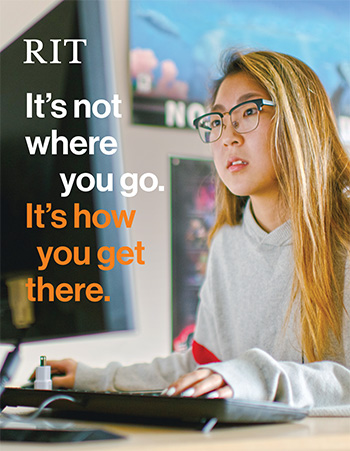 The new brand has started to come alive across campus after the Sept. 27 launch event. In January, we'll roll out a newly branded web environment on rit.edu, as hundreds of websites are converted to a new architecture and design. The Division of Marketing and Communications team also plans to launch RIT's first-ever national brand reputation advertising campaign in January.
All of the Marketing and Communications teams—Creative Services, Communications, Production Services, Web Services, and Marketing and Branding, with support from Finance and Administration—have been hard at work producing the brand portal, videos, bus shelter panels (shown at right), and much more.
And business as usual, too
Even with all hands on deck to launch the new brand, the Marketing and Communications teams still had day-to-day work to complete. Here are some highlights:
Athletics news: On short notice and during busy orientation week, the Athletic Communication and SportZone team pulled together for a big league new conference to announce our new Bruce B. Bates Women's Hockey Coach – Chad Davis. The event was covered by local media, USCHO and was well received on social media.
Back-to-school: We welcomed a large and impressive group of Tigers to RIT this fall. Part of our back-to-school coverage featured a story on the incoming class.
Engineering: If you haven't noticed, we have a very tall president. This causes a real issue at the podium, especially when on camera. Our engineering and events group partnered with tech crew and a local mill work company, SDC Millworks, to make and modify four podiums for the Gordon Field House, Gene Polisseni Center, Ingle Auditorium, and the CIMS conference center to allow any presenter to be comfortable and visible to their audience.
Last season, RIT men's hockey lost a key game due to a missed off-sides call by the referees.  This year, wide-angle HD cameras were mounted in the rafters of the Gene Polisseni Center allowing referee replay and review of the blue line.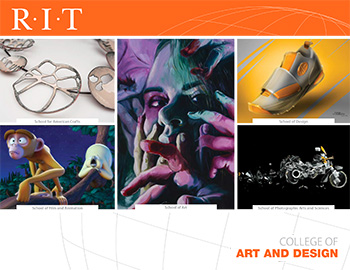 Design: The College of Art and Design viewbook, sent out to prospective students, features some of the beautiful work created in that college.
Magnificent placements: The New York Times, The Washington Post, Vice, Mashable, The Conversation, and more. University Communications has had an array of placements the past few months on a variety of RIT subjects to boost our earned media. Check out more at https://www.rit.edu/news/headlines.php.
Photography: Adjunct professor Olivia Kim created three monuments to honor Frederick Douglass' living legacy (read more). And 15 industrial design students will spend the semester designing products for Sesame Workshop as part of Metaproject 09 (read more).
Video: Check out these videos on the President's Pre-Orientation Prep List and a public service announcement on speaking up and preventing sexual assault.