Alumnus recounts college days with candid photos from yesteryear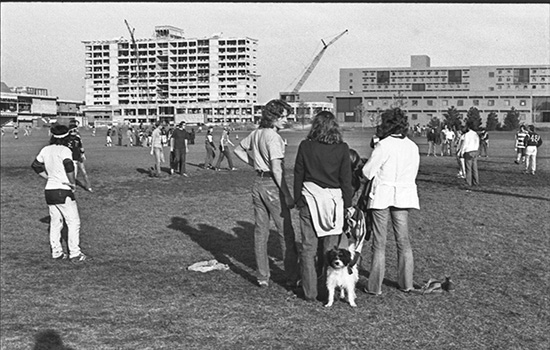 Andy Franklin
As a senior producer for NBC News, Andy Franklin '75 (photojournalism) has a résumé that includes working with some of the broadcast titans of American TV journalism.
Yet he has a more personal accomplishment connected to RIT: Franklin amassed one of the largest single collections of images of student life here during the early years of the still-new Henrietta campus.
"I wanted to capture the kind of photographs that Henri Cartier-Bresson produced—decisive moments of real life, with humanity and occasional humor," recalled Franklin, referring to the famed French humanist photographer. "RIT paved the way for me to do that."
Franklin came to campus in 1971 as an art major before switching to photography. From that point, he was rarely without a camera, regularly capturing candid images of campus life.
While at RIT, Franklin worked for Reporter magazine and for the yearbook Techmila, where he was editor-in-chief in 1974-75. A number of his images appeared in those publications, but many others remained unprinted until his exhibit of 30 pictures on display at University Gallery on the RIT campus through Dec. 21.
Franklin worked for many years on NBC Nightly News as a producer, writer and as a senior producer for international news. He has had an ongoing role in NBC's political coverage and was a founding producer at MSNBC, where he produced the archival program Time & Again with Jane Pauley. He helped produce the NBC special, "Tom Brokaw: The First 50 Years" and recently has worked with Brokaw to produce a series of reports on the 50th anniversary of the year 1968.
The photo exhibit has enabled him to hark back to his RIT days as "a great laboratory for all kinds of interests."
"I recall RIT with great fondness. It was a great place to be," he said. "I made some good friends and some lasting memories."
Topics