Arnold Air Society to hold Sept. 11 tribute
Taps to be played at American flag array in front of RIT's Sentinel and Student Alumni Union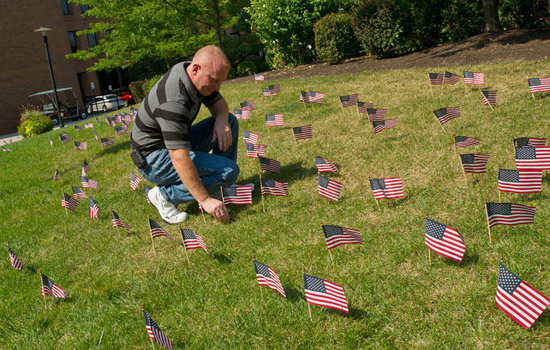 A. Sue Weisler
The Arnold Air Society at Rochester Institute of Technology will hold its annual 9/11 Vigil on Monday, Sept. 11, at the Sentinel in front of the campus Student Alumni Union. Taps will be played in front of a flag array at 8:46 a.m., 9:03 a.m., 9:37 a.m. and 10:03 a.m. as a tribute to individuals who lost their lives during the four terrorist attacks in New York City; Washington, D.C.; and Pennsylvania.
This is the sixth year that Arnold Air Society—a professional and honorary service organization comprised of cadets from regional officer candidate training and university ROTC programs—has hosted the event at RIT.
Arnold Air Society members will be selling the American flags for $1 from 10 a.m. to 3 p.m. Friday, Sept. 8, outside of the Student Alumni Union. Proceeds will benefit the FealGood Foundation, an organization dedicating to serving 9/11 first responders and their families.