Bachmann propels imaging science into next era
Chip Bachmann is the new Frederick and Anna B. Wiedman Professor in Imaging Science.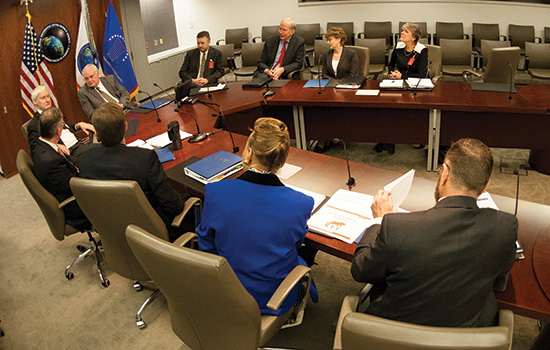 Supplied photo
Charles "Chip" Bachmann left one dream job for another.

Late last year, Bachmann joined RIT's College of Science as the new Frederick and Anna B. Wiedman Professor in Imaging Science. Until recently, the endowed chair in 
the Chester F. Carlson Center for Imaging Science was 
associated with professor John Schott, whose semi-
retirement last year ended an era at the center and opened the door to a new influence.

Bachmann and Schott grew up in Buffalo a generation apart. Although the two scientists have only recently met, Bachmann was well acquainted with Schott's research and the "world-class" remote sensing program he built at RIT. 

Bachmann will play a role in the evolution of RIT's Center for Imaging Science. His research interests 
complement the center's Digital Imaging and Remote Sensing Laboratory and extend opportunities for students eager to explore the cutting-edge of environmental 
imaging research.

He brings to RIT 23 years of experience as a civilian 
research scientist at the Naval Research Laboratory in Washington, D.C., with a specialty in coastal remote 
sensing and image processing. During his last decade at the laboratory, Bachmann headed the Coastal Science and Interpretation Section in the Coastal and Ocean Remote Sensing Branch. He planned and executed campaigns to collect measurements of physical and optical properties in water and on land in familiar and in "far flung places." 

These measurements, or "ground truth," supplemented aerial imagery captured with optical, infrared and radar sensors. Software Bachmann developed to synthesize aerial imagery and ground truth into physical models has 
resulted in two patents, with a third pending.

Bachmann concluded his career at the Naval Research Laboratory after a 14-month exchange program, 
conducting research and development as the U.S. technical lead in a collaborative project with the Australian Defense 
Science and Technology Organization. 

One of Bachmann's long-term research projects focuses on coastal characterization from remote sensing and 
presents possible research opportunities for RIT students. The initiative involves a number of different projects and collaboration with colleagues at the Naval Research Laboratory, in industry and at other universities.

He will also continue an affiliation with the Virginia Coast Reserve Long-Term Ecological Research site, 
a National Science Foundation ecological research site 
established to monitor the evolution and environmental health of the chain of barrier islands off the coast of Virginia. 

"Coastal regions are complex and dynamic 
environments," Bachmann said. "We want to be able 
to accurately interpret remote sensing imagery to
provide quantitative estimates of important geophysical, 
biophysical and related environmental variables in
coastal regions."

Bachmann's research program at RIT will focus on 
developing digital models across different coastal types. This complicated project will account for various types of sands and sediment found along coastlines and the effects of inundation of water and the drying process, among other dynamic variables.

RIT addresses defense and intelligence 'silver tsunami' 

The impact of the aging workforce—or the "silver tsunami"—on the U.S. defense and intelligence communities and industry members dependent on satellite and remotely sensed data is an issue RIT wants to put on the 
national agenda.

Experts from RIT and the geospatial-imaging field briefed Congressional representatives, aides and staff on Capitol Hill late last year at a hearing U.S. Rep. Louise Slaughter sponsored, entitled, "STEM Workforce in Remote Sensing, a National Imperative: Views and Next Steps from the Intelligence, Corporate and Academic Communities." 

RIT President Bill Destler, Professor David Messinger and experts from the field stressed 
at the Dec. 3 hearing the need to create a pipeline of workers to develop and build remote sensing systems, as well as to interpret data to track environmental changes, natural disasters, peacekeeping efforts and matters related to homeland security.

The silver tsunami represents a growth area for imaging, said Charles "Chip" Bachmann, the Frederick and Anna B. Wiedman Professor in Imaging Science in RIT's Chester F. Carlson Center for Imaging Science. "The older generation is getting closer to retirement, and the younger generation is fresh in the workforce, but there isn't much in the middle. There is a real gap in knowledge and experience."

RIT can be part of the solution by increasing the number of undergraduates and graduates with expertise in imaging science and remote sensing, said Messinger, director of the Digital Imaging and Remote Sensing Laboratory in the Center for Imaging Science.

"RIT has a role to play in this, but we are 
not going to be able to solve this problem 
alone," Messinger said at the briefing. "We 
need the government to make an investment, 
a commitment to help boost this pipeline and build this workforce."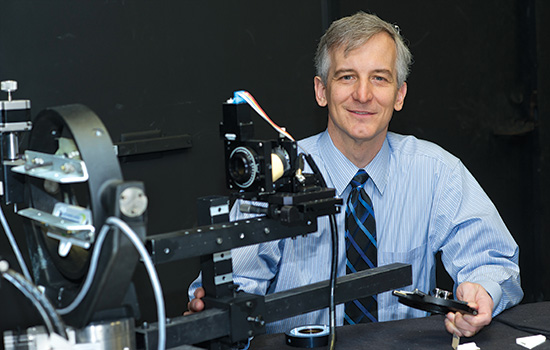 A. Sue Weisler