February 8, 2016
by Stephen Jaynes
Basketball star Edwards is all business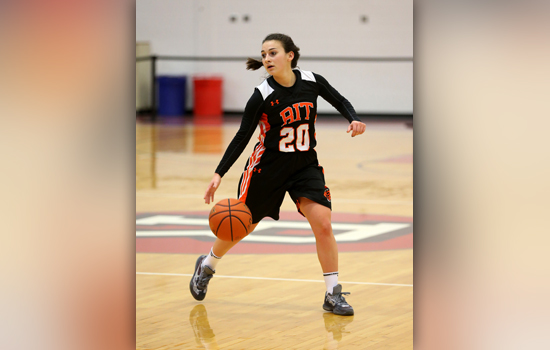 Bryan Bennett
Maria Edwards has envisioned her future path for a long time. A fourth-year business management major from Forrest Hill, Md., and captain on the RIT women's basketball team, Edwards is using lessons learned in the classroom, on the court and on the job to prepare herself for a career as an entrepreneur.
Edwards' family owns five Burger King franchises. Back in high school, Edwards knew what she was looking for in a college. It wasn't all about basketball and social life, but more about a university that would help prepare her for a future in business.
"I can remember going to work with my family when I was young and being so fascinated with the business," said Edwards. "From the time I was a freshman in high school, I knew I wanted to run the family business."
When was looking for a college, she knew of RIT's stellar reputation for engineering and computer science, "but I was impressed with the business program. I liked that they offer the co-op program. You can take what you learn in the classroom and apply those lessons in a real-world setting."
"I have learned things in the classroom such as operations management and inventory," she said. "I would go home and talk to my dad about what I worked on in class. He would help put me in a situation at the store and apply those lessons which is an invaluable experience."
The Tigers women's basketball team is off to its best start in program history, and received votes in the Division III national poll. Edwards' role as point guard is to lead the team on the floor, making sure her teammates are aligned correctly, while serving as a motivator and coach. She has to make snap decisions and solve problems on the fly. She believes these skills will also serve her well in a real-world setting.
"I can use an example from sports and apply the lesson to the real world," said Edwards. "For whatever reason, your team is down five points late in the game. You as a leader have to find a way to pull your team out of the hole."
Head coach Amy Reed has seen Edwards' growth over the past four years and has no doubt she will be successful.
"Maria has been a phenomenal leader for our program," said Reed. "Her work ethic, positivity and strong relationships with her teammates make her a natural leader. There is no doubt these attributes will carry over into the business world."
Edwards' teammates say they appreciate her leadership on and off the court.
"Maria is willing to do anything to help you be the best version of yourself," said teammate Julia Bender. "She is a natural born leader and a person you can always count on."
Topics