CAD grad sculpts new future after engineering his past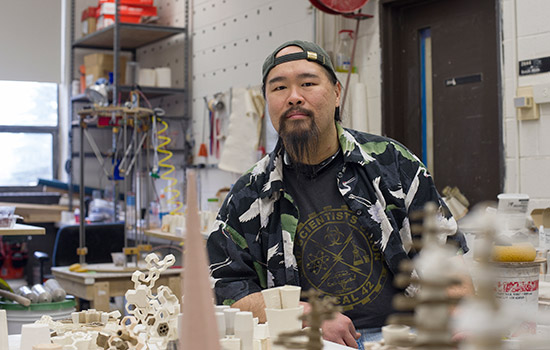 A. Sue Weisler
After earning his master's degree in computer science and spending more than a decade as a computer hardware engineer in the semiconductor industry, Joe Lee felt unfulfilled and decided to get creative—literally and figuratively—in finding a new career.
When the Somers Point, N.J., native in the College of Imaging Arts and Sciences crosses the stage at Gordon Field House, he will do so as a graduate ceramics student from RIT's School for American Crafts (SAC).
"I had been growing more and more disenchanted with corporate culture," recalled Lee, who came to the realization while taking a two-month sabbatical seven years into working for Intel and following successful engineering roles at Digital Equipment Corporation, Compaq and Hewlett-Packard.
"I didn't realize how stressed I had become until I took my sabbatical, and I realized how much my health and well being were being affected by that stress," he added. "Within six months of taking my sabbatical, I decided to leave."
While Lee had amassed an impressive engineering background, his involvement with the arts as "more of a hobby" made finding a program willing to accept him a daunting challenge. "I really didn't have any kind of meaningful portfolio," he observed.
He decided to go back to school and build a portfolio that would enable him to apply to graduate programs, and he found his artistic home at RIT. He praised SAC professors Peter Pincus, David Schnuckel and Jane Shellenbarger for helping to inspire his creativity during the past two years.
Ironically, when it comes to his ceramics work, Lee noted that he is "revisiting all the reasons why I chose to become an engineer in the first place."
"I enjoy the problem-solving and the exploration through experimentation, but this time, the problems are much more challenging because art is subjective and doesn't have as concrete answers—or even direct questions—like the STEM fields," Lee observed.
As for his future, he's looking at a number of artist residencies. He's also planning to set up an art studio to continue enhancing his portfolio, and he plans to offer consulting services since he has the unique experience of bridging the knowledge and culture gap between the arts and the sciences.
Last semester, he built a ceramic 3D printer that he used to make components for his thesis show, proving you can't take the engineer out of the artist.
"I'm still an engineer at my core and, given my unique background, I want to offer consulting services to ceramicists who need technical information—along with material consulting to people who might have an interest in 3D printing in these new materials," Lee said.
"I am most excited by exploring the frontiers of the medium given the latest advances in technology," he added. "It's that frontier that has always excited me—both in my previous career and in my current field."