Can beets beat rock salt for clearing icy roads?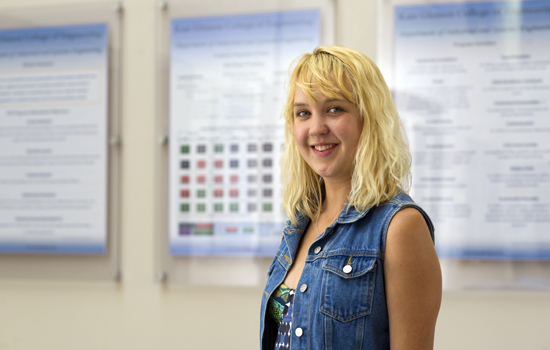 A. Sue Weisler
RIT's Strategic Plan in Action—The Student-Centered Research Facility
Mary "Lizzy" Warner gets the same question whenever she talks to people about her work with beet juice brine as an alternative road de-icer: Will it turn the highway pink?
"When sugar is extracted from beets to make a thick molasses, it is coated with sodium chloride, making the end product used as the road de-icer a coppery red," Warner explained. "It may discolor items, but no more than the residue left behind by rock salt, and it is easier to wash out. Because it is an organic product, it is also less likely to stress the environment."
The sustainable engineering student is researching different types of road de-icers. Her results will address environmental impact, which could influence how the products are regulated, especially in agricultural areas. It could also help municipalities seeking affordable, environmentally friendly alternatives to rock salt.
Warner's research focuses on several questions: Which materials are most effective at certain temperatures? Which require more agricultural, manufacturing or transportation resources? Which tax energy consumption? What are the trade-offs between developing or harvesting different elements used in de-icers, and what is the environmental impact?
To get answers, Warner developed an original process detailing the environmental impact—from production to disposal—of four de-icing products: calcium chloride, sodium chloride, calcium magnesium acetate and beet juice brine. The first two are common pellets or rock salt, the acetate is manufactured in labs, and the brine is an organic product gaining in popularity. Early results indicated the amount of de-icer needed to clear one mile of road would be different for something that works at 15 degrees Fahrenheit, such as rock salt, as opposed to beet juice brine, which works at minus 30 degrees F.
"That is a big difference. But brine is also more expensive, so there are trade-offs. You can't just compare the environmental effects as they are, you have to compare how much product is used and for what duration," she said.
Prior to coming to RIT, Warner combined environmental science with mathematics as an undergraduate at Knox College in Illinois. Her mother, Kelly, a hydrologist with the U.S. Geological Survey/Illinois Water Science Center, inspired her sustainability work. Mother and daughter presented at a recent national conference on ground water infiltration. At RIT, Warner has good mentors, including Brian Thorn, associate professor of industrial and systems engineering in the Kate Gleason College of Engineering, and Scott Wolcott, professor of environmental management in the College of Applied Science and Technology. They have expertise in sustainable engineering and life cycle assessment as well as geology and hydrology, respectively.
"This master's program at RIT allowed me to keep an environmental focus but also incorporate industrial engineering and business," she said. "It allowed me to use my quantitative background and apply it, and being at a technical university, for me, is really cool."
Editor's Note: This story is part of a continuing series that demonstrates RIT's commitment to the new Strategic Plan.