CAST celebrates alumni Rising Stars
Six graduates of RIT's College of Applied Science and Technology recognized for their impact in hospitality, engineering, packaging and HR management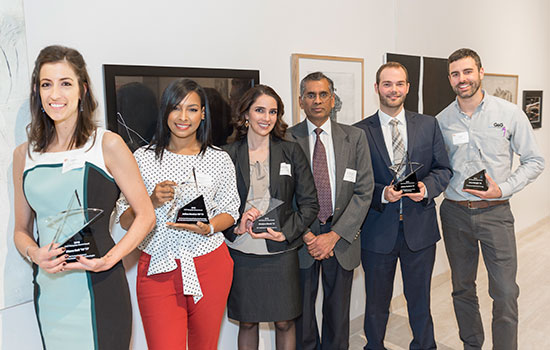 Six alumni from RIT's College of Applied Science and Technology were honored as Rising Stars during a campus reception on April 5. Given to alumni who graduated from CAST within the past five to 10 years, the awardees were recognized for outstanding achievements early in their careers, for significant public service and in helping to advance the careers of new professionals.
All of the alumni have remained active with RIT since their graduation, returning to campus as part of industrial advisory boards, to participate in career resource activities and to mentor students about future careers, said Manian Ramkumar, interim dean of CAST at the opening ceremony.
"These alumni have brought distinction to their departments, to the college and to RIT," he said. "For what they have achieved and given back to RIT, I look forward to a continued partnership with them. The stories they shared reveal the character of these outstanding individuals."
Alumni recognized were:
Jason Baright '10 (computer engineering technology): Described by his faculty as intellectually curious and with a lot of energy, Baright started his own company, G&G Lighting, in 2010, and it is ranked as the 12th fastest growing manufacturing company on the Inc. 5000 list.
Katelynn Morris '12 (hospitality and tourism management): Director of human resources, W Hotels Worldwide. She took advantage of co-op and study abroad opportunities at the Ritz Carlton in Naples, Fla., and during travels to Dubai and the United Arab Emirates to learn more about managing luxury properties. "RIT gave me the opportunity to change my life through my career," said Morris, who returns regularly to RIT to recruit students for her company because "this program has great talent."
Julissa Ramirez '09, '11 (electrical mechanical engineering technology, manufacturing and mechanical systems integration): Her journey from her home in the Bronx to work at Intel where she is a technical program manager with the company's drone manufacturing operations was an exciting one, she said, but not without its challenges. Arriving at RIT, she was unsure of what engineers did, and was often the only female and minority in her classes, but she knew she liked solving problems and building things. She is the co-founder of the Latinas in STEM2 to Achieve Success Program, a nonprofit organization to encourage young girls in STEM programs and eventual careers.
Joshua Rodems '11 (civil engineering technology): Structural engineer at Erdman Anthony. Outside of work, the former RIT baseball player coaches youth sports and is a guest lecturer in CET and participates on the department's industrial advisory board. "There is no better place to learn than a place being led by people who have been there, done that," he said about his faculty-mentors. "They say it takes a village; RIT was my village."
Diana Solt '10, '17 (packaging science, communication and media technologies): Packaging engineer at Harris Corp. in Rochester where she designs packaging systems for military radios. "When they say you can't do something, that's usually the path that I take," she said. "At RIT, my professors taught me about more than technology—they taught me that resilience and determination are a secret recipe for success." Outside of work, Solt volunteers at Ronald McDonald House Charities and is an active member of the Society of Women Engineers and the Institute of Packaging Professionals.
Sara Vara '11 (human resource development): The vice president, Human Resources, United Heritage Credit Union connected from Austin, Texas, via Skype, acknowledging the support and mentoring she received from faculty in the Department of Service Systems. She volunteers as a CASH Coach, a one-on-one financial mentoring program designed to help low-income individuals address financial concerns as a way to alleviate poverty.
Guest speaker Thomas Trytek '91 (civil engineering technology), vice president and founding principal of TDK Engineering Associates and the 2017 CAST Distinguished Alumnus awardee, opened the event. A highlight of his career was engineering the rotating beacon of One World Trade Center. He spoke to the group about this experience and its impact on him as inspiring and challenging. He recalled that his academic experiences coupled with co-op opportunities were "key components of who I am as an engineer today."
Over the past several years, TDK has hired both co-op students and graduates. "The caliber of students that come out of RIT are outstanding," he said. "They are smart, driven and hungry to learn, and they work hard."