CAST highlights drone technology
Panel includes representatives from FAA, NUAIR Alliance and Rome Research Lab on Feb. 20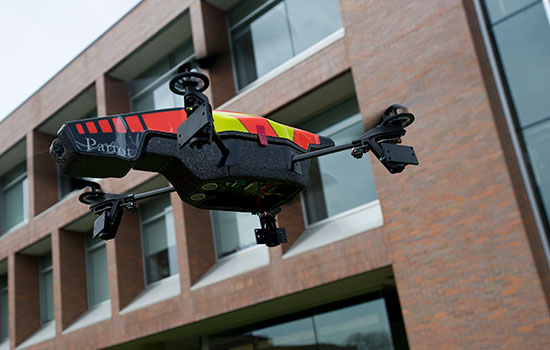 A. Sue Weisler
As part of the 2018 Engineers Week program at Rochester Institute of Technology, the university will highlight information about unmanned aircraft systems, "Drones: Technology, Safety, Community, Engagement and the Future" at noon to 1:30 p.m. on Tuesday, Feb. 20. The panel discussion takes place in rooms 2220 and 2210 in Louise Slaughter Hall and features several regional experts in drone technology and procedure.
Sponsored by RIT's College of Applied Science and Technology, the program is free and open to students, faculty and staff. The presentation will be about the future of drone technology and how drones are being used in various industries today. Panelists include:
Capt. Arion Mangio, Rome Research Laboratory, United States Air Force
Robert Lacourse, aviation safety inspector and Cherrie Monnier, aviation safety technician, Federal Aviation Administration
Marke Gibson, president and chief executive officer, NUAIR—the Northeast UAS Airspace Integration Research Alliance (Major General, retired, United States Air Force)
Engineers Week is led by DiscoverE, formerly the National Engineers Week Foundation, to sustain and grow a dynamic engineering profession through outreach, education, celebration and volunteerism. RIT is one of hundreds of universities, corporations and government agencies involved in the national program and has had regular involvement over the past few years by staff from the Kate Gleason College of Engineering, College of Applied Science and Technology and the B. Thomas Golisano College of Computing and Information Sciences.
This year's theme is Engineers: Inspiring Wonder and is a way to influence the next generation of students to learn more about how engineers are creative problem-solvers and design devices that influence people's lives—from autonomous vehicles to drone technologies. At RIT, these devices are being developed and the students in CAST are learning firsthand about new technologies being implemented in U.S. companies.