CAST students take top placements in competition
RIT undergraduates win first and second place in ASC Region I competition against 23 collegiate construction and architectural teams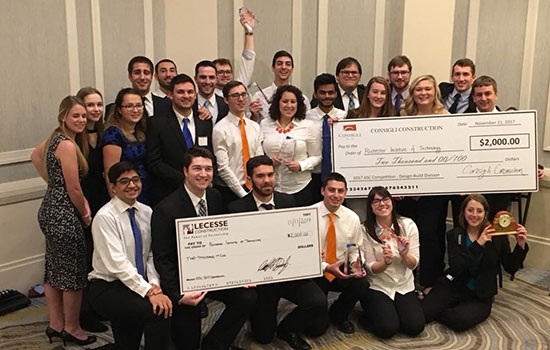 For the second year in a row, Rochester Institute of Technology civil engineering technology undergraduates took top placements at the annual Associated Schools of Construction (ASC) Region I student construction management competition. RIT, which fielded four teams for the event that took place in November in Albany, N.Y., had its Design-Build and Commercial Building teams each win first place overall, and the Heavy/Civil team place second in its category. RIT's fourth team, Pre-Construction, entered the competition for the first time.
All competition teams are required to prepare a proposal for a construction project that includes cost estimating, scheduling, design, site logistics, means and methods and overall project approach. The different projects in the four categories are based on actual requests received by regional construction and architectural firms, and student proposals are judged by experienced professionals in the field.
RIT's Design-Build team won in its category for its proposal of a four-story, 83,500-square-foot medical office building. The team's comprehensive plan included a 3D video of a multi-purpose building as well as interior images to describe possible patient experiences once on the property and in the medical complex. Judges found the proposal well-detailed and the students able to address concerns that would actually be seen in the workplace, said David Collins, captain of the team and a fifth-year civil engineering technology student in RIT's College of Applied Science and Technology.
"The competition mirrors a real-world bidding situation where a company would be invited as a 'short-listed firm' and possibly be chosen to complete the project," said Collins, from Pittsford, N.Y. "We had prepared and practiced different scenarios all year, and that work paid off."
RIT's Commercial Building team won in its category for its proposal of an upscale, senior living facility. The team's final proposal included a complex logistics plan as well as an updated budget addressing change orders, value engineering and general conditions. Judges highlighted the team's proposal and professionalism a stand outs from the competition, said Joe Cutugno, team captain and a fourth-year civil engineering technology student from Ventnor City, N.J.
"Our team had a lot of real-world experience going into the competition, so we were confident we could handle anything the judges threw at us," Cutugno added.
RIT's Heavy Civil team placed second in its category for its proposal of a public park along the Chicago River. The scope of work for the project included installation of concrete sidewalks along the river as well as public access to proposed floating gardens.
"We had practiced many different types of Heavy Civil work all year, so we were prepared for most of what they gave us," said Tyler Becker, team captain and a fifth-year civil engineering technology student from Rochester. "There were some surprises because we had never done a park or worked on a river, but the preparation paid off."
The Pre-Construction team competed for the first year at the event, and although it was difficult to know what to expect, the team looked to experienced classmates to prepare.
"We may not have placed, but I am very proud of my young team and how they handled themselves during the competition,", said Sabarish Vishwanathan, a fourth-year civil engineering technology student from Salem, India.
All teams delivered plans that would be considered highly competitive in today's construction market. Prior to competing in the ASC Regional, each team introduced plans at a Presentation Day Event on Nov. 3 on campus to more than 50 faculty from CAST as well as local and regional construction management professionals, many RIT alumni. Local alumni served as judges at the Presentation Day including Justin Hamilton and Christopher Stern, leaders of local construction company Hamilton Stern, and recognized as one of the Top 100 fastest growing companies by the Rochester Chamber. Also serving on the judging panel was Randal Sickler from SWBR Design and an adjunct professor in the civil engineering technology department as well as Whit Youngstrom, RIT alumni and project executive at DGA Builders.
"This competition gives employers a chance to connect with the best students from the Northeast who are interested in careers in construction. The connections students are able to develop while preparing for the competition definitely give us a leg up when it comes to finding a co-op or full time job," said Collins, who also serves as president of the Associated General Contractors student club. He has been instrumental in the past few years of helping to coordinate RIT's student teams for the ASC regional and national competitions.
RIT was among 23 universities competing in the Northeast regional, part of the annual Associated Schools of Construction conference and job fair. Universities with four-year construction engineering and management degree programs in the Northeast—from Maine to Virginia—participate in events to advance construction education. Winners in each category receive monetary prizes for the team members and university, and go on to the national competition taking place in Reno, Nev., in February 2018. Since 2002, RIT has competed and has been successful at the regional level.