Celebrating 50 years at the Henrietta campus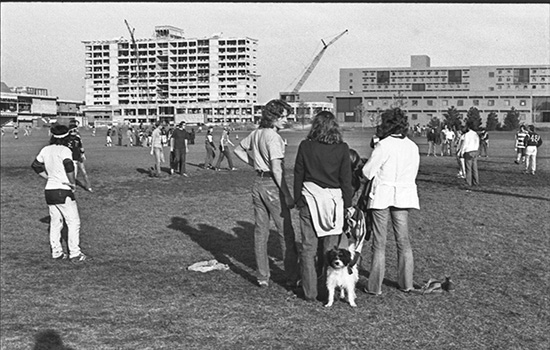 RIT Archive Collections
Throughout the 2018-2019 academic year, RIT will celebrate the growth of the campus we affectionately refer to as "Brick City."
In 1968, the university moved from downtown Rochester—where it had been since 1885—to farmland in the town of Henrietta. For the grand opening, the community got to tour the campus on a motorized tram and see exhibits that showcased features of the new buildings.
Fifty years later, RIT is celebrating this milestone with a year of activities. Highlighting the anniversary is a Henrietta campus re-dedication ceremony and downtown campus ceremony during Brick City Homecoming & Family Weekend Oct. 19–21.
"With all that has happened since 1968, it is stunning to consider that the transformation is not complete," said William A. Buckingham '64 (business administration), honorary chair of the 50th anniversary. "As we look back on how much has changed since we placed the first brick in Henrietta, the potential for RIT to be transformed and to continue to transform the lives of RIT family members is awe-inspiring."
Throughout the year, RIT will host "50 Acts of Kindness," a series of programs and events that demonstrate how RIT Tigers give back to the Rochester community. In addition to blood drives and service projects, 300 members of the RIT community will package 50,000 meals to be distributed to local organizations, including Foodlink in Rochester and the RIT Food Share program, an on-campus organization that supports students experiencing food insecurity.
The celebration will culminate with a Futurists Symposium hosted at the 2019 Imagine RIT: Innovation and Creativity Festival, held April 27, 2019. The event will showcase the future of technology and innovation, including what's next at RIT.
"Our past is being celebrated, but our future awaits," Buckingham said.
Get involved
Go to rit.edu/henrietta50 to share your memories of RIT, view historical yearbooks and stay up-to-date on the latest anniversary events.
Coming soon
Transforming the Landscape: 50 Years on the New RIT Campus, an illustrated history of the Henrietta campus architecture and how it was built, will be available in early September from RIT Press, the scholarly publishing enterprise at RIT.
Topics