City Scholar eyes career in architecture
Senior Kiasia Singletary prepares for internship with architecture firm LaBella Associates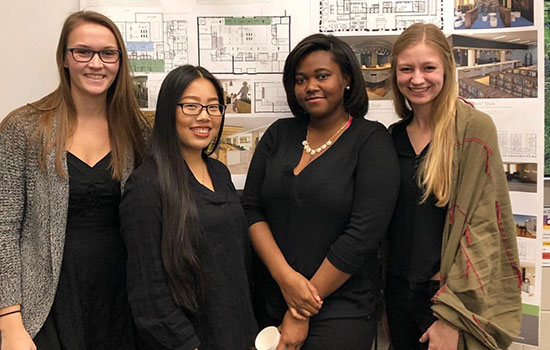 University Communications is highlighting a few members of the Class of 2018. See more commencement news at rit.edu/news/commencement.
Kiasia Singletary, a fourth-year student graduating with a bachelor's in interior design, is poised to take the next step toward a career in architecture.
In June, Singletary will begin an internship with LaBella Associates, an international architecture, engineering, environmental and planning firm headquartered in Rochester. After six months the firm will review her employment and potentially hire her for a full-time position. Eventually she plans to continue her education and pursue a master's in architecture.
But while she is flourishing today, she faced adversity in her path to graduation.
"I'm most proud of where I'm finishing considering where I started," said Singletary. "Being from the city, it was very hard transitioning from high school to college. The workload is very different and being with all these other smart kids and having never taken an art class before, it was scary. My first semester was bad."
Singletary wasn't used to failure. She flourished in high school and earned a full scholarship to RIT through the Destler/Johnson Rochester City Scholars program, which provides free tuition and academic and social support for graduates from Rochester City School District and approved charter schools with financial need. So after struggling with classes in her first semester at RIT, she realized she needed to make adjustments and overcome her shyness.
"My second semester I actually started to meet with my academic adviser, Laurie Alexander, and [assistant director for Destler/Johnson Rochester City Scholars] David Benitez every couple weeks," Singletary said. "I think that helped just kind of organize my life. I think I was scared to reach out to the teachers for help at first, but I got a lot more comfortable with myself, reaching out to people, refined how I study and work and that helped to get it together. I think I needed that shock—like, 'you messed up, get it together.'"
She turned her grades around, began to succeed academically and eventually became a Dean's List student. As she took classes, she kept herself grounded by working weekends as a cashier at Wegmans and got involved with student organizations like Unity House, the Organization of African Students and the Interior Design Club, where she served as secretary. She didn't let the initial setback derail her progress, and she will graduate on time this May.
Looking back, she credits much of her success to the Destler/Johnson Rochester City Scholars program. "It means a lot to me," she said. "That's why I'm here. I don't think I would have been able to afford it if I didn't get that, and it's opened up a lot of opportunities for me. I don't know where I would be if I didn't take advantage of that."
She believes her story is a lesson on the importance of perseverance.
"When you look at where I'm finishing, I'm on the Dean's List and I think I've grown a lot professionally and as a student," she said. "Even if you mess up, just pick yourself up and keep going."