Class assignment inspires photojournalism student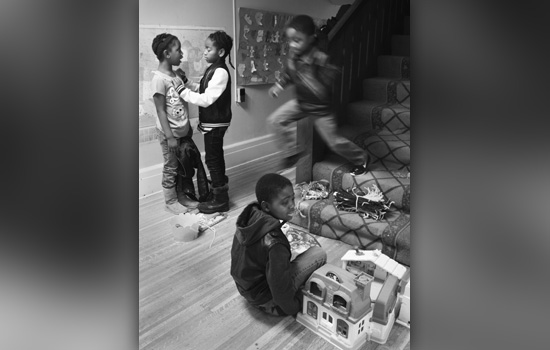 Sarah Ann Jump
What started out as a class assignment 
on a refugee outreach center in the 
northwest section of Rochester early 
last year has become so much more 
for RIT student Sarah Ann Jump.

"I walked into Mary's Place a photo­grapher. I left inspired my very first day," says Jump, a third-year photojournalism major in the College of Imaging Arts and Sciences 

"I felt such a connection with the place, and what they are doing, that I just kept going back," she adds.

Jump, a native of Easton, Md., on the Eastern Shore of the Chesapeake Bay, 
recalls how struck she was by Rochester's large refugee population while on assignment for her news editing class—part of 
her journalism minor.

"I had no idea what a struggle it is 
for these people to start new lives in America," says Jump, who regularly 
blogs about her experiences.

Mary's Place assists refugee families 
by providing clothing, food and 
important case management services
such as helping obtain green cards and other needs. The outreach center also 
offers English as Second Language
classes for adults, along with after-school tutoring for school-aged children.

"Most importantly, I believe, Mary's Place creates a community of refugees 
and volunteers—a place where people not only receive assistance, but also make friends from all over the world," Jump 
says. "It offers a safe environment, free from any conflict—unlike where they 
are coming from."

Since January, Jump has done her best 
to become a friend to the many children who frequent Mary's Place. "I play with 
the kids, read with them or help make
lunch on Saturdays," she says.

Her strong connection to the children—and the center overall—has made 
a difference.

"Sarah has made such a huge impact 
volunteering her time at Mary's Place," says Cara Breslin, assistant manager. 
"She's able to capture such precious 
moments with our refugees—especially 
the children."

"When working with refugees, it is easy to become wrapped up in their stories, which are heartbreaking, sometimes silly, and most often beautiful," Breslin adds. "What impresses me the most about 
Sarah is how she has been able to find 
these instances within the nooks and 
crannies of our walls and show how 
beautiful they are so that we can all 
experience them, too."

Jump is regularly seen with her camera, documenting community happenings. 
Since she has built relationships and gained the trust of many of the volunteers and 
refugees, she is able to capture candid 
moments that might otherwise be 
interrupted by a photographer's presence.

Jump has produced a photo documentary in the form of a short magazine on the 
refugee outreach center. While the 
publication is free to view online and 
download, a printed copy is available for 
a cost—proceeds from which Jump has 
graciously donated 100 percent to the 
refugee outreach center.

Jump says the center has paid her in 
ways she would be unable to quantify. 

"Kathy LaBue (director of Mary's Place) has always told me that college student 
volunteers are very important to provide the refugee children with positive role 
models and encourage them to attend 
college," Jump says. "And it works. All of 
the middle- to high school-aged kids that 
I have talked to at Mary's Place will tell you that they want to go to college someday, and Mary's Place will help them get there."