Concert Band debuts compositions of Italian immigrant on Thursday
Samuel J. Porcelli's family will attend to hear the patriarch's works for the first time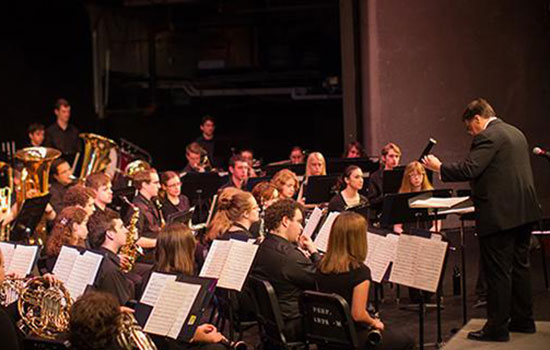 In what could be called Mr. Porcelli's Opus, compositions of an Italian immigrant who lived in the Rochester area will be performed for the first time at Rochester Institute of Technology.
The RIT Concert Band, conducted by Dean Davis, will present "From Italy to America, The Italian Diaspora," at 7 p.m. March 1 at RIT's Ingle Auditorium.
Admission is free.
The concert, which kicks off RIT's "Viva L'Italia: RIT Celebrates Italy!" series of concerts, speakers and exhibits through April, will feature the works of Samuel J. Porcelli. Soloist Sungmin Shin, an adjunct professor of applied guitar at RIT, will play the mandolin.
The youngest of seven children, Porcelli was born in Sicily in 1893 and immigrated to Rochester after his father died in 1906. He lived in the Rochester suburb of Irondequoit and worked as a tailor, a shoemaker and at a casket company to help support his three children and eight stepchildren. He died in 1991 at the age of 98.
Two years ago, a family friend brought the handwritten compositions to Jonathan Kruger, chair of RIT's performing arts and visual culture program, who transcribed them into modern notation and selected pieces for the concert.
"They were written, mainly in Italian, for a concert band in a unique, charming Italian-sounding style," Kruger said. "The works required expansion into a more modern style of concert band instrumentation as they were originally conceived for a much smaller community band. The works have not been played since their original presentation from the early 1930s."
Several members of Porcelli's family are expected to attend the concert, which will include slideshows and short verbal presentations about Porcelli's experience in Italy and the U.S. An Italian-themed reception will follow the concert in the Fireside Lounge.
"This is like a completion of our heritage," said a granddaughter, Norine Lopassio. "Everyone in the family has a little musical inclination, and it likely came from our grandfather."
She said the concert also means a lot for her mother, Eleanor Sciscioli, now 85 and one of Porcelli's children.
"You can see the satisfaction on her face," Lopassio said. "She's jumping out of her skin."
Porcelli was an avid mandolin player and would spend hours composing music. Some of his ballads, marches and mazurkas were played by community bands in parks or at festivals, but most of his compositions were never heard, his family said.
"He was very creative, multitalented and self-taught," Lopassio said. "He had a lot of patience, in order to create these pieces for multiple instruments."