A conversation with Ryne Raffaelle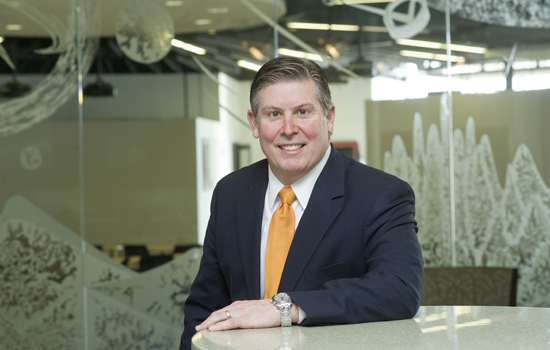 A. Sue Weisler
As vice president for research, Ryne Raffaelle leads an initiative announced in February to advance RIT's focus on conducting internationally distinguished research by making some strategic investments.
What does RIT hope to accomplish with the Strategic Initiatives?
Raffaelle: A "difference maker" set forth in RIT's 2015-2025 strategic plan, "Greatness Through Difference," is that RIT will be internationally distinguished as a research university through focus and investment in inter- and transdisciplinary research identified through a systematic and inclusive selection process.
What was involved in choosing the specific initiatives?
Raffaelle: Teams were required to show how their research would build on faculty strengths and existing resources, advance RIT's reputation, reflect a growing significance in society—as demonstrated by relevance to funding agencies and industries—and enable RIT to make unique and high impact contributions to pressing problems of society today.
Can you briefly describe each initiative and what results are expected?
Raffaelle: The Cybersecurity team, 25 faculty members from five colleges, will research sociotechnical approaches to cybersecurity. Its goal is to look at cybersecurity from a more proactive position by studying how such elements as human behavior, economic incentives and social influences on design of systems and software interact with technology and can be incorporated to develop better protections.
The team working on Personalized Health Care Technology will research ways to enhance personalized care and access through mobile and wearable technologies that integrate new media design and leverage data, behavioral and social sciences. The goal is to develop interventions that promote health in population disparities and provide rigorous evidence that mobile technologies can enhance health and prevent disease.
The Future Photon Initiative is a team of 15 researchers from RIT's colleges and research centers in engineering, science, business and design that will develop advanced photonics applications and apply them to solve some of the world's most pressing problems in science, national security, advance manufacturing, communications, information technology, energy, health care and medicine.
Remote Sensing with Unmanned Aerial Vehicle is an interdisciplinary team from imaging science, engineering, public policy and mechanical engineering technology within the colleges of Science, Liberal Arts, Engineering and Applied Science and Technology. The team will work on challenges facing this industry from integrating UAVs into the national airspace to make better use of the high quality visual data collected in a variety of disciplines.
What support is RIT providing to those chosen initiatives?
Raffaelle: Each research area is eligible to receive up to $1 million total over the next five years.
Will the initiatives receive additional financial support from other sources?
Raffaelle: Each initiative is also receiving substantial support through matching commitments made by deans, department heads, center directors and team members. Some examples include student support, funds for travel and equipment and release time for faculty.
Where can people go to find out more about these initiatives?
Raffaelle: There will be a forum for the RIT community to introduce each of the initiatives later this spring semester. You will also be able to read more about these strategic research initiatives in the spring issue of Research at RIT.