Corporate investment in campus research program pays dividends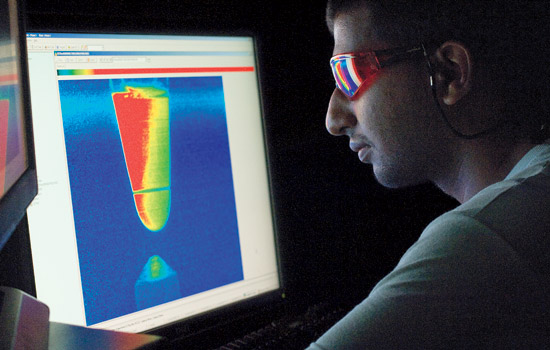 A. Sue Weisler
Advances in medical diagnostics offer great potential for improving patient care. Three RIT projects, which are among the first to be completed as part of the university's corporate research-and-development venture known as Corporate R&D at RIT, are positioned to make an impact in that area. Each of these medical-technology projects provides a means for improving the performance of blood analysis equipment on platforms that are scalable, modular and user-friendly—bringing CSI-like discovery to the growing line of RIT's research-and-development projects. Kathleen Lamkin-Kennard, Eli Saber and Steven Day, all faculty members in the Kate Gleason College of Engineering, were awarded research funding totaling $160,000 for separate projects with Ortho Clinical Diagnostics. The company, a local subsidiary of Johnson & Johnson, is one of the first organizations to partner with RIT in the program.
1
Lamkin-Kennard and Luke Holsen, a third-year biomedical engineering student, developed modular software for simulating antibody/antigen reactions. "The blood analyzer is used in clinical labs in hospitals and medical offices," explains Lamkin-Kennard, assistant professor in the mechanical engineering department. "Companies continually look to improve analysis machines. Current analyzers calculate dozens of chemical reactions. What seems like a simple compound may not always be, and we need to understand the fundamental reactions going on." Ortho Clinical Diagnostics is based in Raritan, N.J., but has both manufacturing and R&D operations in Rochester. The company develops specialized in-vitro diagnostic equipment used to test blood and other bio-fluids in transfusion medicine and clinical laboratories. Since the results produced by this equipment are used for important medical decisions, improvements in accuracy and reliability of those results are always desired. "More accurate reading of data can ensure better determination of disease and eventual intervention," says Namitha Benjamin, an electrical engineering graduate student who worked with Eli Saber, associate professor in electrical engineering.
2
Saber and Benjamin developed algorithms for interpreting thin-film slides to improve the efficiency and accuracy of tests to detect glucose levels for patients with, or suspected of having, diabetes. The project uses slides to build an image database that shows results to the lowest and highest extremes of the normalcy scale and to determine even finer measures within the current results.
3
The third project with Ortho involved Steven Day, assistant professor of mechanical engineering, and Risa Robinson, associate professor of mechanical engineering. Day, Robinson and Amit Chainani, a graduate student in the Kate Gleason College of Engineering, collaborated on making real-time measurements of the mixing process done in microwells, a key component of Ortho-Clinical's analyzers that house chemical reactions. Microwells are cone-shaped, plastic cups, less than a centimeter tall and coated with chemical reagents. In testing, blood and other reagents are added to the wells, incubated and measured in the analyzer; the resulting reactions are indicators of infection or disease. The program was established last year to support collaborative efforts between industry and higher education. "Companies such as Johnson & Johnson and Ortho Clinical Diagnostics can prove to be significant educational partners," says Harvey Palmer, dean of the Kate Gleason College of Engineering. "These partnerships help our students develop critical skills through research and product development. They also help the companies optimize their equipment. This is a growing relationship as we expand further into bio-medical research." The company owns the intellectual property, but RIT retains the rights to publication and classroom learning. "You can see immediate benefits," says Lamkin-Kennard. "We can provide an immediate impact for Johnson & Johnson, and as educators, we can provide opportunities for students."
The need for R&D
Corporate R & D at RIT has been established to engage business and university resources—from laboratories to faculty and staff expertise in key areas of research: imaging, sustainability and bio-X (biology, health care and medical fields of study). Research facilities at RIT have grown to more than 50 labs and centers of excellence, taking an interdisciplinary approach to problem solving, economic development and learning. In an excerpt from a presentation in 2008, RIT President Bill Destler stated: "Our institutions of higher education in the U.S. are still without question the finest in the world, and they possess, in aggregate, a reservoir of intellectual talent and creativity unmatched anywhere else. RIT, moreover, was founded to meet corporate needs and the university counts among its faculty and staff an unusually rich mixture of scholars and practitioners. That combination makes our institution ideally suited to meet the needs of industry for new technologies and new ideas for businesses, products and services. "If universities and colleges are to become the economic engines in their communities that they aspire to be, then their research and development activities need to be focused, at least in part, on projects that have the potential to lead to new products and services."