Couple turns cider mill into destination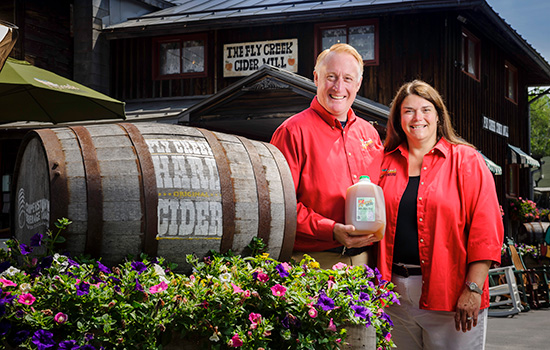 Bill and Brenda Michaels like to tell people that they have three children and their oldest child is never going to leave the house.
That oldest child is their business, Fly Creek Cider Mill & Orchard in Central New York. The couple recently published a cookbook to celebrate the cider mill's 160th anniversary.
Bill Michaels '89 (hotel and resort management) and Brenda (Palmer) Michaels '88 (interior and industrial design) met at RIT in 1987 at Colony Manor. Like Bill, Brenda's roommate was a hospitality major and she introduced them. But their relationship didn't develop until years later.
Brenda graduated from RIT with an associate degree and continued her education at Pratt Institute in New York City studying interior design. After Pratt, she returned to her hometown of Smyrna, N.Y., to care for her ailing mother.
Bill, meanwhile, had graduated from RIT and was running a hotel in nearby Cooperstown, N.Y. Brenda visited the hotel when she needed a break from caring for her mother so she could catch up on sleep.
In 1995, the couple began dating and they were married two years later.
That's when the oldest child entered the picture. Bill's parents had purchased the cider mill in Fly Creek, N.Y., in 1962 primarily for the residence attached to it. At that time, the mill hadn't been operating for more than a decade. But the former owner, who lived next door, regaled Bill's parents with stories of the mill's success, and gradually his parents got the mill up and running again.
After they were married, Bill and Brenda thought about purchasing the mill but Brenda, who worked in restaurant design for several years, wanted to make sure that she liked the business. She worked for a year with Bill's parents.
"It's a fun place for people to visit," Brenda said. "So many people get joy from it."
The two have expanded and changed the business through the years. They introduced specialty foods, renovated the building, expanded the restaurant and bakery and are now open year-round. Visitors can see the 1889 water-powered, water-hydraulic press on three sides from a new second-level learning center. "Now we are a component to any Cooperstown itinerary or a destination for fall and summer visitors," said Bill, adding that they host 140,000 visitors annually.
Bill is the vice president of the business and handles the daily operations, including working as the press operator on the weekends. Brenda is the president and works on the online store and marketing. They wrote the cookbook, which contains more than 100 apple recipes, to give guests a keepsake from their visit.
The business partnership is successful, both said, because they have a clear division of labor and work in different places: Bill at the mill and Brenda out of her home office. It also helps that it's a fun family business to run.
Bill and Brenda's actual children, Sadie, 18, and Henry, 13, have grown up with the mill. In fact, Sadie was born on the first day of opening season in 1999.
"Most people leave with a very positive feeling, and I think that's what our world needs now—more positive and less negative," Brenda said. "People need a place to go to get away from the world, and I think we provide that."
To learn more
To learn more about Fly Creek Cider Mill and the cookbook, go to flycreekcidermill.com.