Creative Industry Day set for today
Nearly 70 innovative companies to attend event seeking RIT talent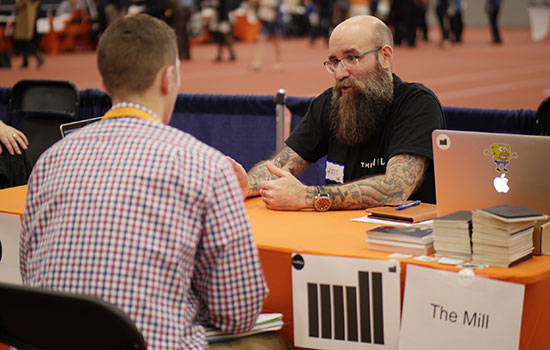 Miguel Cardona
The 13th annual Creative Industry Day is scheduled for today in the Gordon Field House, providing companies from near and far the opportunity to meet with RIT talent in a career fair setting.
The event, geared toward students interested in working in the creative industry, draws College of Imaging Arts and Sciences students and alumni in areas such as art, design, film, photography and crafts along with related majors such as game design and mobile computing from RIT's B. Thomas Golisano College of Computing and Information Sciences.
Creative Industry Day, sponsored by RIT's Office of Career Services and Cooperative Education, CIAS and GCCIS, begins with two career panel discussions at 11 a.m. and noon followed by portfolio reviews and networking from 1 to 6 p.m.
According to Gretchen Burruto, associate director and career services coordinator, the event's goal is to offer career-related programming and the opportunity for students to meet professionals from the creative industry, obtain feedback on their portfolios, learn about job opportunities and make valuable connections that may benefit their career.
"Many of the professionals who travel here to attend include RIT alumni returning to campus to represent their companies or share their experiences and advice to our current students," Burruto said.
Creative Industry Day features a wide range of businesses from large global companies such as Google and Capital One to digital design agencies and visual effects firms. Organizations from Rochester and New York City and as far away as Washington, D.C., and San Francisco are scheduled to attend this year, according to Burruto. In all, nearly 70 companies are expected to be on the RIT campus.
Students on Twitter attending the event are encouraged to use the hashtag #RITCreativeIndustryDay. For more details, call 585-475-2301.