Cross country standout racing toward historic year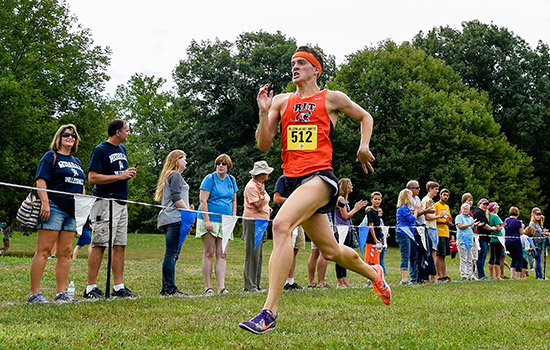 Riley Joslin
For fourth-year new media design major James Bailey, the sky's the limit in 2017, on and off the course for the cross country season.
Bailey enjoyed a breakout year for the Tigers in 2016, earning his first All-American honor by placing 27th at the NCAA Division III Cross Country Championships. He recorded four top-10 finishes for the Tigers in 2016, while earning All-Atlantic Region honors and All-Liberty League second team accolades. Bailey was a five-time RIT Male Athlete of the Week.
Like many RIT students, Bailey, a native of Danvers, Mass., enjoyed a productive summer two time zones away, working as a designer at Root House Studio in Boulder, Colo. Unlike most RIT student-athletes, Bailey was able to train with a four-time All-American—the university's most decorated runner of the millennium, 2015 graduate Matt Giannino.
"Having someone like Matt who knows what you have been through and struggled along the same path makes the work tremendously easier and more gratifying," said Bailey.
Bailey's dedicated training routine has him in position to become RIT's first two-time cross country All-American since 1996.
"James is a true team leader in action and voice," said RIT men's cross country and track and field head coach David Warth. "He is very good at helping other teammates, sets very high goals for himself and goes out to achieve them through work and effort."
Bailey, who also has enjoyed success in several middle and long distance events for the RIT indoor and outdoor track and field teams, is a 2015 and 2016 United States Track & Field and Cross Country Coaches Association (USTFCCCA) Scholar All-American and a four-time Liberty League All-Academic Team selection.
"The collaborative work in the classroom and on the roads at RIT is a life skill that I can apply to my future endeavors," said Bailey. "Nothing makes me happier than seeing my classmates and teammates compete with one another to earn their spots and flourish in personal and team success."
With Bailey and newcomer, a 2017 NCAA Outdoor Track and Field All-American, Otto Kingstedt, expected to lead the way, along with a talented host of returning veterans, the Tigers are primed for a memorable season. RIT is looking for its first team berth in the NCAA Championships since 2009 and first Liberty League title.
"The team is very excited for the season to begin," said Warth. "It will be the first time I have had two all-Americans on the team at the same time. The rise of our returning sophomores and juniors adds to our strengths and gives us great team depth."
2017 RIT fall sports outlook
Men's soccer—More than 20 players will return, including All-Liberty league selections, junior goalkeeper Peter Cinibulk and sophomore midfielder Will Schiesswohl, in addition to leading scorers, junior Anthony DeFeo and sophomore Simon Garno.
Women's soccer—Will look to make their fifth Liberty League postseason berth in the last six seasons. Three juniors return, Lauren Chester, Emily Thiel and Riley Yankovich, who were all-league selections in 2016.
Volleyball—Junior All-Liberty League selection, setter Erin Parkinson is back, along with senior Rebecca Bennett, junior Liz Wunder and sophomores Sarah DelVecchio and Joelle Marston.
Women's cross country—The leader among all RIT teams with an incredible 3.75 GPA in 2016-17, fourth-best among all NCAA cross country programs. They will look to make it back to the NCAA Championships for the second time in three years.
Men's and women's crew, and men's and women's tennis play an abbreviated fall schedule in preparation for the NCAA-sponsored spring season.