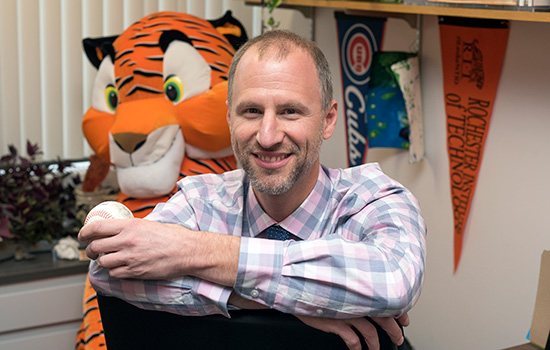 A. Sue Weisler
Trying to solve every student's housing concern may seem like a gargantuan task, especially when there are roughly 7,000 RIT students who live on campus each year in dormitories, apartments or Greek housing with a fraternity or sorority.
It's Donna Black's department's job to make sure the billing gets done, residence halls are inspected and to determine whether any rent adjustments need to be made for students who change housing or leave for co-ops or family issues.
"We wear many hats," Black said. "We're all trained to help the students out, whether they are a freshman coming here for the first time and trying to navigate around, or filling out a maintenance form, or helping student workers give tours at open houses."
Sometimes the questions are easily answered, such as finding where the Gordon Field House is, or which way to turn in the underground tunnels to find The Corner Store.
In other cases, work is needed to adjust a bill for a student who has moved into a new housing arrangement, or leaving for 10 weeks to work in a co-op.
"We know co-ops are a major backbone here at RIT," Black said. "And we know the majority of students will have to leave RIT housing to live in another city for their co-op. So we try to individualize each situation. Overall, we treat students as an individual, not just another number."
Although much of her work can involve the parents of students— who most often are the ones paying their child's tuition—"we encourage the students to advocate for themselves," she said.
Black is also on the executive committee of RIT's Staff Council and works with different governance groups including human resources and the Academic Senate with policies, changes in the law and questions the more than 2,000 staff members at RIT may have.
And she is also housing adviser for RIT's Alpha Sigma Alpha chapter, and helped the 15 women move into their new house last September. Even then there were accommodations that needed to be made, such as installing flashing doorbells, and a set of bylaws needed to be created for the sorority members who live in the house.
Andrea Napoli, manager of accounting operations in the controller's office, said Black has won the sorority's Advisor of the Year Award twice. "She's very helpful with the students and will go out of her way to make sure they are renewing on time, or if they have any issues, she helps them get squared away," Napoli said.
"We treat students as an individual, not just another number."
Donna Black
Job title: Housing operations financial coordinator
Years at RIT: 7
What I like best about working at RIT: I love working with the students and solving the problems they may have.
Nominate a co-worker
Staff Spotlight features some of the people who make RIT a special place to work.
Do you know a staffer with an interesting story? Have a colleague who goes above and beyond in his or her daily work?
Send your nominations to athena@rit.edu. Be sure to include the person's name, the reason he or she deserves to be featured and an email address where we can reach you.