Dyer Arts Center chosen for art conservation effort
Gallery is one of 75 across the country chosen for art conservation effort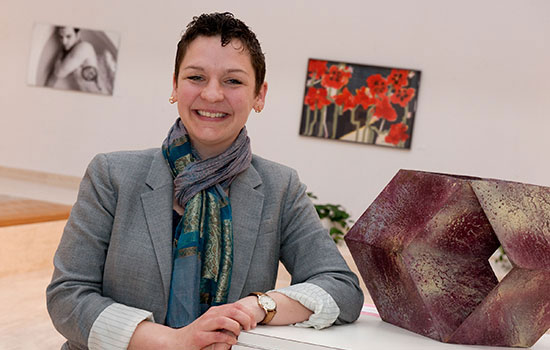 Mark Benjamin/NTID
The Joseph F. and Helen C. Dyer Arts Center at Rochester Institute of Technology's National Technical Institute for the Deaf has announced that it is one of 75 institutions from across the United States selected to participate in the inaugural year of the Collections Assessment for Preservation (CAP) program.
Administered by the Foundation of the American Institute for Conservation of Historic and Artistic Works, CAP assists museums in improving the care of their collections by providing support for a conservation assessment of the museum's collections and buildings. A team of two preservation professionals, hired through a $7,800 stipend provided by the program, will spend two days surveying the gallery and meeting with staff before preparing a comprehensive report that will identify preventive conservation priorities. The assessment report will help the arts center prioritize its collections care efforts in the coming years.
The application for the designation was submitted by Mackenzie Robbins, a 2016 graduate of RIT's museum studies program. Robbins is a contractor assisting with the management of Dyer's permanent collection.
"This designation is so exciting for all of us at Dyer Arts Center and NTID," said Tabitha Jacques, gallery director. "This is the first step in the next phase of our collection care work and is so crucial to protecting the valuable museum assets that have been entrusted to us. Dyer Arts Center means the world to so many people in the deaf community and it is such a unique space to display creative works by artists from all over the world."
Among other distinctions, Dyer Arts Center boasts the largest collection in the world of works by deaf and hard-of-hearing artists.
The CAP program is administered through a cooperative agreement with the Institute of Museum and Library Services, a federal grant-making agency that supports museums and libraries.
Spring hours for Dyer Arts Center are 10 a.m.­ to 5 p.m. Monday through Friday; 10 a.m. to 2 p.m. Saturday; and other times by appointment. For more information about Dyer Arts Center, go to http://www.rit.edu/ntid/dyerarts.