Dyer Arts Center features 'Beyond Form' exhibit
Free show, which highlights non-objective art by deaf artists, runs through April 21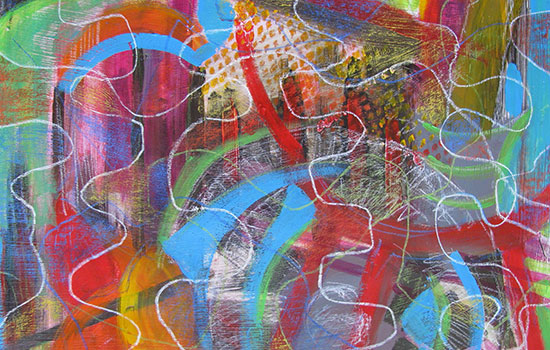 A new exhibit at the Dyer Arts Center at Rochester Institute of Technology's National Technical Institute for the Deaf  features the artwork of deaf artists during "Beyond Form: Non-Objective Art." An opening reception at the gallery will be held from 5 to 7 p.m. March 30, and a talk by guest curator Brenda Schertz is scheduled for 4 to 6 p.m. April 20. The exhibit runs through April 21. All events are free and open to the public.
"Beyond Form: Non-Objective Art" explores the work of deaf artists in a wide variety of media and, according to Schertz, provides viewers scope to use their imaginations in interpreting what is—or is not— perceived in images beyond their forms. She also believes that the exhibit is the first effort in bringing abstract art together by deaf and hard-of-hearing artists. More than 15 professional artists who are deaf or hard-of-hearing are participating in the exhibit; five of those artists are RIT/NTID alumni.
"The diversity of deaf artists in this exhibit have demonstrated 'visual poetry' through their masterful manipulation of and experimentation with texture, composition and color," said Schertz, who is also a lecturer in the American Sign Language program at University of Rochester. "Their works seem to take on a meditative power. Visual rhythm—through repetition or movement—seems to convey a sense of musicality. Sound is referenced, not as limited to an auditory experience, but as possibly a visual experience. Several artists make references to nature, and it is deeply ingrained in their work. Yet other artists look inward, narrating personal journeys expressing truth, joy or sadness."
The gallery is located in Lyndon Baines Johnson Hall, RIT/NTID, 52 Lomb Memorial Drive, Rochester. For more information, go to www.rit.edu/ntid/dyerarts/.