Education fueled by hard work—and fruit cakes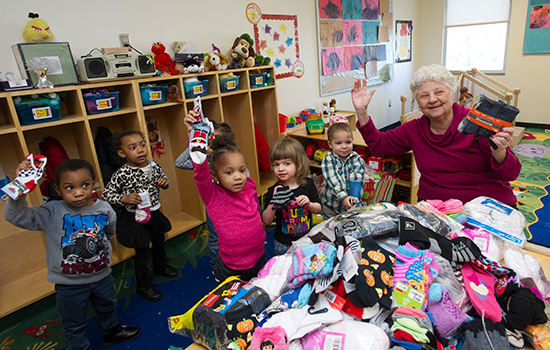 A. Sue Weisler
Rosalie Rosini is proof that age is just a number and that life is what you make it to be.
The 70-year-old, who celebrated the 50th anniversary of her graduation from RIT last May, said that she's more active in her life now than she's ever been.
Rosini '66 (food administration) grew up in a three-generation Italian household in East Rochester, N.Y., a community that she remains a part of today. When it came time for her to apply to college in 1964, a counselor at her high school told her that her father didn't make enough money and that she wouldn't be able to go. But with the encouragement of her high school's cleaning lady, she found her way to RIT.
"My grandmother and grandfather didn't read or write, but education was very important to me," said Rosini. "I was working 40 hours a week. I would go to school, then I'd go to work, then I'd set my alarm for 2 a.m. to do my homework."
To help pay her way through school, Rosini said that she was always looking for side jobs from the university. One of those jobs stands out today.
"I was hired to help bake the holiday fruitcake for Dr. Ellingson, who was the president of RIT at the time," Rosini said. "I was given his mother's secret recipe, and the key was that the fruit was soaked in a huge amount of brandy so we had to promise not to eat it. Of course, we ate it anyways."
Following her graduation from RIT, Rosini went on to a career with Monroe County Food Services that spanned more than 30 years. Following her retirement in 2001, she became a caregiver for her ailing mother who was suffering from dementia. After her mother died in 2008, things began to change.
Rosini signed up for Weight Watchers, joined the YMCA and took her very first trip to Disney World where, at 65, she said she rode all of the rides.
"Sometimes people retire and they don't know what to do, but I've had some of my very best times. I'm out more now than I ever was before," Rosini said.
Beyond participating in activities and events, varying from dressing as Mrs. Claus for holiday parties, to taking dance classes, to zip-lining on a local course, Rosini has taken on a big role as a volunteer in her community.
Rosini is also an active environmentalist. She has fought for 19 years to save water wells from pollution in the Southern Tier.
"I've known a lot of older people in my life who don't just sit in a chair and die," Rosini said. "Retirement really frees you up. So go to RIT, get a good education, save your money, and then retire. You'll have your whole life directly ahead of you."