Eight Beat Measure wins a cappella quarterfinals competition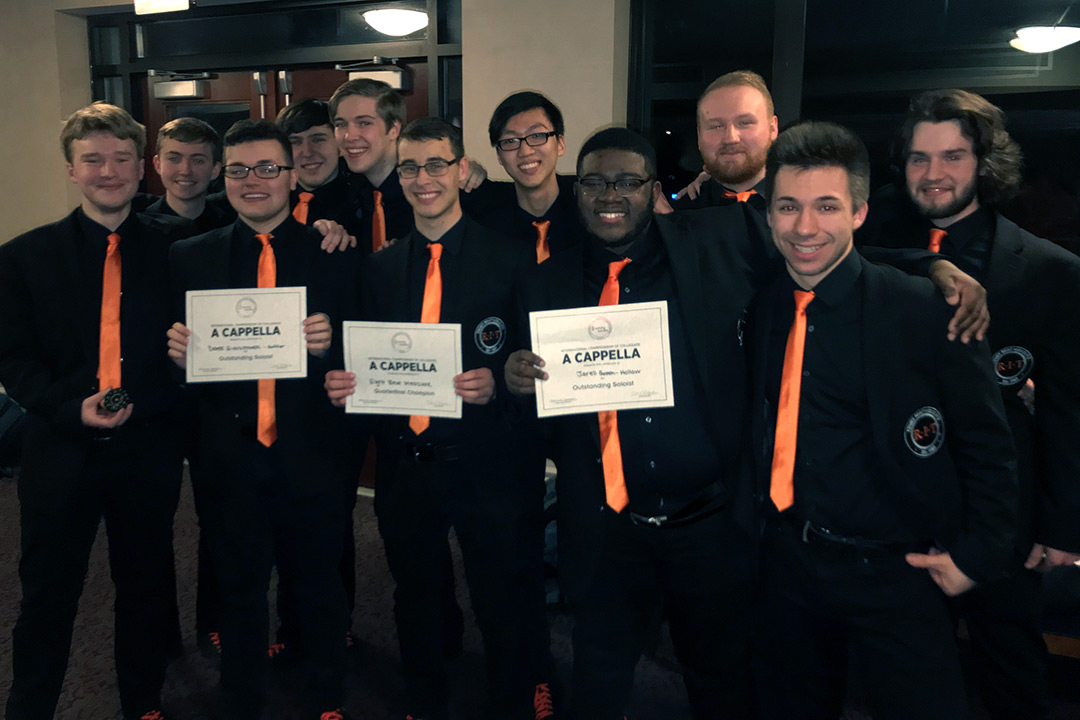 Emily Mabon
Eight Beat Measure, one of seven student a cappella groups at Rochester Institute of Technology, won the International Championship of Collegiate A Cappella Tournament quarterfinals Saturday at the University of Rochester.
It was the first time the 11-member group, which was founded in 1987, won the quarterfinals, which had them competing against nine other college groups from around the region and Canada. They finished second in the quarterfinals last year.
"We had four new members this year and we instilled this motivation and drive to succeed," said Derek Gieraltowski, the group's music director and a fourth-year animation major from Prospect, Pa. "Everyone took it very seriously. We're very fortunate to have a group of guys who work so well together, with their drive and passion."
Gieraltowski and Jarell Green, a second-year packaging science major from Rochester, also won most outstanding soloist awards. Gieraltowski said normally only one such award is given in a quarterfinals, so having two from the same team is a great honor.
"That's definitely a confidence booster," he said.
Eight Beat Measure advances to the ICCA semifinal competition March 30 at the University of Buffalo. There are nine such semifinals, and the winners of each will advance to the finals April 27 in New York City.
Gieraltowski said the group will make a few tweaks in the music arrangement and choreography, based on feedback from the judges.
To see them in action, Eight Beat Measure and other RIT a cappella groups will be performing at the A Cappella Showcase, 6-8 p.m. this Saturday at Ingle Auditorium. The show, organized by the RIT's College Activities Board, is free and open to the public.
Topics
student clubs and organizations