A family first: Graduating from college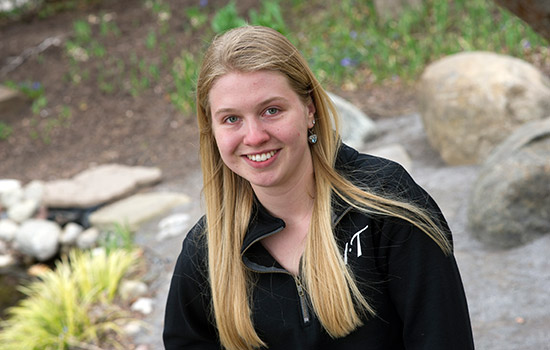 A. Sue Weisler
Thousands of RIT students will take the stage in the Gordon Field house this May to receive recognition as their status shifts from college student to college graduate.
For Leah Bockhahn, Muhammad Ibraheem and Shantel Forrest, crossing that stage has an even deeper meaning, as they become the first in their families to graduate from college.
Over the past 10 years, more than 5,000 first-generation students have enrolled in RIT undergraduate programs. Many have found support in on-campus programs designed to extend opportunity and encourage the pursuit of higher education.
The I'm First program, founded in 2015, provides an alternative resource for first-generation students on campus, with a core of one-on-one mentoring.
"We provide support on anything ranging from academics, to career guidance, to financial assistance, to advice on navigating social situations," said Director Bernadette Lynch.
The program also has worked to tap into the many faculty and staff members on campus who were once first-generation students themselves. A monthly series called "First Talks" invites faculty and staff members who were also first-generation college students to give an hour-long lecture on a topic of their choice and how it relates to their success.
"It's a great opportunity for students to hear from people who were once in a similar position to the one that they are in right now," said Lynch, adding that they are looking to increase alumni involvement by encouraging graduates of the program to come back and share their experiences with current students.
Another resource is the Rochester City Scholars program, founded by RIT President Bill Destler and his spouse, Rebecca Johnson, in 2010.
According to the Rochester City School District, financial challenges prevent more than three-quarters of its students from attending college. The scholarship program covers full tuition at RIT for graduates of the Rochester City School District who meet eligibility requirements.
David Benitez, assistant director for Rochester City Scholars, said that the program has allowed more than 120 students from the district to attend RIT on full scholarships.
"Rochester City Scholars provides students with the opportunity to attend a great institution even if they don't necessarily have the cultural capital within their family to allow them to easily pursue higher education," said Benitez. "The program serves the ultimate goal of the university, to diversify the student population as well as the levels of socioeconomic status. It makes education accessible to everyone."
Leah Bockhahn
An environmental sustainability, health and safety major from East Concord, N.Y., Leah Bockhahn grew up on an organic dairy farm just south of Buffalo with her parents and two siblings.
She is one of 147 students who are currently active in the I'm First program at RIT.
"My parents always encouraged me to pursue higher education," Bockhahn said. "My dad told my siblings and me that farming is too difficult of a lifestyle. He told me to make something more of myself."
Deciding to attend RIT wasn't easy for Bockhahn, who turned down a full ride to another university to pursue the greater opportunities that she said RIT offered.
"I felt really strongly that the academic experience that I could have at RIT would allow me to pay off the debt down the line and that it would be worth it in the long run. It definitely has been," Bockhahn said.
Bockhahn enrolled as a mechanical engineering student, but after spending the majority of her time in the classroom rather than in the shop, she said that she knew that she needed to make a change.
"I grew up doing very hands-on work like milking cows and building and repairing equipment, so when I realized that my major wasn't giving me the physical experience that I wanted to have, I started looking for one that would," Bockhahn said.
She found what she was looking for in environmental sustainability, health and safety, a major that she said allows her to work outdoors.
Bockhahn has held four co-op positions working in jobs varying from grounds keeping to construction inspection. Following graduation, Bockhahn hopes to take a position in Poland working on a site doing technical documentation and construction supervision.
"I credit a lot of my success and involvement to the I'm First program and the way that they encouraged me to branch out and try new things," said Bockhahn. "They've been a really integral part of my success here. They helped me find my way."
Muhammad Ibraheem
When Muhammad Ibraheem's parents immigrated to the United States from Pakistan, they did so in hopes that their children would have a better future.
More than two decades later, that vision has become a reality.
Ibraheem, an electrical engineering major from Long Island, N.Y., will become the first from his family to graduate college.
"My dad is a taxi driver in New York City, and my mom is a parking lot attendant," said Ibraheem. "My parents have been embedding the importance of higher education in my sisters and me since elementary school. They've always told us that they have tough jobs, and pushed us to do better."
Ibraheem will graduate in May as an Outstanding Undergraduate Scholar, one of the top academic recognitions that RIT undergraduate students can receive. Recipients must have completed 83-128 credit hours of work and have a cumulative grade point average of 3.85 or higher.
Ibraheem credits much of his success to his parents, as well as the programs that have supported him. He said that without programs like I'm First, navigating things such as financial aid would have been extremely difficult.
"A problem that most first-generation students have is that they have very little way of knowing what they are getting into because nobody in their family did it before them," said Ibraheem. "Programs like I'm First are very helpful for that reason."
Following graduation, Ibraheem will start a full-time job as a transmission planning engineer with Public Service Enterprise Group Long Island, the company he worked for as a co-op student.
Shantel Forrest
Shantel Forrest came to RIT through the Rochester City Scholars program.
A Rochester native majoring in marketing, Forrest said she comes from a very close-knit family. She grew up in a home with two cousins, three aunts and uncles, a grandmother, brother, sister and her parents. She will be the first in her family to graduate college with a four-year degree.
"My parents have always pushed me to strive to achieve more than they did," said Forrest. "It's a message that their parents iterated to them, and that they have reiterated to me."
Forrest said that RIT came on to her radar when a high school counselor told her about the Rochester City Scholars program and suggested that she apply.
"Suddenly higher education became an option for me," said Forrest. "If it wasn't for RIT and the RCS program, I honestly don't know how I would have gotten the opportunity to go to a good university. My family didn't have funds for my schooling, but RCS made higher education possible."
When Forrest first got to RIT, she said that she felt pressure to succeed.
"All that my parents had done for me finally amounted to this huge opportunity, and I knew that I had to make the most of it," Forrest said. "The Multicultural Center for Academic Success houses the RCS program, and they provided great mentorship along the way."
Forrest said that she now works for the program that helped her find her place at school.
"I want to give back to underclassmen. I want them to have access to the same opportunities and resources that I was fortunate to have," Forrest said.
Following her graduation from RIT, Forrest said that she plans to apply to graduate programs to pursue an MBA.
"I'm really happy that I have achieved what I have, but I'm not going to stop here," said Forrest. "Right now, I'm really excited for all of the senior activities being held. It's a great ending to this chapter and a way to celebrate all that I've worked for. This is a new experience for my family and me, so I want to take in everything that I can."
Video extra
Go to bit.ly/RITImFirst​ to learn more about First Talks, the monthly series where faculty and staff members who were also first-generation college students talk about their success.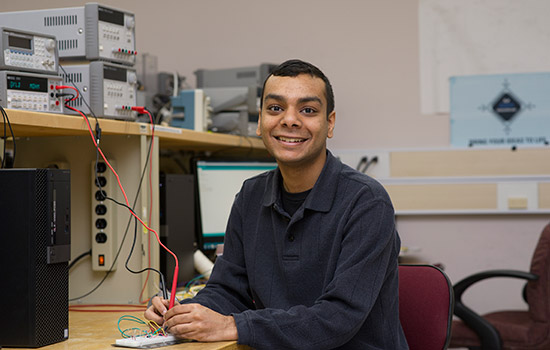 A. Sue Weisler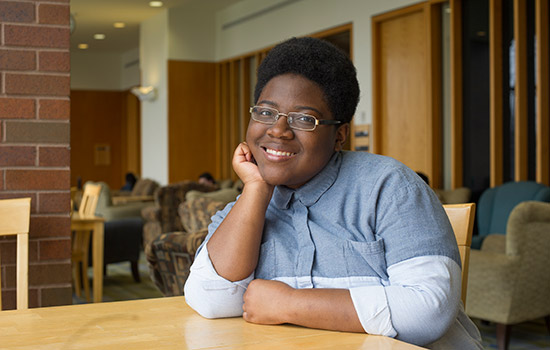 A. Sue Weisler